Coconut Yogurt & Passion Fruit Tartlets
I got to say, with my husband in Charleston and me here in Alabama, dinners have been reduced to a strict minimum. Not that I was keen on keen on big productions after a whole day staring at food but still. I almost always have dinner in a bowl. A big salad and some protein, lots of fresh herbs and seasonal vegetables. Roasted, grilled, fresh. It depends on how my feet feel that evening.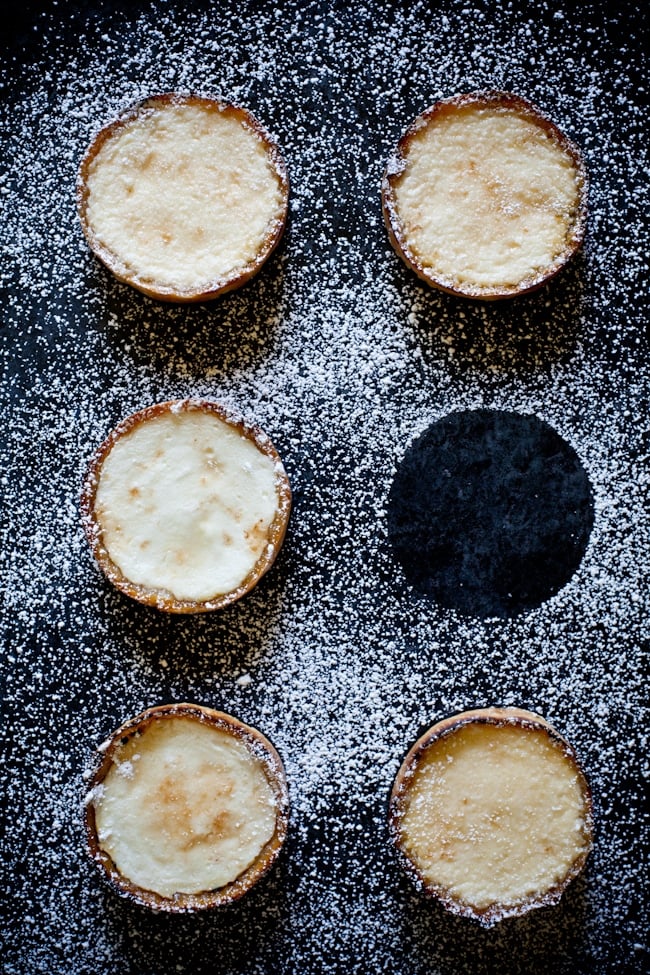 You can imagine baking has gone way down too! Heat and solitude combined, it sure feels unnecessary to bake tarts, cakes and cookies. Only if shared with friends though. But there is always that tugging at my heart to bake something, if only to share it later. The scent of lemon and sugar being rubbed together to make pastry dough. Freshly baked cookies coming out of the oven. Vanilla and milk steeping together on the stove for creme brulee. These moments ground me and comfort me.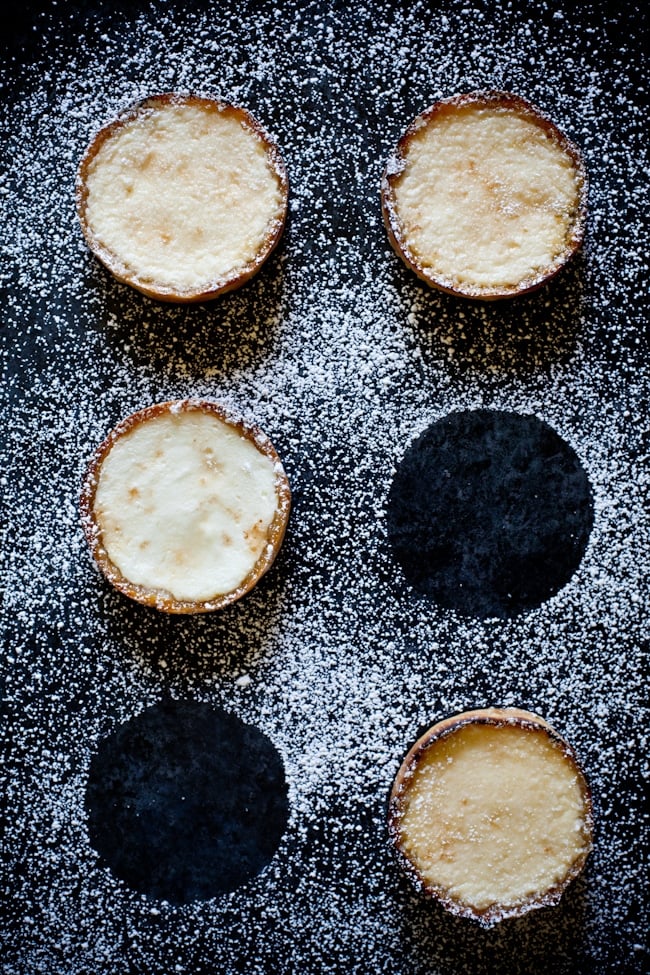 The urge to make something light and refreshing got the best of me the other day. Small tartlets filled with creamy coconut yogurt and passion fruit, lightly topped with sugar and quickly browned with a blow torch. Mine ran out of gas before I could achieve a deeper color but that allowed for the yogurt not to curdle too much and the yogurt to stay smooth.
I don't recommend browning the tops under the broiler as it will cook the yogurt thus loosing that creamy oozing quality you want when cutting into them. I tried, that's how I know…Still as good, just a different thing. You could try different combination such as lemon yogurt and raspberry mashed up on the bottom, lemon and rhubarb compote, pumpkin filling and vanilla yogurt for the Fall. The possibilities are as endless as your imagination!
Coconut Yogurt & Passion Fruit Tartlets (adpated from Donna Hay)
Makes 6
For the crust:
1 1/2 cup Jeanne's all purpose gluten free flour mix (or same amount of all purpose flour if not gluten free)
1/2 teaspoon salt
1/4 cup sugar
zest of one lemon
110 gr cold butter (1 stick)
1/4 cup cold milk
For the filling:
1/2 cup passion fruit jam (or passion fruit pulp)
2 to 3 cups coconut yogurt (I used Noosa)
2 Tbs sugar
Directions:
For the crust:
In bowl of electric mixer fitted with paddle attachment, add flour mix and salt on medium speed until well-combined. Slowly add sugar and lemon zest and mix well. Add the butter cut into small dice and mix until the mixture feels sandy. Add the milk and mix until just incorporated. Shape dough into a ball and flatten into a disc. Wrap with plastic wrap and refrigerate for two hours or overnight.
Place the dough in between two sheets of plastic wrap or parchment paper and roll it out to about 1/4-inch thick round.
Cut 6 four-inch rounds to fit into 3-inch tart rings or molds.
Fir the dough disks into the molds and prick with a fork. Refrigerate 30 minutes up to 2 hours.
Preheat oven to 350F and position a rack in the middle.
Par bake the crusts for about 15 minutes or until golden brown.
Remove from the oven and let cool completely before filling.
Once cooled, divide the passion fruit filling evenly among the tart shells. Top with even amounts of coconut yogurt (about 1/3 cup per tarts)
Divide sugar on top of the tarts and quickly brown with a blow torch