Coconut Honey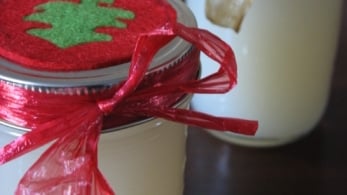 We just got back from dinner with T&D and I think they were pretty happy with the assortment of goodies I put together: 3 different cookies, spiced nuts, chocolate truffles, homemade marshmallows and this Coconut Honey. The first time I saw the recipe I knew I had to try it as I love everything coconut. My husband B. thought it was a really weird concept but accepted to be my guinea pig, especially when I told him there was no actual coconut thread/flesh in that preserve. It looks funny, sets funny but one spoon on his morning bagel and he was conquered. I tend to give it away for people to try and they always come back for more.
In the spirit of this ongoing series about holiday food gift, here is the recipe for this simple yet luscious spread. I found the original here and adapted it according to the ingredients I could find at the store.
Coconut Honey:
2 cans coconut milk
1 can cream of coconut
600 gr sugar
1/4 cup lemon juice
1 box powdered pectin
Pour the coconut milk, cream and lemon juice in a large pot, add the sugar and slowly heat over medium heat until it boils. Simmer for abut 15 minutes. Stir in the powdered pectin and stir until combined. Boil 2 more minutes. Pour into canning jars. Wipe the mouths of the jars with a clean towel, put the lids on them. Fill a large pot with water, put the jars in it, making sure they are covered with water and boil for 10 minutes. Remove from the water. Withing 10 minutes, you should be able to hear the lid pop inward.