Strawberry & White Chocolate Passion Fruit Soups With Mixed Berries Muffins

I'm usually all about the crunch. The giving crunch of toasted almonds on top of a bowl of vanilla ice cream. The flaky crunch of a pie crust as it gives under your teeth only to reveal a soft and creamy interior. The soft crunch of a handful of walnut inside a piece of brownie. Give me crunch.
I'm the one you'll find grabbing a couple of carrots in the fridge as a mid-morning or afternoon snack. Best crunch ever. I hear people do that when stressed: crunch the stress away. It's indeed a physical translation of working through things. As long as I stick to carrots and not piles of cookies… But I need soft, creamy and smooth just as much as anyone else.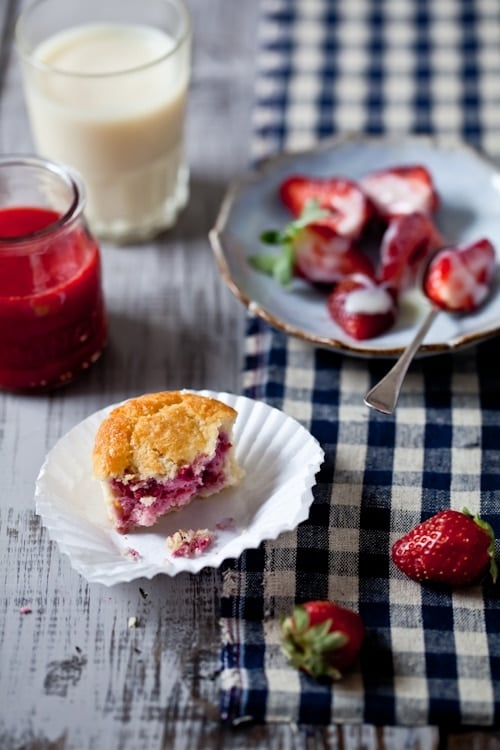 When it seems like the tempest is over and things have actually been dealt with, I am, on the other hand, the first one to reach for something soothing, soft and creamy. A sudden sigh of comfort and peace of mind. Some thick yogurt topped with a spoonful of honey. And more recently a mix of tart strawberry and white chocolate passion fruit soups drizzled on perfectly ripe and soft local strawberries.
I am not expecting much of my strawberry plant beside pretty flowers. It's not me but the crazy hungry rabbit hanging out by the house. He'd better not go for my radishes…I just planted those! However strawberry season is in full swing here at the farms! After picking a few baskets the other day I know I'll be returning to grab an insane amount for strawberry jam making.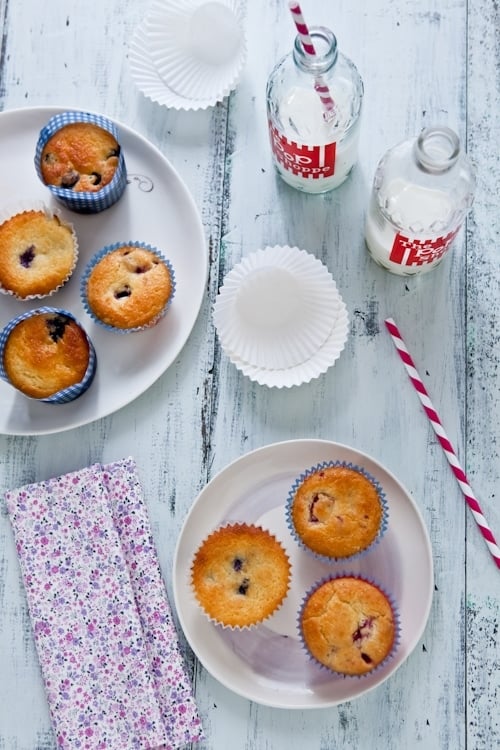 This dessert is directly inspired from one found months ago in Elle A Table researching recipes including white chocolate. I like it because it is a bit of an odd ball in the dessert category. Is it to slurp on, drizzle with, mix together, eat separately? Do you pour it on ice cream, tarts? Do you dunk a cookie in it? Or two?
I loved the flavor combination of both. The lemony strawberry soup was the perfect counterpart to the sweet white chocolate soup using coconut milk and passion fruit. I ate the strawberry soup mixing little spoonfuls of the white chocolate one in it. Perfect like this. I also drizzled the white chocolate soup over some freshly cut and super ripe strawberries. Simple and comforting.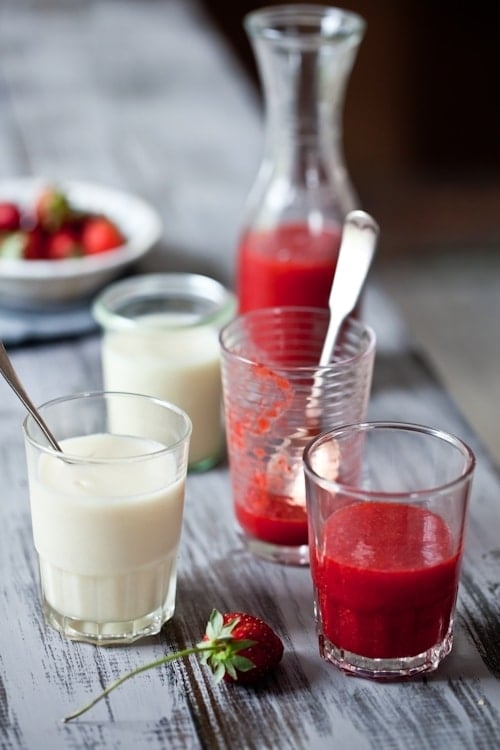 To round things up though, I made a batch of gluten free coconut and strawberry muffins and another one with blueberries only. Saucing the bottom of the soup glasses with a half muffin? Just about toe curling worthy. The combination of the three worked wonders for my peace of mind, ahaha!
It reminded me of a couple of fruit soup recipes I had made in the past and enjoyed very much then. A strawberry soup with apricot tea cakes and a watermelon soup with thin slices of toasted blueberry pound cake.
Have a great weekend everyone!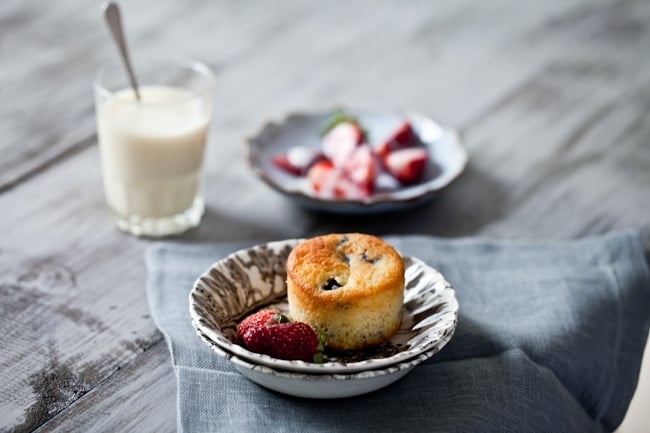 Strawberry and White Chocolate Passion Fruit Soups with Mixed Berry Muffins:
Serves 8-10
For the white chocolate soup:
12 oz white chocolate
1 cup passion fruit juice
one 14-oz can coconut milk (full fat)
Place the white chocolate in a non reactive bowl and set aside. In a large saucepan set over medium high heat, bring the passion fruit juice and coconut milk to a strong simmer. Pour on top of the white chocolate and let sit for 5 minutes. Whisk the mixture together until smooth and creamy. Divide among ramekins, glasses, jars, etc…Let cool to room temperature before refrigerating.
For the strawberry soup:
1 pound of strawberries (if you are in France use mara des bois)
zest and juice of one lemon
dash of vanilla extract
Place all the ingredients in a blender or food processor and puree until smooth. Divide among ramekins, glasses, etc… Refrigerate until ready to use.
For the mixed berries muffins:
1/2 cup sugar
2 large eggs
1 cup yogurt
3/4 cup olive oil
zest and juice of a lemon
1 cup millet flour
1/2 cup coconut flour
1/2 cup sorghum flour
2 teaspoons baking powder
pinch of salt
1 cup berries of your choice (whole raspberries or blueberries, cut strawberries, blackberries, etc…)
Preheat the oven to 350F. Line the inside of muffin tins with paper muffin cups and grease those with melted butter or cooking spray. Set aside.
In a large bowl, whisk together the sugar and the eggs until pale. Add the yogurt, olive oil, lemon zest and juice and whisk until blended. Add the flours, baking powder and salt and mix until the batter is smooth. Don't worry too much about some lumps. Fold in the berries with a spatula carefully. Divide among the muffin tins and bake about 25-30 minutes until golden brown and a knife inserted in the middle comes out clean.
Serve both soups together with more berries and a few muffins.