Shrimp, Butternut Squash & Coconut Soup & Pickled Shrimp With Cucumber Spears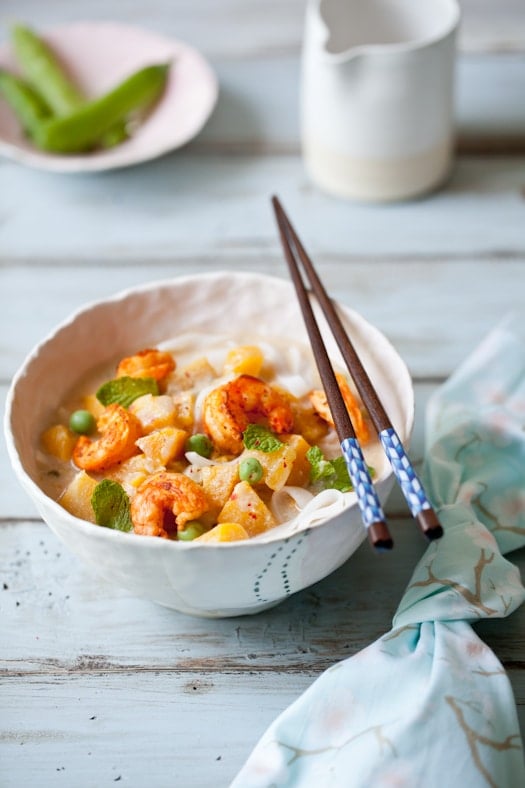 Since I have started keeping up a blog in late 2006, I have always heard my seniors say "never apologize for being busy, missing or not keeping up regular posting schedule". I get that. A blog is primarily meant for fun. Or at least it started that way for most. It did for me. My blog is not my job. I don't make a living from it and we do need to be a two income family. By a twist of hard work and continued practice, the blog gave me a very busy and very fulfilling career. And right now, I feel the pages and regularity of the blog escaping me.
I think about that dessert I made and photographed and not yet posted. About the soup we ate for lunch and dinner almost three days in a row it was so incredibly delicious. I start formulating the sentences that would bear enough meaning to tell you about the ribs we grilled and devoured with blue cheese coleslaw the other day before getting caught in the rain. On our patio. Soaked. Yet happy with full belly and lots of cheers with friends.
I blog in my head a lot these days. Lot less on paper. In the shower, while others sing out loud, I start sentences peppered with just the right amount of seasonal flair and fresh ingredient. I think long and hard about other words for "fragrant" as I tie my shoes or put the leash on the dogs. As I back up files and archives all my work at night, I dream of a blank screen where I can start a post.
So, yes, unlike my seasoned senior fellow bloggers, I am saying "sorry folks if I am not as often here on this page as I would like it to be". It's all good though. Things are busy here but all "oh so" awesome. Lots of fun shoots, more for Food & Wine, Le Creuset and One Kings Lane, prepping lots of fun workshops for the summer and planning a few more commercial and editorial shoots in the middle. Never a minute to slow down. And I would not change it. This is it. This is life. I can only do this once.
I am also taking the time to slow down, sigh and regroup. By coming here. By cooking some wholesome foods. By committing to the farmers market every Saturday. The colors, the smell, the care and the love that everyone puts toward giving us healthy materials to feed our bodies and soul… All very motivating and inspiring to get in the kitchen, tie my apron on, sharpen my knives, cling my wooden spoons (they are my ruby red slippers) and find comfort in the things I can explain and seemingly have control a little.
Soups are definitely one of those things that we like to sit in front of in the evening. Especially when we can sit down together, pour ourselves a glass of wine and talk. No other interruption than his band stories or geek talk over equipment. It does not matter if it is 50F or 110F outside, soups are always welcome.
One of Bill's favorites is a Thai chicken and coconut soup that he had decades ago in New York City. I have tried many times to recreate it based on his description and you can guess I never quite got it right. So much is part of his taste memory and so much is part of the memories of the trip itself. One day, I finally decided to give up on that memory entirely and come up with a completely different coconut based soup. Luck would have it that I only had to look so far as to one of my favorite cookbooks, Noodles: The New Way by Sri Owen.
This book is one of those in our kitchen that is open many times a week for inspiration. Cooked from a couple of times of month for satisfaction and permeated for ever with fragrances of star anise, ginger and mint. One of the recipes I had bookmarked from the very first day I got the book waited a whooping 10 years before I actually made it. Modified and made, I should say. And since then, I have made it ten times already. Trying to catch up on ten years without Shrimp, Butternut Squash and Coconut Soup..one bowl at a time!
The original recipe in "Noodles: The New Way" was "Coconut, Tofu and Pumpkin Noodles". I loved all the flavors but modified to accommodate what I had in the fridge when I decided to make it the first time. Pumpkin was replaced with butternut squash and shrimp made their way in our bowls, instead of tofu. Right now that shrimp are in full season, it's really easy to get a couple of pounds from the dock in the evening or from the market if we don't feel like casting our nets. Butternut squash are not in season anymore however so I have been using golden beets or baby turnips instead lately.
Another recipe that has been on rotation every week during this shrimp season is one I shot for Food & Wine: Pickled Shrimp With Cucumber Spears. So easy and so refreshing during this hot Spring and upcoming Summer. I know we are lucky to have access to local fresh seafood so easily. Port city living has lots of perks. Being able to get dinner right off the dock or right off the fishing boat is definitely one of them. Standing in line waiting for my turn gives me ample time to exchange recipes and forces me to take time out. I am kind of digging it…
Hope you have a wonderful end of the week…!
Shrimp, Butternut Squash & Coconut Soup, modified from Sri Owen in "Noodles: The New Way".
Serves 6 to 8
Ingredients:
3 to 5 tablespoons sesame oil
1 pound fresh shrimp, deveined and shelled
2 tablespoons red curry paste
6 cups vegetable stock
2 cups coconut milk
3 cups peeled and cubed butternut squash
2 teasponns chopped lemongrass (soft inner part)
zest of one lime
4 scallions, chopped
1 tablespoon fish sauce
1/2 cup fresh peas
8 ounces rice noodles fresh mint for garnish
Directions:
Heat the oil in a large skillet over medium high heat. Add the shrimp in two batches and cook, turning them over after 2 minutes, then cooking another 2 minutes on the other side. Drain on paper towel and reserve.
In a large saucepan set over medium high heat, cook the curry paste until fragrant, about 2 minutes.
Add the vegetable stock and the coconut milk and bring to a boil. Add the butternut squash and simmer for about 10 minutes over medium heat or until it is tender.
Add the rest of the ingredients, except the noodles and mint, and simmer for another 5 minutes.
Adjust the seasoning if necessary.
Add the cooked shrimp and turn the heat off. Set aside. Prepare the rice noodles according to package directions.
Divide them among 6 to 8 bowls and ladle the soup over them. Garnish with mint.
Pickled Shrimp with Cucumber Spears, reprinted with permission of Food &Wine magazine:
Ingredients:
5 cups water
12 large garlic cloves, thinly sliced
8 bay leaves
Eight 3-inch-long strips of lemon zest
6 to 8 small dried red chiles
3 tablespoons kosher salt
1/2 cup fresh lemon juice
1/4 cup sugar
3 pounds medium shrimp, shelled and deveined
1 1/2 pounds unwaxed kirby or Japanese cucumbers, cut into 3/4-inch-wide spears.
In a large saucepan, combine the water, garlic, bay leaves, lemon zest and chiles. Cover and simmer over low heat for 10 minutes. Uncover, add the salt and let the brine cool.
In a small saucepan, combine the lemon juice and sugar and boil over high heat until reduced by half. Add the reduction to the pickling brine.
Bring a large saucepan of water to a boil. Add the shrimp and cook for just 1 minute, then drain.
Arrange the cucumber spears around the side of a large glass bowl. Put the shrimp in the center and cover with the brine. Place a plate directly on the shrimp and cucumbers and weigh it down with canned goods to keep the shrimp and cucumbers submerged. Cover and refrigerate overnight. Arrange the shrimp and cucumbers on a platter and serve.