Peach Chamomille Mousse Cakes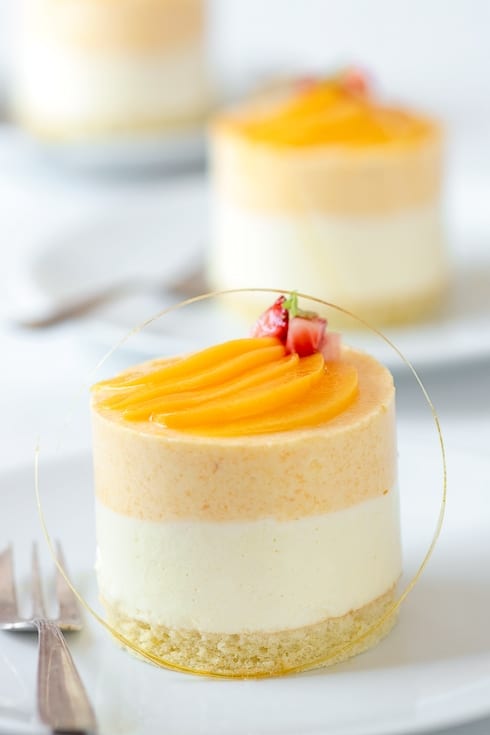 There are times in your life when you need to pull out all the stops, set up a special table, make an extraordinary tasty meal and just twirl some caramel strands around pretty mousse cakes. When crap hits the fan outside of my comprehension I just try to deal with it the best way I can: doing the things I know, doing them with dedication and focus. Yes, like twirling caramel strands around Peach and Chamomille Mousse Cakes.
Granted, my normalcy may not be yours but we all deal differently with stress and incredible circumstances. You might set out to clean your closet or reorganize your files. B. takes the house on a vaccum marathon. I usually go to the dock, take a huge breath in and go home to try to find some way to reconnect and it always ends up with the kitchen counter covered in sugar and flour. I also forge ahead in the photography and writing projects I have (portfolio is up!) happy not to have a minute to think too much about the telephone ringing. (I did previously established that I had a weird sense of logic, didn't I?!)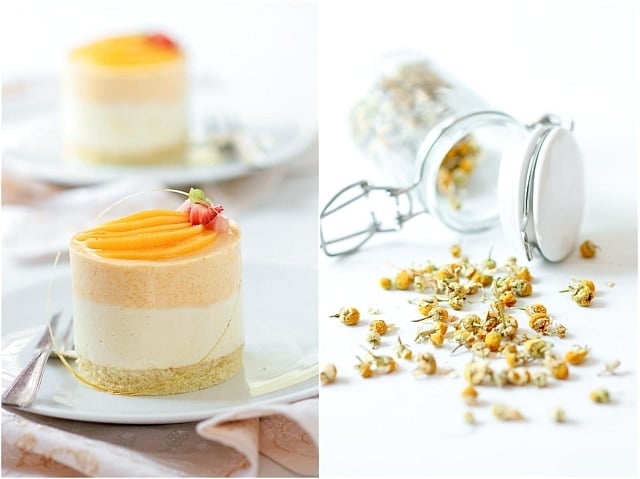 I have been quite open here in the past, sharing painful sentiments and emotions, bringing you to share with me the positive in rather difficult moments. But there are circumstances that only a handful of people (if that many) have been made aware of and I wish to keep for ourselves for now. Sorry to tell you that things are not always as they seem without elaborating but not having to formulate yet again things into words here is such a relief.
All day long we make plans, rationalize, explain, and I find peace knowing that I can come here and just hint at stuff and then tell you in the lightest manner possible to go bake a cake because things are prettier all wrapped up in sugar. Thank you for allowing me to do that. Being here with you and sharing what I am passionate about whether it be pastry, baking, photography, ingredients is one of the best part of the day. Thank you.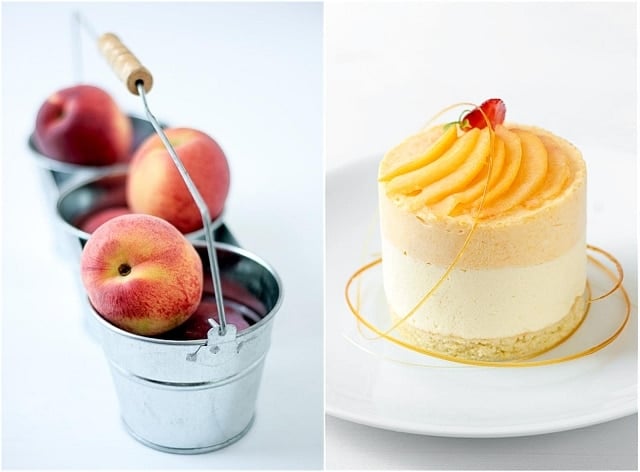 One thing I am passionate about when Spring comes around is going down to the farmer's market and get all my produce fresh and at ridiculously low prices. Egss, raw milk, vegetables and fruits galore. Happy, happy! I got so excited the other day when I got the first local peaches of the season. Velvet skin, rich colors and intoxicating scent. Happier, happier!

With peaches this fresh and juicy in my basket, I could only think about making ice creams and mousse. I wanted to create something soft and subtle, something that makes you want to close your eyes and focus on what it is you are eating and not only just eating it. I made a simple lemon and olive oil cake for the base, opting for a grassy flavored oil to play up with the peaches. The two different mousses start with the same base, a pate a bombe for which I flavored the sugar syrup with a good handful of dried chamomille buds (organic, usually by the bulk teas), and added pureed peaches to half of the mousse base. You can simply refrigerate the cakes until set and enjoy them chilled or freeze them and let them soften a bit for 10-15 minutes. We had them both ways and enjoyed them equally.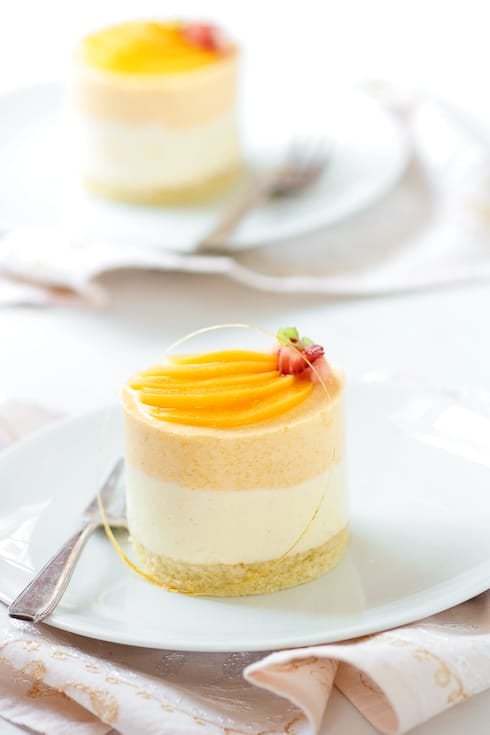 One year ago: Snickers Macarons
Peach Chamomille Mousse Cakes:
Makes four 3-inch cakes
Notes: I build these cakes in 3-inch wide entremet or mousse cake rings but you could build one single cake in a 8-inch round or 8×8-inch cake pan. Only the look will be different. Instead of using rhodoid to line the rings, (nothing against it, just did not have any on hand), I used a much less expensive medium: plastic proctector sheets (yes the ones used around the office to protect documents) and cut them to fit the inside of the rings.
I did brush the cake base with Limoncello but you can skip this step if you wish.
For the lemon olive oil cakes:
1 1/2 cups (185gr) all purpose flour
1 cup (200gr) sugar
1 tablespoon (14gr) baking powder
1/4 (1.5gr) teaspoon salt
1/2 cup egg whites (about 3-4)
3/4 (175ml) cup milk
1/4 cup (62.5ml) lemon juice
grated zest of one lemon
6 tablespoons (80gr) olive oil
For the chamomille and peach mousses:
1.5 tablespoons powdered gelatin
7 Tablespoons (130gr water), divided
2 cups (500 ml) heavy cream
6 egg yolks
1/2 cup (100 gr) sugar
2 tablespoons dried organic chamomille buds
3/4 to 1 cup peach puree (I process 2-3 cut peaches until finely pureed)
For the caramel decorations, please read here and here. I just twirled the caramel around a large tin can instead of a wooden spoon.
Prepare the cakes:
Preheat oven to 300F and position a rack in the center.
In a bowl, stir together all the dry ingredients for the cake. Set aside.
In a separate medium bowl, whisk the egg whites and the milk. Make a well in the center of the flour mix and slowly add in the egg white mixture while stirring with a whisk. Add lemon juice, zest and the olive oil. Mix with a whisk until smooth. Line a quarter sheet pan with parchment paper, lightly spray with cooking spray and pour in the batter. Bake for 20 minutes or until a toothpick inserted in the center comes back clean. Let cool and cut out four 3-inch rounds to fit your cake rings (extra cakes freeze well for up to 3 months). Line 4 cake rings with rhodoid or plastic sheets cut to fit and place your cake bases at the bottom. Place the rings on a baking tray and set aside.
Prepare the mousses:
In a small bowl, sprinkle the gelatin over 2 tablespoons of water and let stand while you prepare the pate a bombe.
In the bowl of a stand mixer fitted with the whisk attachment (or hand held beaters), beat the cream until it holds soft peaks. Chill it while you prepare the mousse base. Wash your bowl and whisk attachment.
In a heavy saucepan, stir together 5 tablespoons of water, sugar and chamomille buds. Bring to a boil over medium heat. Since you are not making caramel, it is ok to stir occasionally until the sugar is dissolved. Let it boil and bring the mixture to 238°F on thermometer (soft-ball stage). Strain the syrup to remove the chamomille over a container with a spout (makes it easier to pour over the egg yolks)
In the clean bowl of your mixer, still using the whisk attachment, beat the yolks slightly to break them up. Increase the speed to medium high and slowly pour the hot syrup over the yolks. Go fast enough to prevent the eggs from scrambling but not so fast that you end up with most of the syrup on the wall of the bowl or the whisk. Dissolve the gelatin in the microwave for 10-12 seconds and quickly add it to the pate a bombe. Continue to whip until the mass is completely cold and airy.
Fold about one third of the pate a bombe base into the chilled whipped cream to loosen it up and make it easier to incorporate homogeneously. Fold in the remaining pate a bombe.
Assemble: Divide the mixture in half and carefully fold the peach puree into one part. Spoon or pipe the chamomille mousse over the cake base and do the same with the peach mousse. Refrigerate or freeze until set.