Quinoa, Butternut Squash & Kale Salad And An Apple Cardamom Crisp

I hope everyone celebrating Thanksgiving had a wonderful time doing so. We surely did. The whole week was actually pretty darn good. It was rich in connections and reflections. The time spent in the kitchen with Laura reminded me of the time spent at home preparing a holiday meal with my grandmother and mother. It was comforting and soothing in so many ways.
It was a lot of fun cooking a huge feast with another like minded person. It's easy to talk food, pies, gratins, table settings, photography while chopping, boiling, cooking, peeling, etc… We made a lot of dishes. We wanted to try new recipes and still some beloved family ones. We certainly did not hold back but we had plenty to box up for our guests to take home. I have learned years ago that Thanksgiving leftovers are a must!

I will revisit a couple of the dishes for a later post but among the biggest hits were the Apple Cider Brined Turkey from Bon Appetit, Laura's mashed potatoes with creme fraiche, a root & leek vegetable gratin and a fennel-brioche and sausage stuffing. And the greens beans! I must revisit those miso green beans soon and post the recipe!

When everyone gathered around the table and shared some of their stories, time, themselves, my heart just fogged over. I was thankful for being surrounded by so much love and friendship. Many times I had to pinch myself that the day went as beautifully as it did. And continued the day after when Laura and her fiance Alex requested that I shot their engagement pictures. We had so much fun…well into the evening with dinner and drinks.
The weekend was spent quietly putting china and linens away, shopping at our farmers market and loading up on lots of seasonal fruits and vegetables. Taking some time to sit in the park with Bill and share a crepe and a cup of coffee. It finally started to feel like the holiday season (except for the 80F weather). Those simple things are all I crave for. They fuel me and refuel me times and times again. Just as certain foods do.

After a few richer meal than usual, I like the simplicity of a few good salads or soups. Without being a full blown detox, it's nice to dig my fork into a lighter fare. Lately, it's been lots and lots of variation around quinoa salad and this one is the one I have made countless time in the past couple of weeks. It's versatile enough to be a side dish or main course (with a poached egg on top…fabulous!). Kale and butternut squash are abundant this time of year but any seasonal vegetable would work.
I generally pass on desserts in favor of a good juicy apple or pear this time of year. I do however have the habit of making dessert for our Sunday suppers with friends and crisps and simple tarts are always high on the list during Fall and Winter. Having a spoonful of a little sweet something always makes me feel like I am ending the weekend well and ready for the week ahead.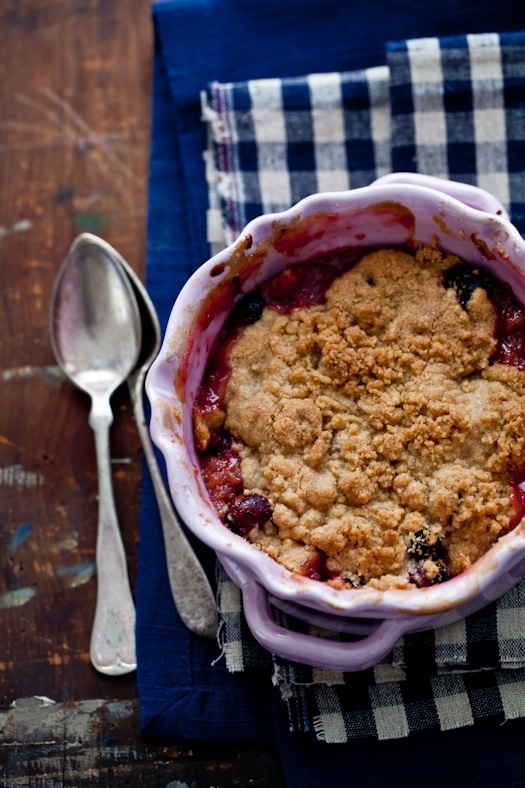 The quinoa salad is one I intent to serve for lunch during the Food Photography Workshop I'll be teaching in Charleston on December 10th. Yep, I enlisted Laura to assist and help prep some great foods for all the attendees. On a side note, there are 3 spots left for that workshop!
I am curious though….what do you like to cook or bake to give your body and self a little break this holiday season? Looking forward to being inspired with your answers! Thanks for sharing!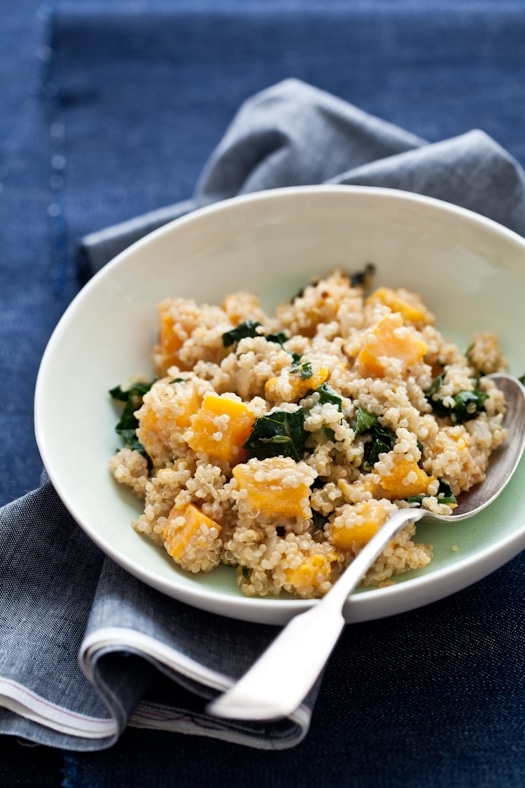 Apple Cardamom Crisp:
Makes 6 to 8 (depending on your ramekins)
Ingredients:
For the fruit:
6 regular size apples (your choice) or about 12-15 lady apples
1 cup fresh cranberries
2 tablespoons honey
juice and zest of one lemon
1 tablespoon cornstarch
1 teaspoon cardamom
For the crisp:
1 cup Jeanne's all purpose gluten free flour mix (or same quantity regular flour)
1/2 cup (100 gr) light packed brown sugar
1 stick (113 gr) butter, softened
Directions:
Preheat the oven to 350F (convection or regular) and position a rack in the center. Prepare the fruit:
Peel, core and slice thin the apples. Place them in a large bowl with the cranberries, honey, lemon zest and juice, cornstarch and cardamom. Toss well and reserve.
Prepare the crisp topping:
In a medium bowl, combine with your fingertips or a pastry blender the flour, sugar and butter and form large clumps of dough. Refrigerate at least an hour or freeze overnight.
Assemble and bake:
Divide the apples evenly among 6 gratin dishes or ramekins. If the crisp dough was refrigerated, just break apart clumps of it over the fruit with your fingertips. If it was frozen, you can simply grate it on top with a large cheese grater.
Bake for 20-30 minutes. Let cool.
**************************************************************************
Quinoa Salad:
Makes 4 to 6 servings as a main dish.
Ingredients:
1 1/2 cups quinoa
3 cups water
2 teaspoons olive oil, divided
1 onion, chopped
2 garlic cloves, minced
1 1/2 cups peeled, cored and diced butternut squash
1 1/2 cups roughly chopped kale (previously washed and cleaned)
2 teaspoons fresh thyme, chopped
vinaigrette (recipe here)
Directions:
In a large pot, bring the quinoa and water to a boil, reduce the heat and simmer, covered until all the water has been absorbed (about 20 minutes). Remove from the heat, fluff with a for and place in a large bowl to cool for 20 minutes.
In the meantime, heat one teaspoons olive oil in a large skillet, add the onion and cook until it turns translucid. Add the garlic, butternut squash and kale. Cover with a lid and cook for about 10 minutes on medium-low heat. Remove the lid, check that the butternut squash is tender but not mushy or hard when you poke a piece with a knife. Add the thyme and continue cooking until the all the liquid creating by the cover has evaporated.
Let cool to room temperature. Gently fold the cooked quinoa and the cooked vegetables together along with the vinaigrette.
Serve room temperature or cold.