Yuzu Cremes Brulees
If you were to visit our house right now, you'd be wondering if Christmas is really just a a week away. Oh, we have a small tree up in the living room but that's about it. No present wrapped up underneath and a few of Christmas decorations here and there in the house. We have gifts almost all ready to go for everyone but we can't leave them out since they are of the edible kind. The pupps have a tendency to get in trouble with bows and ornaments!
I like the feeling of turning the kitchen and dining room into some Santa's Edible Gift Workshop. The oven is on all the time, boxes, papers and ribbons cover most of the table. I also appreciate putting my feet up and taking in the spirit of the holidays by digging my spoon into of these Yuzu Cremes Brulees.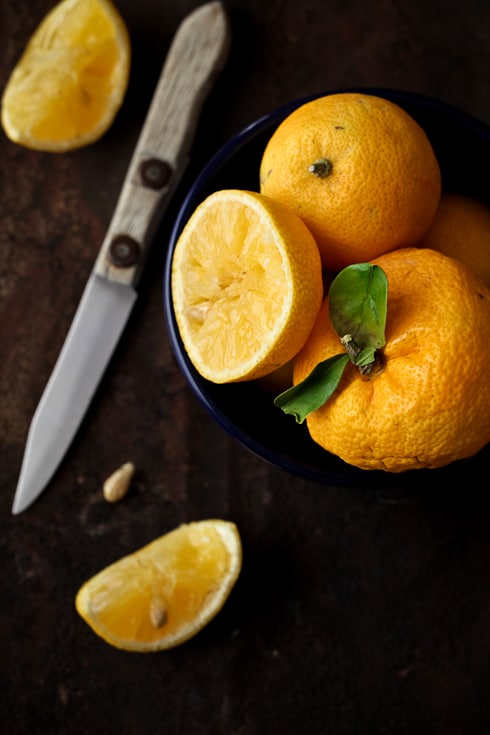 I could feel sad that we are not going home this year for the holidays but I don't. We are grateful to be busy at work with little time to think about being away from the rest of the family.
B's family has always made me feel loved as their own, especially during big holidays. Some friends drop by for tea and cookies and some friends send goodies like Todd and Diane gifting me with a precious delivery of fresh yuzu for Christmas.
When they sent some Calamansi limes they also included three little yuzu fruits. I guess they heard me sigh "more please!" all the way to California and sent more. The first three yuzus yielded enough juice to make two doll house sized yuzu curd tarts.
We ate them as soon as they came out of the oven and I never got the chance to take pictures. I got this new box the same day B. was asking me for creme brulees. In the 12 years we have been together I have never figured this out: every year around Christmas, he asks for cremes brulees.
He's not picky mind you, any flavor will do and he loves trying new things. Hence, some of the yuzu fruits ended up being used for custards.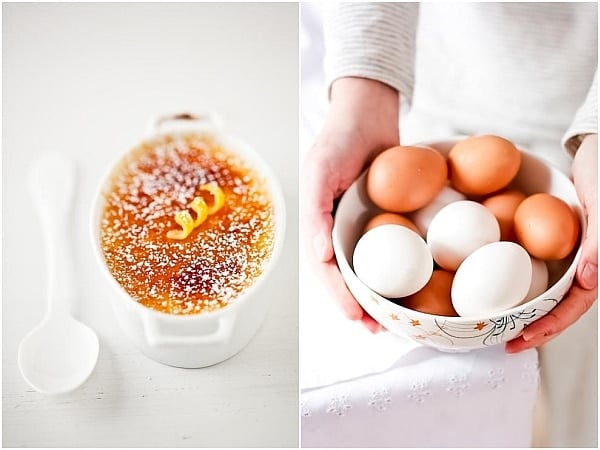 If you have never had yuzu, think of it as the Rolls Royce of citrus fruit. Every time I am lucky to get some, I can't help but feel like I am holding a clementine sized grapefruit cloaked as a lemon, fragrant like Meyer lemons, seedy like a mandarine and as easy to peel as a tangerine. See what I mean…
Just as I hold yuzu in high regards, B. gives cremes brulees close to a royalty status around here. Hence it seemed fitting to combine both in one dessert. Todd and Diane sent me two types, yuzu and Kabosu and the latter were perfect to impart as much flavor as possible to the custards.
They have more juice, less seeds and rind than yuzu. I zested the Kabosu, pureed the flesh (minus the seeds) and threw all this in the cream base of the brulees, much like as if I were using vanilla. I also let the batter steep overnight in the fridge, exactly as I do with straight vanilla bean creme brulee.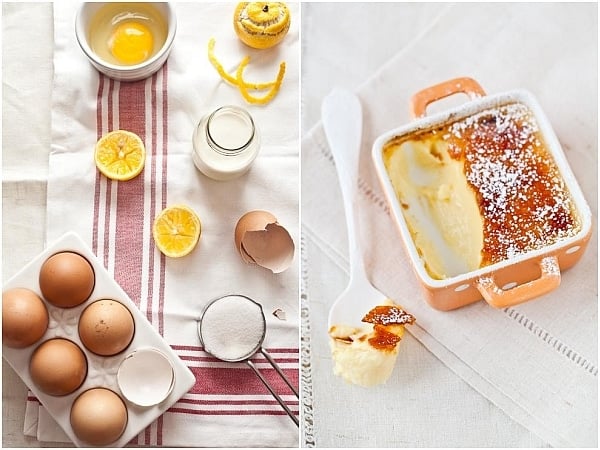 I was worried B. would frown but he asked for seconds and declared these the best ones he's had so far. Believe me when I say, he has many years of Creme Brulee research attached to his resume! And they are gluten free which is perfect for me as I can eat my share too!
Thank you to all of you participating in Menu for Hope, either as item donors or item bidders, or both. You guys are awesome. Check the progress of the fundraising here and keep spreading the word! Thanks!

Yuzu Creme Brulees:
Makes 6-8
Note: Since yuzu isn't the easiest thing to find, I've come up with a concoction to get pretty close to the taste. I am still experimenting but so far the following has been very promising: juice and zest of one lemon, zest of one mandarine and enough grapefruit flesh to take the whole mixture to about 1/3 cup.
Creme brulees are easy to make and require few ingredients. They are however considered royalty because they need to be handled properly to achieve the right texture. They should be smooth all the way through and once caramelized on top, they should have 3 levels of temperature from top-hot to middle-warm to bottom-cold.
I say "should" because let's face it, the creme brulees police isn't going to come after you if they are not what a red-faced angry French chef would expect "perfect". (talking from experience, believe me). Anyways…
For the creme brulee filling:
6 egg yolks
1/2 cup (100gr) sugar
2 cups heavy cream
3 yuzu, zested and pureed to get about 1/3 cup pulp/juice
For the sugar crust:
1/4 cup to 1/2 cup granulated sugar (50gr to 100gr)
In a large bowl, whisk together the egg yolks and sugar until pale and thick (3-4 minutes). Reserve.
In the meantime, place the cream in a medium saucepan over medium-high heat and bring to asimmer. Add the citrus mixture.
When the cream is hot, slowly pour it over the reserved egg yolk mixture, whisking constantly to prevent the yolks from curdling. Let cool to room temperature and refrigerate at least 4 hours, preferably overnight.
When ready to bake:
Preheat the oven to 350F (325F if using convection). Place 6-8 ramekins (depending on size) in a deep baking pan. Set aside.
Strain the mixture into a 3-4 cup measuring container, preferably with a spout as it makes it much easier to pour. Discard the yuzu or citrus mixture. Pour into the ramekins until about 1/4 to 1/2 inch from the rim
Place the baking pan in the oven and pour enough hot water to reach about halfway up the sides of the ramekins.
Bake for about 20-25 minutes. Remove from the oven and let cool before removing the ramekins from the pan.
Refrigerate until completely cold. When ready to serve, sprinkle each creme brulees with 1 tablespoon sugar and caramelize the tops with a blow torch (or use the broiler in your oven on high – the results are not quite the same though).