Goat Cheese Ice Cream and Fresh Cherries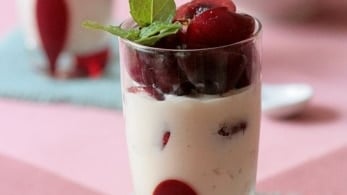 Lately I have been on a fresh goat cheese and cherry kick. A bite of soft cheese of bread followed by a couple of cherries, pitted cherries filled by a spoonful of creamy goat cheese, chopped cherries folded into goat cheese cream on toast for breakfast. Nope, not pregnant, just enjoying the simple pleasures of summer and life in general. Like dipping my feet in the river when I can catch the right tide, catching crabs or taking the neighbors' kids down the creek at low tide to watch the herons. I live for moments like these and thank you Tea for reinforcing my feelings that the immediate, simple things in life are to be lived to the fullest.
You must be wondering if I live in some sort of idyllic community. It's hard to understand our rhythm until you come visit like my aunt and uncle did earlier this month. Dinner? Let's go check the crab traps! Sunset? Let's get the sailboat and go for a ride? Just yesterday, C. called because our dogs had decided to trade house for the evening! I had Poo running award in the yard and she had Tippy begging for cake! Finally the twins created a little diversion with the cat and the turtle and everybody was back in their due abode. If we are eating outside on the patio and there is activity next door outside, it's not long before we are "summoned" to bring that plate over and we'd better add a beer with it! Thanks to the weather, winters are just about the same.
Little things like these are big things for me being so far away from home. The warmth and appreciation for life in our neighborhood make it a lot easier to be away. It is never intrusive, always supportive and I am glad that my family got to sample a little bit of our life in this sea town that is Charleston. The heat and the water nearby make it very difficult not to feel like you are on vacation most of the week…except when the mean man calls about a past due phone bill…oops! My rhythm adapted along the years, not very different from my upbringing in Provence, and I don't think I could go back to big city life now!!
Why this rambling about living to the fullest and being appreciative? Well, because I needed to write it out and also to tell you about another basic pleasure I enjoy: homemade ice cream. And you thought this post had nothing to do with food! The ice cream machine has indeed been working overtime this week, churning batches of classic flavors like vanilla and salted butter caramel but more interesting ones like goat cheese. With this heat, I have had no desire to crank the oven on, except to make our bread and that was done way late at night when it was a mere couple of degrees cooler.
I chose a fresh mild goat cheese for the ice cream since I was taking it over to the neighbors and did not want anybody to go "ewww" on me. It worked beautifully with the cherries that I just pitted and sprinkle with some lime juice. Obviously, with the heat outside, the whole thing turned into cherries with puddle of goat cheese cream, but at least I did not hear any complaints!! I hope that Mike from Mike's Table likes the concoction because I a virtually sending these over his way for his Frozen Dessert Event!


Goat Cheese Ice Cream And Fresh Cherries:

Serves 6
Printable recipe

For the ice cream:
2 cups milk (50 cl)
1/3 cup heavy cream (10 cl)
3/4 cup sugar (170 gr)
2 egg yolks
1 Tb vanilla bean paste or 1/2 vanilla bean, seeded
3 oz goat cheese (90gr)
Whisk the egg yolks with the sugar. In a saucepan set on medium heat, bring the milk and the cream to boiling point, slowly pour a small amount on the egg yolks to temper. Pour the remaining over the yolks and sugar. Stir well then pour back in the saucepan and cook over medium low heat until the cream thickens and coats the back of a wooden spoon. Remove from the heat and whisk in the goat cheese until completely melted and incorporated.
Cool to room temperature. Cover and refrigerate until cold. Process in an ice cream maker according to your machine's manufacturer's instruction.
For the cherries:
Mix together 2 cups pitted cherries and 2 Tb fresh lime juice