Cherry & Plum Crumbles With Goat Cheese Ice Cream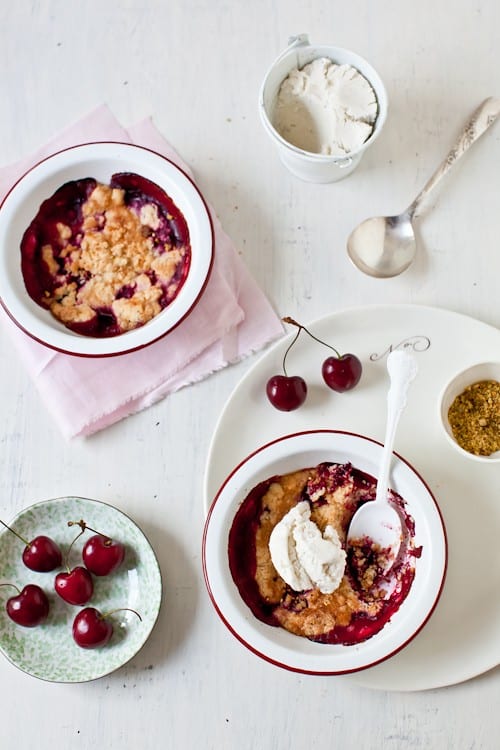 You have no idea how good it feels to finally take time in this crazy schedule to come here and write a little, share a recipe and possibly a good laugh or two. Although now that I am here I am drawing a super "ugh" kind of a blank. Yes, even that brilliant paragraph I wrote in my head this morning in the shower. Pouf! Gone. I am seriously thinking of designing a waterproof notepad or carrying a waterproof in there.
Oh yes…it just came back to me: Bill's birthday is next week, the 27th to be exact, and I do need your help. I can't decide what to make him for his birthday dessert this year and I thought I would ask you for some suggestions. In order to make this a bit more fun for everyone, I thought about pairing it with a little giveaway. So here it is folks:
– Tell me what is the most raved about dessert you have made (please provide link to recipe or as many details as you wish) in the comment section of this post. No need to have a blog, just the main idea of the recipe. (No anonymous without a name will be approved).
– On Monday night, I'll pick one I know my better half would love for his birthday, make it and post about it, (with full credits to you and the recipe of course).
– But that's not all, the person whose dessert was picked will be sent a copy of "Artisan Breads – At Home With The Culinary Institute of America" (I'll ship worldwide)
Hope ya'll can hit me with some major sweetness! And anything goes: the man likes everything, ahaha!

And I am ok with losing my mind over this… it's the season after all and I admit I absolutely love it. Well, apart from not being able to cook and post as much, answer emails on time, and piling up clean laundry instead of folding it. Why am I telling you this? It all relates to these Cherry And Plum Crumbles and how I need a mini "brain check" before bedtime lately.
I was all set to make cherry and plum sorbet the other day when I realized I may not have picked up enough of each at the farmers' market and I was about to head out the door for more, B. shouted from the garage that his mom was stopping by with extras from her market trip "she thought you might like more plums and cherries". What did I hear instead? The tiny influx of rush and stress of my own mental notes but not a word he said.

I started thinking I should pick some flowers for his mom as a thank you. That I'd better not lolligag while at the store, get my stuff and jet. My mind drifted and wondered if I'd have time to churn that batch of ice cream before bedtime. I thought about the vet, the delivery guy, the dentist every one in between! It felt crammed up inside my head. Have no fear, I am not driving while under the influence of the voices. The car seems to be a free zone.
I got home right on time to invite my mother in law inside for a very cold glass of lemonade and a few cookies. We unloaded our bags together and busted out laughing right away. I was staring at enough cherries and plums to feed the whole neighborhood. I've always considered this kind of happening a joyous opportunity to poach extra fruit and freeze them for when I crave cherries in January, plums in November, or ripe and juicy pears in June.

Poaching fruit in a concoction of lemon juice, water and spices is something I learned from my mom and grandmother very early on. It used to generates suspicious looks from my husband when we were newlyweds and he'd come home to find me elbow deep skinning and pitting a box of bruised peaches for poaching and freezing. Why not can you might ask? I make jams regularly so I am running out of room already in the pantry and I go through the frozen fruit faster than the jams.
I had enough fruit this time around to make cherry and plum sorbets, poach and freeze some and make Cherry Plum Crumbles with the rest. That's a lot. Even if it's summer and it is bloody hot outside, I still went ahead and made crumbles. I needed to plan comforting treats for the busy day ahead. The mix of crunchy bits of dough and soft fruit all warm out of the oven topped with a generous scoop of ice cream is my idea of the ultimate comfort.
I am too ticklish to get a massage. I am too claustrophobic to enjoy a facial. Not girly enough to go for mani-pedis. So crumbles it is. Curled up on the couch, passed midnight, the pups next to me. Preferably with a side of summer rain but without is alright too.


Cherry and Plum Crumbles With Goat Cheese Ice Cream:
Seres 4-6
For the fruits:
4 plums, pitted and chopped into small dices (about 1 cup)
1 cup fresh cherries, halved and pitted
1/4 cup honey
zest of one lemon
2 Tb lemon juice
2 Tb cornstarch
For the crumble:
1/2 cup light brown sugar (I used sucanat)
1/3 cup millet flour
1 teaspoon cardamom
6 tablespoons butter, cold
Prepare the fruits:
Preheat your oven to 350F.
In a large mixing bowl, combine the fruits with the honey, lemon zest and juice and cornstarch. Toss with your hands to coat the fruits evenly. Divide between 4 to 6 ramequins and place them on a baking sheet lined with parchment paper or foil as the fruits are most likely to release their juice, causing a spill. Set them aside while your prepare the topping.
Prepare the crumble:
In a medium bowl, toss together the sugar, millet flour and cardamom. Add the butter cut in small pieces and mix with your fingertips until you get a mixture that resembles coarse crumbs. Divide th topping evenly on top of the dishes. Bake for 20-30 minutes or until the topping is golden brown.
Goat Cheese Ice Cream:
3/4 cup sugar (170 gr)
2 egg yolks
2 cups milk (500 ml)
1/3 cup heavy cream (100 ml)
1/2 vanilla bean, seeded
4 oz goat cheese (120gr), at room temperature
In a large bowl whisk the sugar and egg yolks until pale. In a saucepan set on medium heat, bring the milk, cream and vanilla bean to a simmer, slowly pour a small amount on the egg yolks to temper. Pour the remaining over the yolks and sugar. Stir well then pour back in the saucepan and cook over medium low heat until the cream thickens and coats the back of a wooden spoon, stirring constantly.
Remove from the heat and whisk in the goat cheese until completely melted and incorporated.
Cool to room temperature. Cover and refrigerate until cold. Process in an ice cream maker according to your machine's manufacturer's instruction. Freeze until firm.