Arabian Nights – Monthly Mingle 9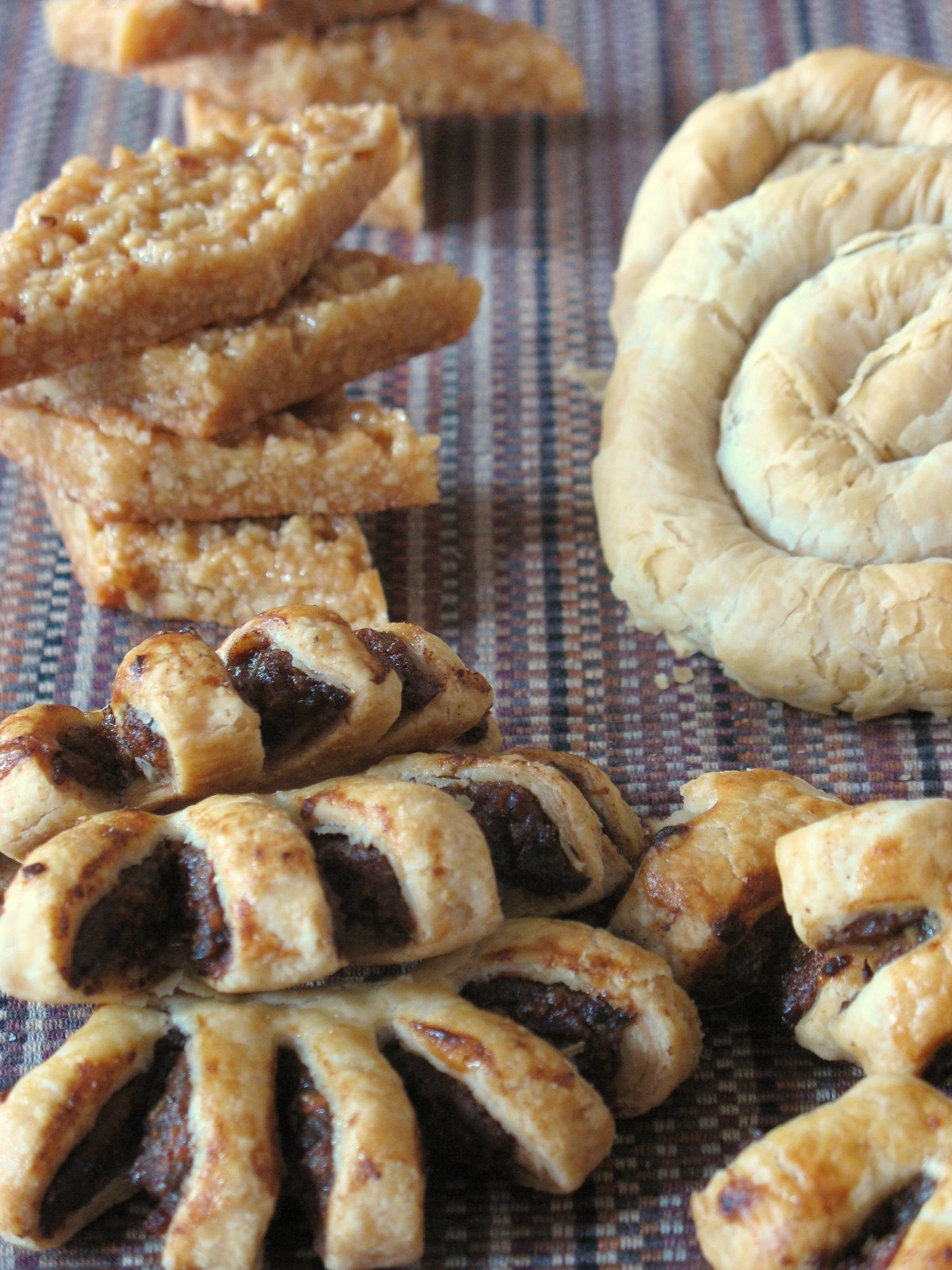 Here I am, probably the last one to bring her dishes to Meeta's Monthly Mingle. I really thought I would never make it on time this month…I fell victim to the old combination of too much work, too much family (but I am happy about that one) and very little play time in the kitchen….isn't it funny how our kitchen priorities are very different from our boss's our customers'?..but yet, they are quite happy when we bring them half of whatever we have concocted that day!
I got quite excited when I read about the theme this month: an entire event devoted to Arabian Nights…and then I drew a blank…for about 2 seconds!I immediately thought about dishes and pastries from Morocco and Algeria and decided to bake 3 of my favorites. I had a hard time finding pastries and desserts from other Arabic countries so I am really looking forward to learn more and see what other bakers have come up with. I am also going to check out the library in the future to try to broaden my horizon.
Why Morocco? My parents were born there, mom in Oujda and dad in Rabat, in the 30s and 40s as children of military families, their parents were stationed wherever they were needed and ended up traveling quite a lot, much like nomads. (My dad continued the tradition and this is why I probably ended up here!) Although they did not stay in the country, the Arabic world always had a place in my family, in phrases and sentences, in memorabilia, furniture and of course cooking (just ask anybody about my Grandmother's couscous).
The other reason behind Morocco is because of the vivid memories I have from a little "hole in the wall" bakery that was situated a block away from my University when I was doing my graduate work. I would go there with a couple of girlfriends and get a little pick me up around 4pm before hitting the books again. The owners loved our little group of 3 young plump chicks and we always ended up sampling more than reasonable but for us every free sugar honey dripping morsel was worth its weight in gold! I have yet to find anything close to what they had here in SC but that may not be a bad thing as all the pastries from that part of the world have a tendency to be overly sweet and I know I would develop diabetes in a flash. However, there are three pastries that stuck to my memory, and Meeta's event was the perfect opportunity to revisit them. Common ingredients in Arabic pastries are nuts, dates, orange blossom flower water, corn meal, fillo dough, honey, sugar and butter. Only a few bites of each one of these would satisfy any sweet tooth.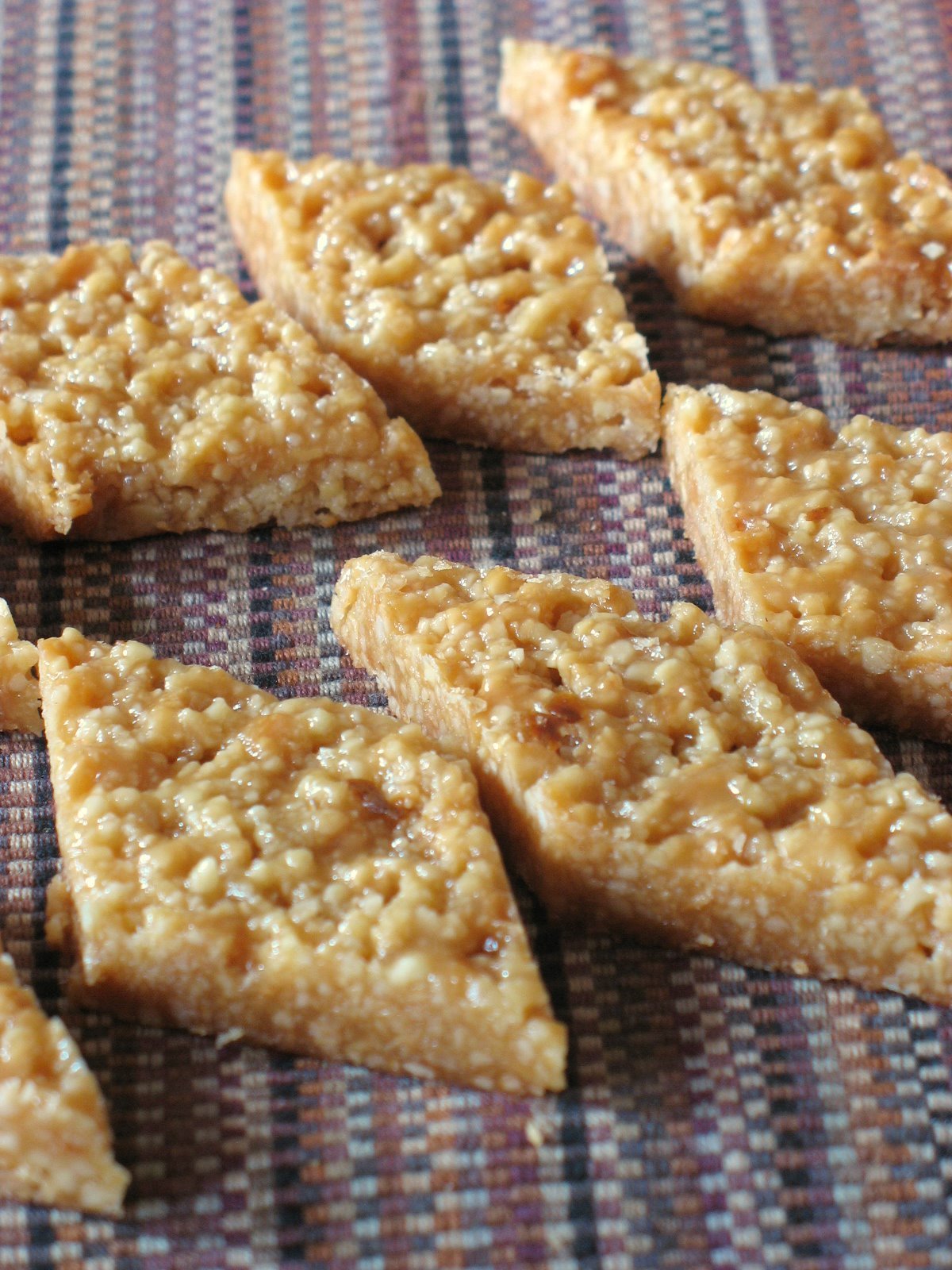 Harissa from Oujda, adapted from Fatema Hal :
If you are familiar with the hot sauce 'harissa', do not ask me why this particular pastry is also called this way as there is nothing hot about it. I am guessing it refers to the cooking style, but if you know, please let me know in the comment box.
250 gr. ground almonds
125 gr. sugar
2 Tb. orange blossom flower water
2 Tb. honey
75 gr. butter
Preheat oven to 350 F.
In a saucepan, mix together the sugar and orange blossom flower and boil for 2 minutes over medium heat. Do not caramelize, but bring to a syrup like consistency. Remove from the heat and stir in the almonds, butter, honey. Mix well. Pour into a 8X8 inch square pan and bake for 15 minutes, or until golden brown. Remove from the ovem, let cool completely and cut into losanges.
They are easier to cut if refrigerated for 1 hour.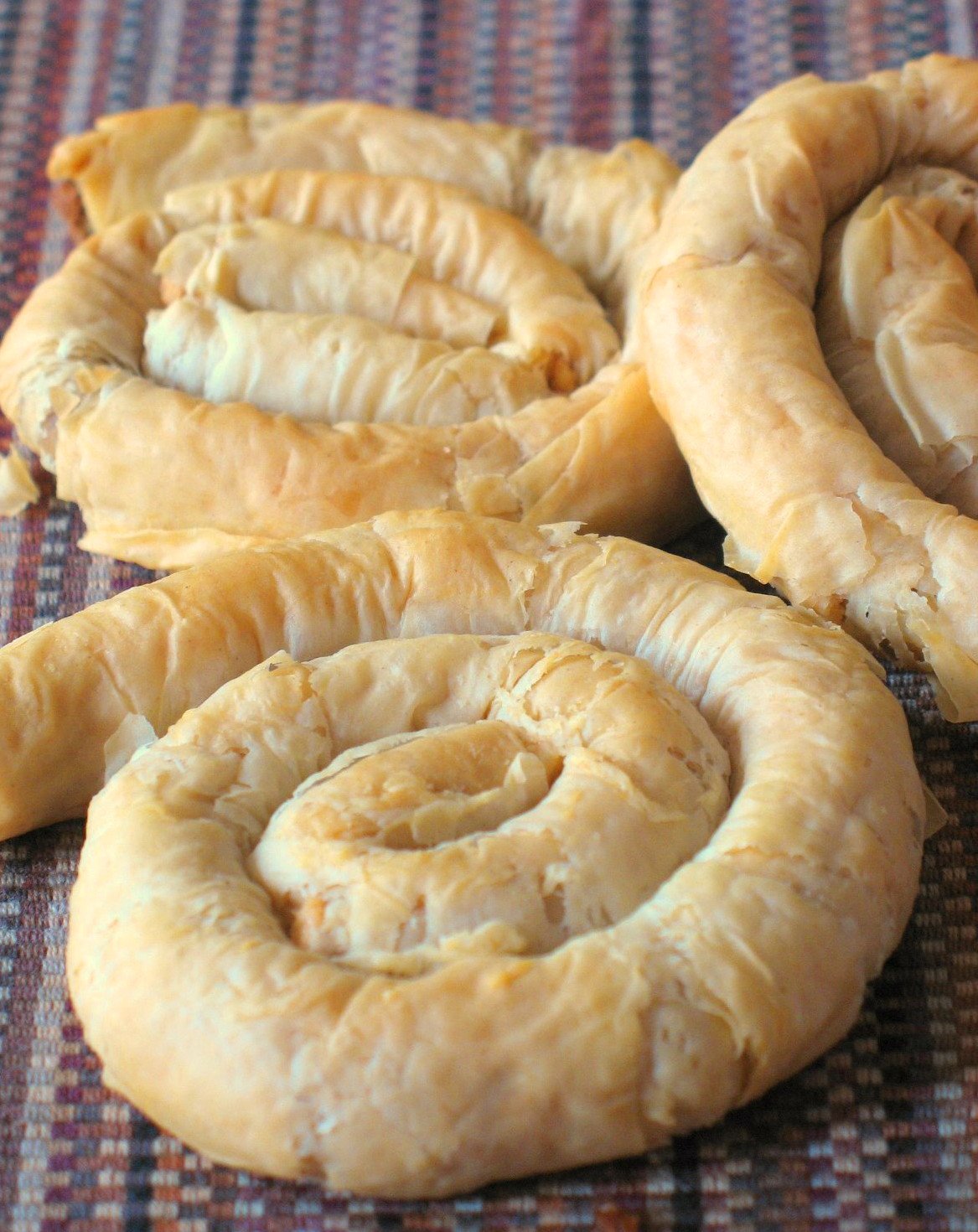 Maancha (also spelled Mhencha) , Snake pastries:
Makes 8
16 sheets
1/3 cup granulated sugar
2 1/2 cups almonds
1/4 cup melted butter + 1 Tb.
1 teaspoon orange blossom water
honey to drizzle
Preheat oven to 400 F.
In a food processor, grind sugar and almonds. Add orange blossom water and 1 Tb.butter. Blend into a smooth paste.
Stack 2 sheets of filo dough, brush with melted butter and place 1/4 cup of the almond paste and spread it down the center, in the shape if a thick pencil.
Roll the dough around the paste, and form into a snake coil. Repeat with remaining dough and paste. Brush evenly with buttter and drizzle with honey if desired. Bake for 10 minutes.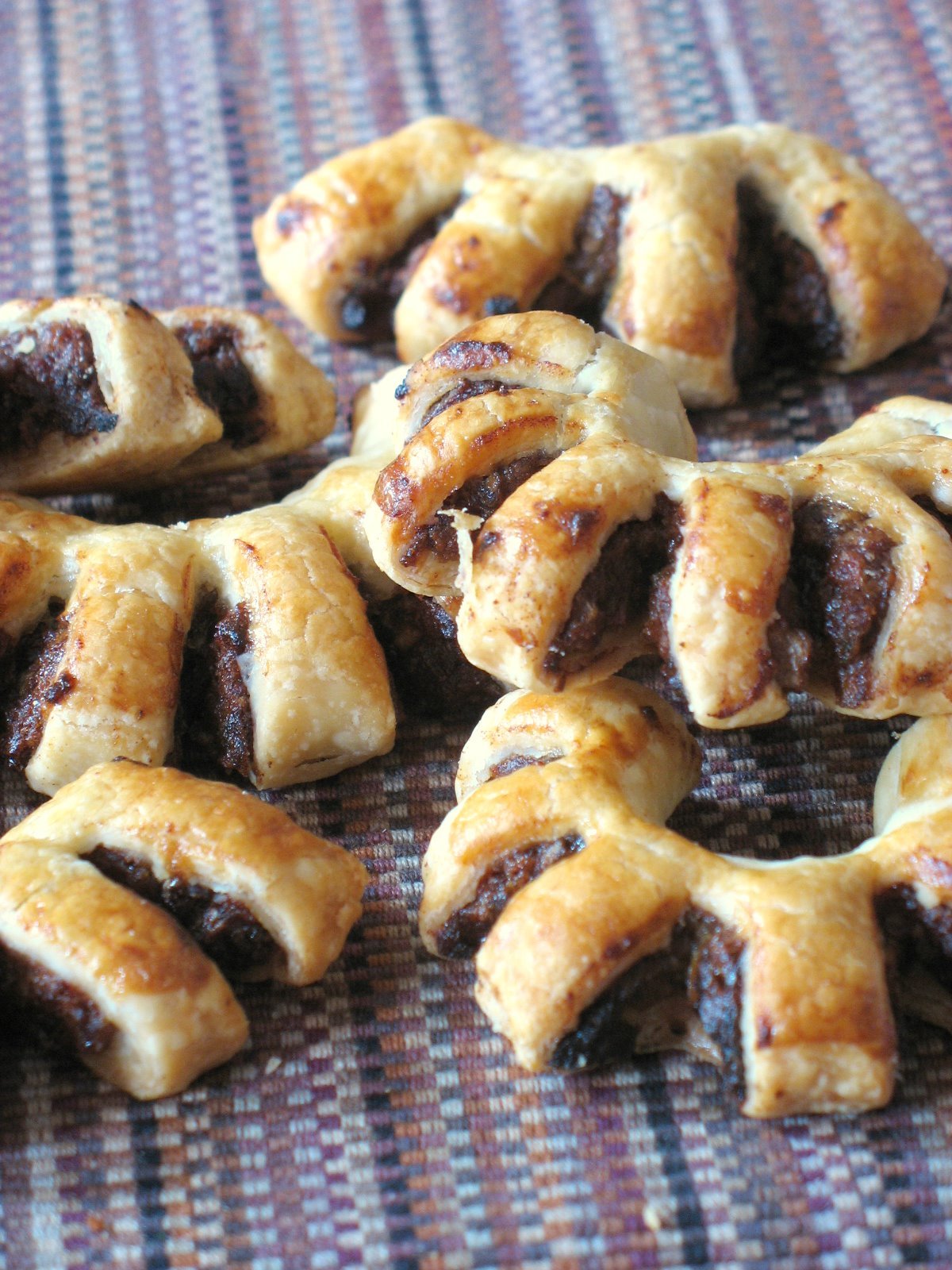 Date Snails, adapted from Celine:
Mine ended up looking like bear claws, because I could not get them to roll the right way. I'd rather come up with another solution than have something aesthetically weird. The following directions are given for making snails.
Makes 16-18
Dough:
1 lb all purpose flour
1 1/2 sticks butter
2 Tb. sugar
2 TB orange flower blossom water
1 egg
Filling:
1 cup chopped, pitted dates mixed with a pinch of cinnamon and a dash of orange water
For the dough:
Mix all the ingredients together and add a little bit of warm water if necessary to obtain a smooth dough. Cover the dough and refrigerate for 30 minutes to relax it.
Form the filling into little logs. Roll out the dough into a thin rectangle. Put one log on the longest side and roll once over to encase the date filling.
Keep doing this with the remaining date logs and dough.
With scissors, cut slits into each log at 1/2 inch intervals, not cutting all the way through. Cut each log at 5 inch intervals and coil the dough onto itself to form a snail.Bake at 350 F for 10 minutes or until golden brown.