Cranberry And Cream Scones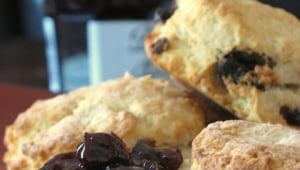 Warning: this post is about love!
I like to give my man a little extra attention in the morning because it is truly the only time of the day we can spend "uninterrupted"…you know how it goes, work, hobbies, friends, functions, for some kids and others pets, and before you know it the day is drawing to an end.
I was getting tired of our breakfast selections so when I saw Meeta's invite to her Monthly Mingle, I figured it would be a great way for me to show B. my love and appreciation with one of his favorites, scones. I felt bad the recipe called for heavy cream and butter so to alliviate any guilt I added dried cranberries…it's good for the heart!
B. could not stop humming his way through the house knowing that he had those waiting for him this morning. After over 8 years of marriage, I am blessed by the fact that he thanks me for every meal or special treat I set out in front of him… I thank him for still opening the car door for me and making sure my tank is full. We are romantics in our own and geeky way. For example, we have a V-Day card contest every single year: who will be the one to give the most Valentine cards, romantic, funny, creepy, dorky, homemade,…. I think I went a little crazy this year…we'll see!
Big silence of approval from B. regarding these scones and he asked for another batch next week…my heart can't say no!
Cranberry and Cream Scones, adapted from Dorie Greenspan's Cream Scones:
Makes 8 large ones.
2/3 cup heavy cream
1 egg
2 cups flour
2 Tb sugar
1 Tb baking powder
pinch of salt
5 Tb. cold butter, cut in small morsels
extra sugar for rolling the dough
1/2 cup dried cranberries
Preheat oven to 350.
In a small bowl, whisk the cream and the egg. Set aside.
In a separate and larger bowl, mix the dry ingredients. Cut in the cold butter with a pastry blender, 2 forks or your fingers (my choice, I like to play with food), until it resembles coarse crumbs. Add the cranberries.
Mix in the wet ingredients and mix thoroughly with a spoon or again your hands. Do this fairly quickly to avoid over kneading the dough. Gather into a ball and pat on a sugared board. With a 3 inch cookie cutter, cut out 8 rounds.
Put them on a foil or parchment paper lined baking sheet and bake until golden brown.
Note: I like rolling the dough with sugar on my board and not extra flour. It coats the scones with a light crunch and prevents the dough from getting tough.