Georgia Peach Ice Cream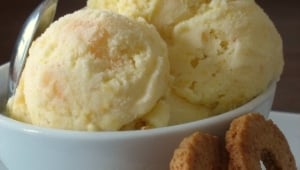 Well these georgia peaches
Son they know their way around
They can take your money, son before you get sight of town
Well they talk a little funny, but they look so fine
Nine out of ten of them gonna sell you a dime
I think they're cute, think they're cute as they can be
Talkin' about a funny talkin', honk-tonking georgia peach

Well, peaches, peaches
Love them georgia peaches
Well, peaches, peaches
Love them georgia peaches
Excerpt from Lynyrd Skynyrd's Georgia Peaches
Yes, I know that me and the boys from the band were not talking about the same kind of peaches, but I could not help myself and kept humming the tune while peeling the fruit to make this ice cream.
When I got to the farmer's market this morning and found a bounty of gloriously fragrant and yellow Georgia peaches, I knew some would end up in a cake, some cut up on my salad and some would turn out into an ice cream. It has been so hot and humid the past few days, we keep filling up on frozen fruits and icy cold smoothies while the ice cream machine is dying from boredom. I just was not that inspired until this morning. Oh sure, I could whip up some of our favorites again, but we are craving light, fresh and if possible incredibly tasty and there is nothing fitting the description better than a Georgia peach.
There is not much to add, other than giving you the recipe, and urging you to make it with fresh fruit and not frozen or canned are we are here in the US in full peach season. The base is a light custard and a little lemon juice or crystallized ginger can really perk it up.

Peach Ice Cream, adapted from Cuisine at Home (thanks Lisa for my birthday present!)
Makes 5 cups
2 cups fresh peaches, skinned, pitted and diced
1/4 sugar
1 tsp. lemon juice
4 egg yolks
3/4 cup sugar
1 1/2 cups whole milk
1 cup heavy cream
1 vanilla bean, split in half or 1 tsp. pure vanilla extract
Macerate the peaches with the lemon juice in a saucepan with the lemon juice and sugar for about 10 minutes or until syrupy. Simmer over medium heat until the peaches are soft for about 5 minutes. Let cool completely.
Whisk the egg yolks with the sugar until thick and pale. In the meantime, heat the milk, cream and vanilla bean until steam rises. Gradually add the hot cream to the egg yolks, whisking constantly to prevent them from scrambling. Pour the mixture back into the saucepan and cook over medium heat until the cream coats the back of a spoon, 5 to 8 minutes.
Strain the cream and let cool completely. Stir in the peaches. At that point I used an hand-held mixer to puree some of the peaches and leave chunks into the base. Churn the mixture in an ice cream maer according to manufacturer's instructions. Transfer to a container and freeze until firm.
It is so good that I am taking it to Meeta's Monthly Mingle. She is on a well deserved vacation, so check back after the 7th of July for a cold and creamy ice cream round-up.