Salted Butter Caramel Sauce and Banana Chocolate Crepes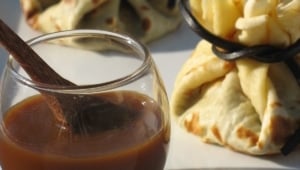 Under other circumstances I would have started this post with the title "Banana Crepes and Salted Butter Caramel Sauce", but Andrew wanted sauces to be the center of attention in this month "Waiter There Is Something In My…" so my favorite caramel sauce took center stage.
There are very few things I love more than crepes in the desser category. Summer or winter I do not mind standing in front of the cooktop and flipping a batch. Oh yeah, I am a flipper! As soon as that crepe is pulling out from the side and loose from the bottom, I will flip it. There is enough batter for a couple to end up on the floor (makes the dog happy) or stuck to the ceiling (makes the husband worried). I like them sweet with a spritz of lemon juice and sugar or filled with my mother's strawberry jam. That's when I am being good….When I am being bad, I will load them up with Nutella, bananas, drizzle some caramel sauce, a good amount of whipped cream and some chopped nuts. Maybe just some chocolate, coconut sorbet and again that awesome sauce.
Allright there is obviously something that I love as equally as my sweet crepes and it is that heavenly and damned salted butter caramel sauce. It is heaven on a spoon, soft and good, it is evil on your thighs, especially if you eat it at the rate we do! Try it once and there is no going back!! I noticed I always have jar of it in the fridge and it is one of the first things I put in goodie baskets for friends and family. It was not always so and I can't believe I have let such a long time pass by before making it! I was first introduced to it while reading one of my favorite blogs, Chocolate and Caetera. Guillemette makes the most tempting creations and when I read her post about the sauce, I was hooked. I am sure that caramel sauce also helped win HHDD #10 Cheesecakes.
Now that everybody has been introduced, let's proceed with the fun. If you read French, head over to Marmiton where you will find the crepe recipe under (I translated) "the best crepe batter in the world". Now if you post such a title, you'd better have some back up or a strong faith in your recipe! Well….It became "the best" I had made so far after I added 1/2 cup light beer to the batter. See, to me there is no crepe without beer or cider. It helps the dough relax better, it helps it become airy and light without adding too much butter or oil to the batter.
The banana filling pretty much came together as I was going along….can't mess up too much cooking nanners in butter, sugar and rum now can you?!! Once the crepes were flipped and filled I tied them up in little bundles with cut strings of licorice. The sauce served alongside really gave them another dimension. Can't you tell we enjoyed dessert that evening?!
Salted Butter Caramel Sauce
240 gr. sugar
80 ml water
115 gr salted butter
150 ml heavy whipping cream
In a heavy saucepan set over low heat, combine the sugar and water and heat just until the sugar is dissolved. Add the butter. Let it come to a boil and cook until it reaches a golden caramel color. Remove from the heat and add the cream ( it will splatter and get crazy, but do not fear and trust the recipe). Whisk to combine and put back on the stove. Let it come to a boil again over low heat and cook 10-15 minutes until you reach a nice creamy consistency. Pour into a jar and try to refrain yourself from drinking it!
Crepe Batter
Makes 12 crepes
250 g flour
2 cups milk
3 eggs
1 Tb. oil
pinch of salt
1/2 cup light beer
In a blender or food processor, combine all the igredients and pulse until fully incorporated and no lumps remain.
If you decide to do it by hand: combine the flour and salt in a bowl. Make a well in the center and add the eggs, oil and a little bit of milk. Work the batter with a whisk, and slowly add the remaining milk, until the batter comes together and the lumps disappear. Add the beer.
No matter what method you used, strain the batter if necessary. Refrigerate, covered for an hour.
In a saute pan set over medium high heat, laddle 1/4 -1/3 cup batter (depending on the size of your pan) and cook 1-2 minutes on each side.
For the filling:
This is not a recipe per se because I only made enough for 4 crepes:
Cut 4 bananas into thin slices. In a pan, melt 4 Tb sugar with 4 TB butter, add 1/4 cup rum and cook until the sugar is melted. Add the bananas and cook them until soft. Remove them fom the pan. Let cool.
Melt 1/2 cup of dark chocolate with 1/4 cup heavy cream in the microwave.
To Assemble:
Fill each crepe with about 2 Tb. melted chocolate and 14 cup bananas. Gather the edges of the crepe together and tie up with a string of licorice. Serve with plenty of caramel sauce.