Roasted Vegetable Soup With Polenta Croutons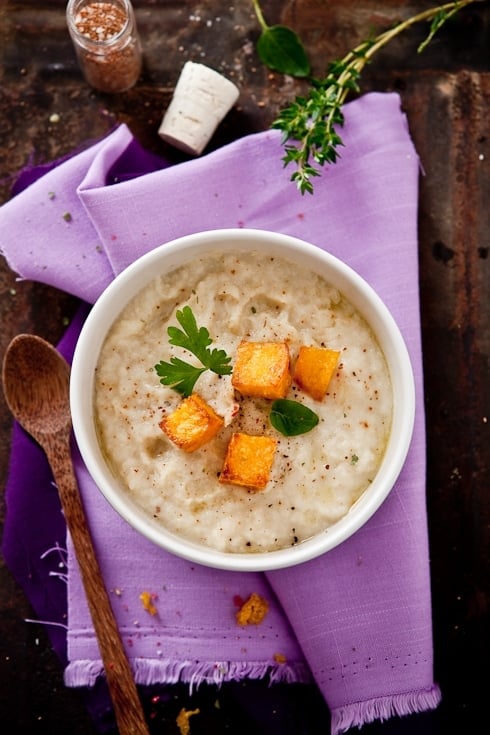 Before I talk about this soup, let me announce the winner of the Heavenly Cakes book giveway: congrats to Diane from Spice Sisters. Email your mailing address at mytartelette{at}gmail{dot}com and the book is on its way to you. Now back to our regular programming…
What an amazing five days I just had in Atlanta! The city sure knows how to do sugar! The Sugar Coma tour I was part of was nothing short of outstanding. Shameeka, hostess with the mostess of The Broke Socialite proved everyone that planners and vendors can go above and beyond everyone's idea of a good time without robbing a bank. I will do a full recap of the weekend, macaron workshop included as soon as I properly sift (pun intended) through all my pictures.
After two tours of some of the best sweet spots of the city, I was seriously craving vegetables on my way home. And salt! I must say I was impatiently awaiting dinner so that I could have a bowl of this Roasted Vegetable Soup. We liked it so much that I even called B. from the airport this morning to make sure he had not eaten the last bit I had tucked away in the freezer. No clue what he'd eat. I would have this. Not sure I'd share either. But I did. I can't be the only one moaning at the dinner table now can I?!
There is something about roasted vegetables that sets them in a category completely apart. I can't tell between the natural sugar from the vegetables being released as they roast, the slightly brown and crispy edge they get, or the deep aroma permeating my kitchen, which one sends my senses in a frenzy. Something does. I guess it's the whole package. Roast anything and you'll be a happier human being. I'm serious.
What I love about this soup beside its simplicity of preparation is the tremendous versatility it offers you as far as flavoring and textures. One night we had it on the chunky side, with a little drizzle of avocado oil and a dash of freshly cracked peppercorn and a few parsley leaves. The day after I served it for lunch a little bit smoother with oregano and thyme and some chorizo salt from Secret Salt Sea Salts. Always with some gluten free polenta croutons. They really helped round up the flavors and textures of the soup.

Seems like Spring came in early while I was away but that will not deter me from making soups. Good for the soul and easiest lunch or dinner to make when you're pressed for time because leftovers are always better the next day, right?!
If you want a sneak preview of what we did during the morning session of the Sugar Coma Tour, check out Mark's pictures from the morning session and Bakerella's post on the afternoon session.
Warming up a bowl of soup as I get ready to edit my pictures. It's always fun to revisit a trip…


Roasted Vegetable Soup:
Serves 4 to 6
1 head cauliflower, broken off into small chunks
4 small-medium turnips, quartered (don't worry about peeling them)
4 cloves of garlic, smashed with the back of your knife
4 baby onion (or 1 small onion), sliced lenghtwise
2 small potatoes (mine were the size of a clementine)
2-3 tablespoons olive oil
salt and pepper
1/2 cups – 1 cup water (or chicken or veggie stock)
Garnishes: flavored sea salts, herbs, croutons, drizzle of oil (almond, avocado, pumpkin – your preference).
Preheat the oven to 375F. Place all the vegetables on a baking sheet or in a pan in one single layer and drizzle with olive oil. Season with salt and pepper. Roast until golden brown, about 30-40 minutes. Let cool to room temperature.
Add about 1/2 cup water or stock and puree in a blender or with an immersion blender. Check if the consistency and seasoning are to your liking and adjust accordingly.
Serve with croutons and garnishes of your choice.

Le P'tit Coin Francais:
Soupe de legumes
Pour 4 a 6 personnes
1 petit chou-fleur, coupe en petits morceaux
4 petit navets, coupes en quatre (la peau y passe aussi)
4 gousse d'ail, ecrasee (peau y passe aussi)
4 petits onions nouveaux ou 1 petit onion
2 petite pommes de terre
filet d'huile d'olive
sel et poivre
Prechauffez le four a 190C. Mettre tous les legumes dans un plat ou sur une plaque a cuisson avec rebords. Ajoutez un filet d'huile et assaisonnez.
Faites cuire les legumes pendant 30-40 minutes ou jusqu'a qu'ils soient bien dores.
Laissez les refroidir un peu. Ajouter un petit verre d'eau et passez au robot pour mouliner.
Ajustez la texture en ajoutant plus d'eau si vous desirez. Assaisonnez de nouveau si necessaire.
Servir avec differentes herbes, croutons etc…