Gluten Free And Vegan Daring Bakers' Challenge

It is indeed a first in the history of the Daring Bakers, a gluten free and vegan challenge! Since being a Daring Baker in December 2006, I have seen the group grow by leaps and bounds, with members from all walks of life partaking in our monthly bake-offs. I know it is daunting at times for some Daring Bakers to adapt recipes to fit their dietary lifestyles and I always marvel at how creative and resourceful gluten free and vegan members are. I was really excited to see that our hostesses this month, Natalie from Gluten A Go Go, and co-host Shelly, of Musings From the Fishbowl, chose Lavash Crackers from Peter Reinhart's The Bread Baker's Apprentice: Mastering The Art of Extraordinary Bread.
Natalie being a gluten free baker asked us to challenge ourselves and make the crackers gluten free while Shel asked us to come up with vegan dips and spreads to go along. Being a ubber cool group, we still had the choice to make them with regular flour if gluten free baking did not appeal to us. I welcomed both challenges with open arms! Indeed, there are quite a few gluten free eaters among our friends and family members and I can always stretch my gf baking repertoire. Coming up with vegan dips and spreads was a good opportunity to try a couple of different ingredients, but furthermore really understand and appreciate many people put behind being vegan.

The past month has been quite busy and full of twists and turns and I did not get to make the dough until Wednesday afternoon. I used a gluten free baking mix by Bob…..and realised after the first rise that had forgotten to add xanthan gum to the dough which acts like gluten in baked goods and helps stretch and relax the dough. I did not even bother rolling that one out, waited until Thursday to go buy some xanthan gum and started again. The quantities are so small here that I mixed the dough by hand and left it to rise, rolled it paper thin, baked and then broke it to shards. I rolled the dough into one large baking sheet and topped 1/4 with sesame seeds, 1/4 with grated Tonka Beans, 1/4 with cinnamon sugar and the last quarter was brushed with agave syrup and half a vanilla bean, seeded. The smells that were invading the house made it hard to resist not breaking into it as soon as it came out of the oven!!
For the toppings, our hostesses gave us complete freedom with only one rule: it had to be vegan. I was really interested to see how some of my favorites would turn if made vegan and with the tremendous array of choices and progress made in vegan foods, I was able to serve the crackers with a vegan salted butter caramel sauce, a vegan caramel cheesecake in a jar spread and my now favorite lemon balm infused berry salad. I love salted butter caramel anything, not being a fashion victim but I grew up on that stuff!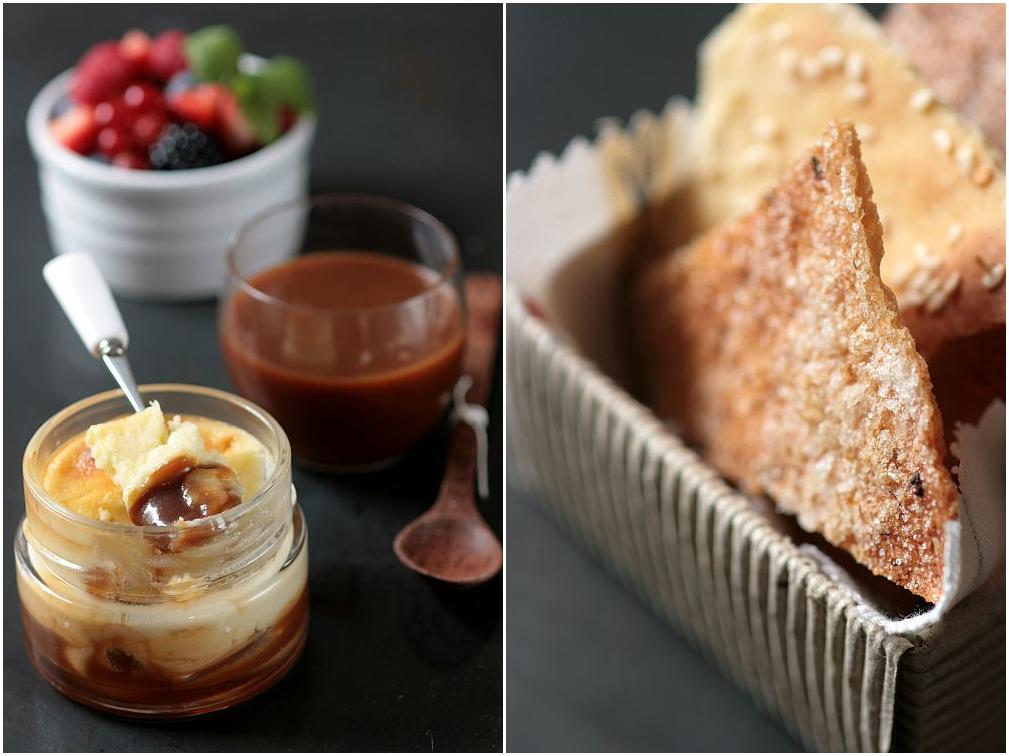 The salted butter caramel sauce is an adaptation of my favorite sauce and the only problem encountered was that it took a longer time for the butter and sugar to come to a caramel color and consistency but the rest was the same. I used Earth Balance butter and soy creamer instead of their regular counterparts and added some Fleur de Sel for the salty factor. I could taste a difference from the original, sure can't say it's the "real thing" but it came out pretty darn close and what mattered is that I was able to make one of my vegan neighbors very very happy!!
The vegan caramel cheesecake is also an adaptation and was easy to make using Ener-G Egg Replacer and vegan cream cheese (Tofutti brand). I divided the batter between four jam/jelly jars and added some salted butter caramel sauce at the bottom. I have to say that B. thought it was "different but worth eating" and I loved it.
The berry salad is nothing new but since I made this lemon balm berry salad, it has been on rotation at the house and for dinner parties with the neighbors. It works just like a savory salsa with the crackers and is great for a little 4 o'clock pick me up with a cup of tea.
Thank you Natalie an Shelly for this opportunity to bake gluten free and vegan! It was a blast! Check out the others' creations here.
Makes one sheet pan:
1 1/2 cups (6.75 oz) unbleached bread flour or gluten free flour blend (If you use a blend without xanthan gum, add 1 tsp xanthan or guar gum to the recipe)
1/2 tsp (.13 oz) salt
1/2 tsp (.055 oz) instant yeast
1 Tb (.75 oz) agave syrup or sugar
1 Tb (.5 oz) vegetable oil
1/3 to 1/2 cup + 2 Tb (3 to 4 oz) water, at room temperature
Poppy seeds, sesame seeds, paprika, cumin seeds, caraway seeds, or kosher salt for toppings
In a mixing bowl, stir together the flour, salt yeast, agave, oil, and just enough water to bring everything together into a ball. You may not need the full 1/2 cup + 2 Tb of water, but be prepared to use it all if needed.
For Non Gluten Free Cracker Dough: Sprinkle some flour on the counter and transfer the dough to the counter. Knead for about 10 minutes, or until the ingredients are evenly distributed. The dough should be firmer than French bread dough, but not quite as firm as bagel dough (what I call medium-firm dough), satiny to the touch, not tacky, and supple enough to stretch when pulled. Lightly oil a bowl and transfer the dough to the bowl, rolling it around to coat it with oil. Cover the bowl with plastic wrap.
For Gluten Free Cracker Dough: The dough should be firmer than French bread dough, but not quite as firm as bagel dough (what I call medium-firm dough), and slightly tacky. Lightly oil a bowl and transfer the dough to the bowl, rolling it around to coat it with oil. Cover the bowl with plastic wrap.
Ferment at room temperature for 90 minutes, or until the dough doubles in size. (You can also retard the dough overnight in the refrigerator immediately after kneading or mixing).
For Non Gluten Free Cracker Dough: Mist the counter lightly with spray oil and transfer the dough to the counter. Press the dough into a square with your hand and dust the top of the dough lightly with flour. Roll it out with a rolling pin into a paper thin sheet about 15 inches by 12 inches. You may have to stop from time to time so that the gluten can relax. At these times, lift the dough from the counter and wave it a little, and then lay it back down. Cover it with a towel or plastic wrap while it relaxes. When it is the desired thinness, let the dough relax for 5 minutes. Line a sheet pan with baking parchment. Carefully lift the sheet of dough and lay it on the parchment. If it overlaps the edge of the pan, snip off the excess with scissors.
For Gluten Free Cracker Dough: Lay out two sheets of parchment paper. Divide the cracker dough in half and then sandwich the dough between the two sheets of parchment. Roll out the dough until it is a paper thin sheet about 15 inches by 12 inches. Slowly peel away the top layer of parchment paper. Then set the bottom layer of parchment paper with the cracker dough on it onto a baking sheet.
Preheat the oven to 350 degrees Fahrenheit with the oven rack on the middle shelf. Mist the top of the dough with water and sprinkle a covering of seeds or spices on the dough (such as alternating rows of poppy seeds, sesame seeds, paprika, cumin seeds, caraway seeds, kosher or pretzel salt, etc.) Be careful with spices and salt – a little goes a long way. If you want to precut the cracker, use a pizza cutter (rolling blade) and cut diamonds or rectangles in the dough. You do not need to separate the pieces, as they will snap apart after baking. If you want to make shards, bake the sheet of dough without cutting it first.
Bake for 15 to 20 minutes, or until the crackers begin to brown evenly across the top (the time will depend on how thinly and evenly you rolled the dough).
When the crackers are baked, remove the pan from the oven and let them cool in the pan for about 10 minutes. You can then snap them apart or snap off shards and serve.
Vegan Salted Butter Caramel Sauce:
240 gr. sugar (1 1/4 cups)
80 ml water
115 gr vegan butter (1 stick)
150 ml vegan creamer
1 1/2 tsp Fleur de sel
In a heavy saucepan set over low heat, combine the sugar and water and heat just until the sugar is dissolved. Add the butter. Let it come to a boil and cook until it reaches a golden caramel color (takes between 25-35 minutes), stirring occasionally. Remove from the heat and add the creamer ( it will splatter and get crazy, but do not fear and trust the recipe). Whisk to combine and put back on the stove. Let it come to a boil again over low heat and cook 10-15 minutes until you reach a nice creamy consistency. Remove from the heat, add the salt and stir until melted. Keeps for about 2 weeks.
Vegan Caramel Cheesecake In a Jar:
1/2 cup salted butter caramel sauce
8 oz vegan cream cheese, at room temperature
1 Tb. vegan butter
1/2 cup sugar
3 Tb. Egg-Replacer mixed with 1/4 cup water
Divide the caramel sauce between 4 small jam jars. Set aside.
In a large bowl, with the electric mixer or by hand , mix the cream cheese, butter and sugar. Add the egg replacer mixture and beat until well incorporated.
Divide the batter among the 4 jars. Set them in a roasting pan and fill with water until it reaches halfway up the sides of the jars. Bake at 300F for 20-30 minutes. Let cool completely before refrigerating or serving.
Lemon Balm Infused Berry Salad:
Click here for the recipe.