Petits Farcis A La Provencale – Provencal Filled Zucchinis

I know I did not post a new French Word feature last week so I thought I'd bring you a little bit of Provence where I grew up by sharing these "Petits Farcis a la Provencale" or Provencal Filled Vegetables. To say that I could eat these all 365 days of the year is no exaggeration. Even when I am sniffling and coughing away as I am today, I still want a piping hot mini zucchini filled with all the goodness that Spring and Summer can bring.
The vast majority of the people I know call these "petits farcis nicois" or little stuffed vegetables from Nice. We don't. At least not in my family. We are not from the Alpes Maritimes where Nice is but from the Bouches Du Rhone where Provence is. We may all be different in this world but we are all proud of naming our roots, our region, our village. It's by far lots more telling than race. It explains upbringings and traditions, identities and personalities. And food.

Just with a multitude of other recipes, there are as many variations for "petits farcis" as there cooks to make them. Every town or cook on the Mediterranean coast has a preferred recipe. Some like to use rice, sausage and tomatoes as a filling. Others exclusively use torn day old bread pieces. Some add cheese. Some don't. Some use traditional seasonings like oregano, basil, or herbes de Provence (without lavender where I am from – thank you very much). Others become more adventurous and add a pinch of cinnamon and raisins.
A picadillo inspired stuffed zucchini does sound really good right about now for some reason…Yes, you realize now that I am not one to lose my appetite when sick or coughing. I always marvel at people saying "could not eat a thing I was so sick".

I absolutely love this time of year in Charleston. It is when I feel the strongest connections between my life in Provence and the one I am building here. I get to the market around 8am like we used to do back home and enjoy the quiet time before it gets crowded so I can get to know the vendors, exchange recipes, tips. No longer are they surprised that I buy headcheese at 8.30am or that I stuff eggs and milk in my bag next to a giant pork shank. They're not surprised either when I bear a smile as wide as the Cheshire Cat when I find out they carry leaf lard for my pie crusts or garlic flowers to pickle them.
Many months, sometimes years can go by before I get the chance to go home for a visit and being able to connect the dots that make me who I am today here with Bill is by far the greatest gift I have received in this life. Oh geez, it does sounds like I just had a birthday and got smacked with a little wisdom on the head…oops!

When I found that the guys selling pink radishes and purple onions also had eight balls zucchini, I literally jumped up and down inside my head. Or did I do it in real life? I don't know! They did look at me funny. Oh wait! That could be because I bought a dozen of these at once. at $1 for two, who wouldn't?! Yes, the ones I made here are all filled with local produce (except for the rice, salt and pepper) I was inspired. I had a plan.
Every week, my friend Anita posts gorgeous still life pictures of her farmers shopping on her Flickr stream which makes my excitement about our farmers market all the more understandable. She inspires me daily to kick butt but her new weekly blog feature Dinner On A Deadline also inspired me to get 12 zucchini instead of 6 the other day and make a double batch of petits farcis, just in case I would have to get dinner done fast but well one busy day.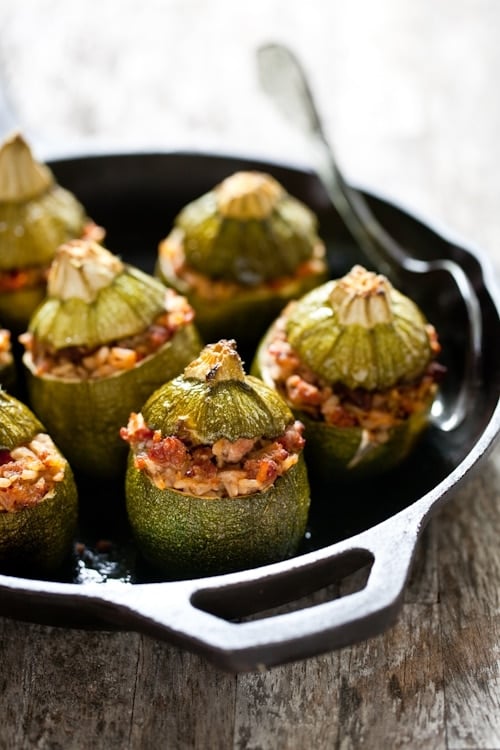 Like Anita, I thoroughly plan our meals and food budget and even though I already implement many of the steps she and her readers share, I look forward to the weekly post for newly creative ways to balance it all and I love the recipes she shares. I love how openly she made her system available to all to learn from, contribute to or simply read and move on. That's what I love about the food blogging community. And yes, I do love having Anita and Cameron as friends in real life too.
Like my mother and grandmother before me I tend to use tomatoes, sweet onions and eight ball zucchinis in the Spring. These little round squash are abundant at the farmers market here in town right now and so darn cute easy to use. Scoop, fill, bake. Eat. Mange! Use leftover rice, couscous, quinoa, use veal sausage, pork or mixed sausages. Skip the mushrooms, add some bell peppers. The possibilities are endless. Hope you give these a try!


Petits Farcis a la Provencale – Provencal Filled Zucchinis:
6 eight ball zucchinis (or tomatoes, peppers, etc..)
2 tablespoons olive oil
1 shallot, minced
2 garlic cloves, minced
1 pound sausage
1 cup shitake mushrooms (or your prefered kind), chopped
2 tomatoes
1 cup cooked brown rice
2 tablespoons fresh basil, chopped
2 tablespoons fresh oregano, chopped
salt and pepper to taste
Preheat the oven to 350F and position a rack in the center.
Cut the top off the zucchini and scoop the inside out. I don't use it in the recipe but you could absolutely use it along with the other ingredients or to replace the rice. I save the insides for soup. Place the zucchinis in a baking pan and set aside.
In a large skillet, heat the oil and sautee the shallot and garlic for a minute. Add the sausage and cook until brown. Add the mushrooms and tomoates, and as soon as they start to release their moisture, add the rice. Cook for another couple of minutes and add the herbs, salt and pepper. Remove from the heat and let cool a few minutes.
Stuff the zucchini with the mixture, place the caps on and bake covered with tin foil for 15 minutes and uncovered for another 15 minutes.