Brioche des Rois – A Provencal Epiphany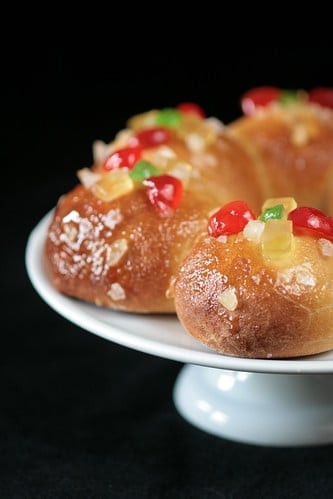 Last week with the quince and pear frangipane tartelettes, I mentioned that I was inspired by the traditional "galette des rois", a creamy almond frangipane encased in between two sheets of puff pastry, that we eat to celebrate Epiphany on January 6th. Tradition is to enclosed a little ceramic figurine inside, and once sliced, whoever gets the said trinket becomes queen or king for the day. Nowadays, that little ceramic is looking very designer-ish, far from the days we would use a dry fava bean as prize.
My dad is always the one cutting and the youngest child in the family is always the one under the table calling the name of the next person to get a slice. Now, why under the table? No reason but they really can't cheat and see who is getting the ceramic and it's just more fun! Why my dad? Because he always cheats and gives it either to the patriarch, my grandad, or the guest of honor… and it's just more fun!
Truth be told, we rarely wait for the actual day of Epiphany to start eating the galette in France. Just like Halloween here starts in August, the galette des rois starts being sold right after Christmas day. In my family, we traditionally gather on New Year's day to share a couple with a glass of Champagne to toast in the new year as everybody is still on vacation, available for one last family gathering and still at the ready for a little extra butter and sugar.

I distinctly remember one year that B. and I were still visiting after New Year's…no less than 10 galettes shared within one week. Everybody was trying to have us over one last time before our return to the US and dessert was inevitably the galette. And as the guest of honor B. was always king…not that he seemed to mind! On our last night, my mom made some of my favorites and when dessert came, she exclaimed "Allez, on tire les rois une derniere fois!", "Let's pick the king one last time". I gave her that look of "I love frangipane and puff pastry but if I see one more galette, I think I might be sick". She knew what was coming and before I could speak my mind and she brought out my childhood favorite instead, the Couronne des Rois. A round brioche type cake adorned with candied fruits and pearl sugar to mimic jewelry on a king's crown (yes, similar to the New Orleans king's cake).
Growing up in Provence this is the one we would get first for Epiphany while grandma was waiting for us up North with the frangipane galette. I love both equally. I really do…So this weekend we had the brioche Couronne des Rois for breakfast and the frangipane galette for tea in the afternoon. I did not forget to put my little ceramic inside and cut slices for the two of us and B. was crowned king again…surprise, surprise…I am my father's daughter after all…ehehe…
After making the brioche dough, I divided it in half, formed my two rounds and topped one with the traditional pearl sugar, candied red and green cherries and candied citron and topped the other with homemade candied kumquats and pearl demerara sugar (found by chance at the Whole Foods). Citrus season is here and I can't stop eating kumquats, it's like popping natural vitamins for me. The skin is so thin and the seeds so tiny that you can, have to eat the whole fruit, so yes, for some it is an acquired taste. A contrast of textures and flavors, tart and bitter all at once. Here, I took the time to take most of the seeds out but they usually fall while taking their sugar bath so no worries if you happen to leave some. If you think I am excited over kumquats, wait until I see blood oranges!!
For even more traditional King's cakes and celebrations, check out Zorra's event here.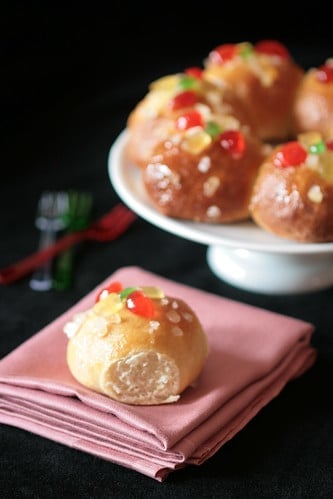 Brioche des Rois Recipe:

2/3 cup (150ml) whole milk
2 1/4 cups (280g) all purpose flour
1 packet (7gr) dry active yeast
1 egg
1/4 cup (50gr) sugar
1/4 teaspoon salt
1 tablespoon orange blossom flower water
5 tablespoons (70g) butter, at room temperature
egg wash: 1 egg+2 tablespoons milk whisked together
1/3 cup apricot or apple jelly
candied fruits, pearl sugar or candied kumquats to decorate
In a saucepan or microwave safe bowl, warm up the milk over low heat or 20 seconds in the microwave until lukewarm (no higher than 110-112F) and stir in the yeast with a wooden spoon to dissolve. Let stand until foamy, about 10 minutes. Whisk in the egg, sugar and salt until just combined. Place the mixture in a stand mixer, with the motor running on low, stir in the flour and orange water. As the flour gets incorporated start adding the butter, one tablespoon at a time. Let the machine run for another 8 minutes to knead. You can do this by hand but the dough is extremely wet and a stand mixer makes it easier to handle.
Place the dough in a lightly oil bowl, cover with plastic wrap and let rise at room temperature, free of drafts for about 30 minutes. At this point, transfer the dough to the refrigerator for an hour. At this point you can leave the dough in the fridge for a day or overnight or proceed with the recipe.
Preheat oven to 350. On a lightly floured surface, knead the dough into a ball (or divide in half and keep one part refrigerated as you work on the first one), stick your thumb in the middle and push it open to form a crown or large donut. You can also form rolls and gather them together in a round. Place the brioche on a parchment lined baking sheet and let rise for 30-40 minutes. To keep the hole open I place an empty jelly jar in the middle that I fill with water so it doesn't crack during baking. Brush with the egg wash and bake 20-25 minutes or until golden brown.
Let cool. In the meantime, heat up the apricot or apple jelly until bubbling hot and brush it on the brioche. Immediately stick the candied fruits and pearl sugar on the brioche.
Candied Kumquats:
1/2 cup (125ml) water
1 cup (100gr) sugar
2 tablespoons (40gr) light corn or glucose syrup
1 pint fresh kumquats, washed, patted dry, and cut in 1/8 inch thin slices
In a heavy saucepan, combine the water, sugar and corn or glucose syrup and bring to a boil over high heat. Let the mixture reach 234F. Add the kumquats, being careful not to overcrowd your pan and let the fruit become translucent, about 8-10 minutes. Remove the fruit with a slotted spoon and place it, separating the slices, on a piece of parchment paper or silpat. Use as desired.
Note: Tartelette travels to Oregon…well no not really…I just wanted to thank Danielle for including my work in The Oregonian's "What we like to read, watch, click on" column today. The more I read about this region the more I want to move! Thank you!