Pear & Nutella Tart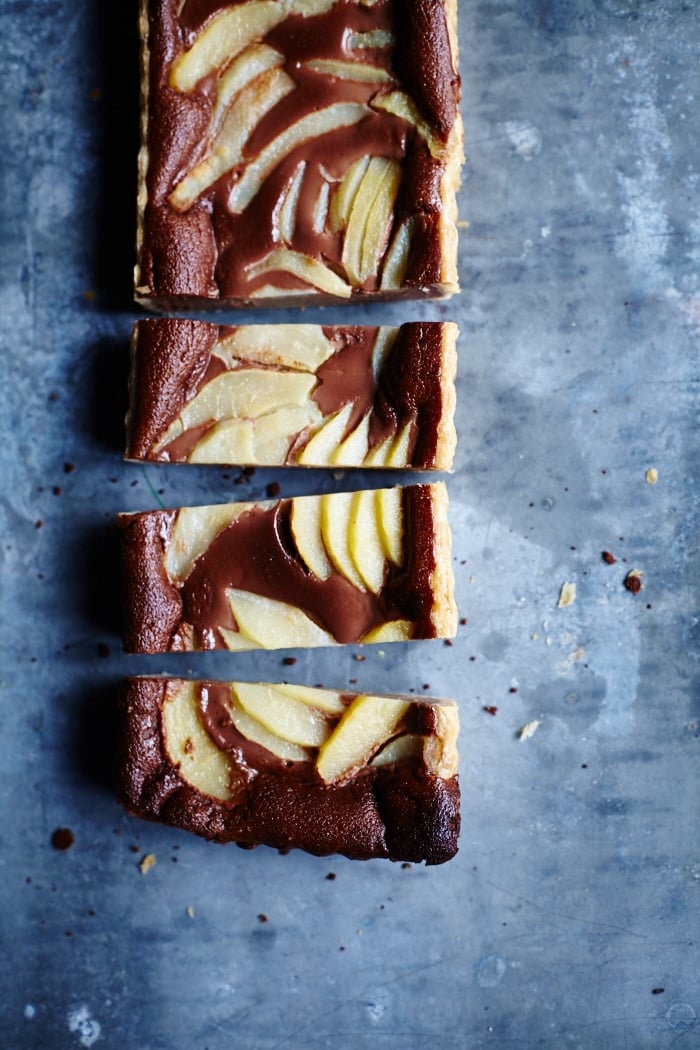 I sympathized with everyone going through the blizzard and snowstorm that hit the East coast by making a few baked goods and giants pots of soup. Sure our temperatures dropped a little but nothing like people up North felt it. No snow here. I lived vicariously through friends posting on social media and the news reports. Winter here is touch and go. It was 70F yesterday. I think I wore a coat 4 times so far. I am not complaining. I know that being freezing cold and shoveling mountains of snow feels old really fast.
Nostalgia kicked in though. During the winter months back home, we would drive up to the mountains near Italy where my family has a chalet and spend two good solid weeks skiing to our hearts' content. I miss those days. I love and miss the silence right after a fresh snow fall. The pure air of the mountains and the cozy feel of a warm cup of soup by the fire.
It also made me crave Nutella. Our favorite snack after a long day on the slopes. And tart. A good tart with Nutella would be perfect to indulge in my nostalgic moment. If you know me or have read this blog for a while, you know that I have a hard time with chocolate and fruit pairing. I simply do not like chocolate and fruit in anything. Especially berries and fruit. Give me nuts, caramel and chocolate any day and I am a happy girl. But a chocolate cake with raspberry coulis and I will pass. Except when it comes to pears and chocolate. Somewhat I am better than good with that association!
I had leftover puff pastry dough that I had used for Galette des Rois during Epiphany so I decided to use it for this Pear & Nutella tarte. I knew it wouldn't puff as much being re-used but that was just fine this way. The filling is a basic custard with a good amount of Nutella in it. Choose pears that are on the ripe side rather than firm and just harvested.
Pear Nutella Tart:
Serves 8
For the crust:
You can either make fresh puff pastry (this recipe is my go-to) or use some leftover one or use this recipe.
For the filling:
2 large eggs
1/2 cup Nutella
1/2 cup whole milk
1/2 cup heavy cream
3-4 pears depending on size, peeled, cored and sliced
Line the bottom of a tart pan (rectangular or 8-inch round) with the tart crust. Refrigerate while you make the filling.
Preheat the oven to 350F.
In a large bowl, whisk the eggs with the Nutella until smooth. Add the milk and cream and whisk again until smooth. No need to add sugar as the Nutella is already pretty sweet.
Pour the cream into the pastry crust. Do not fill to the top! Leave about 2 inches because once you add the pears, the level of the custard will rise from their addition.
If you have leftover, no worries. Pour them into ramekins and bake them separately in a large pan filled with water (like making custards!).
Add the pear slices to the custard and bake for about 40-45 minutes or until the custard is just set.
Let cool and enjoy!