Voiceless for Scones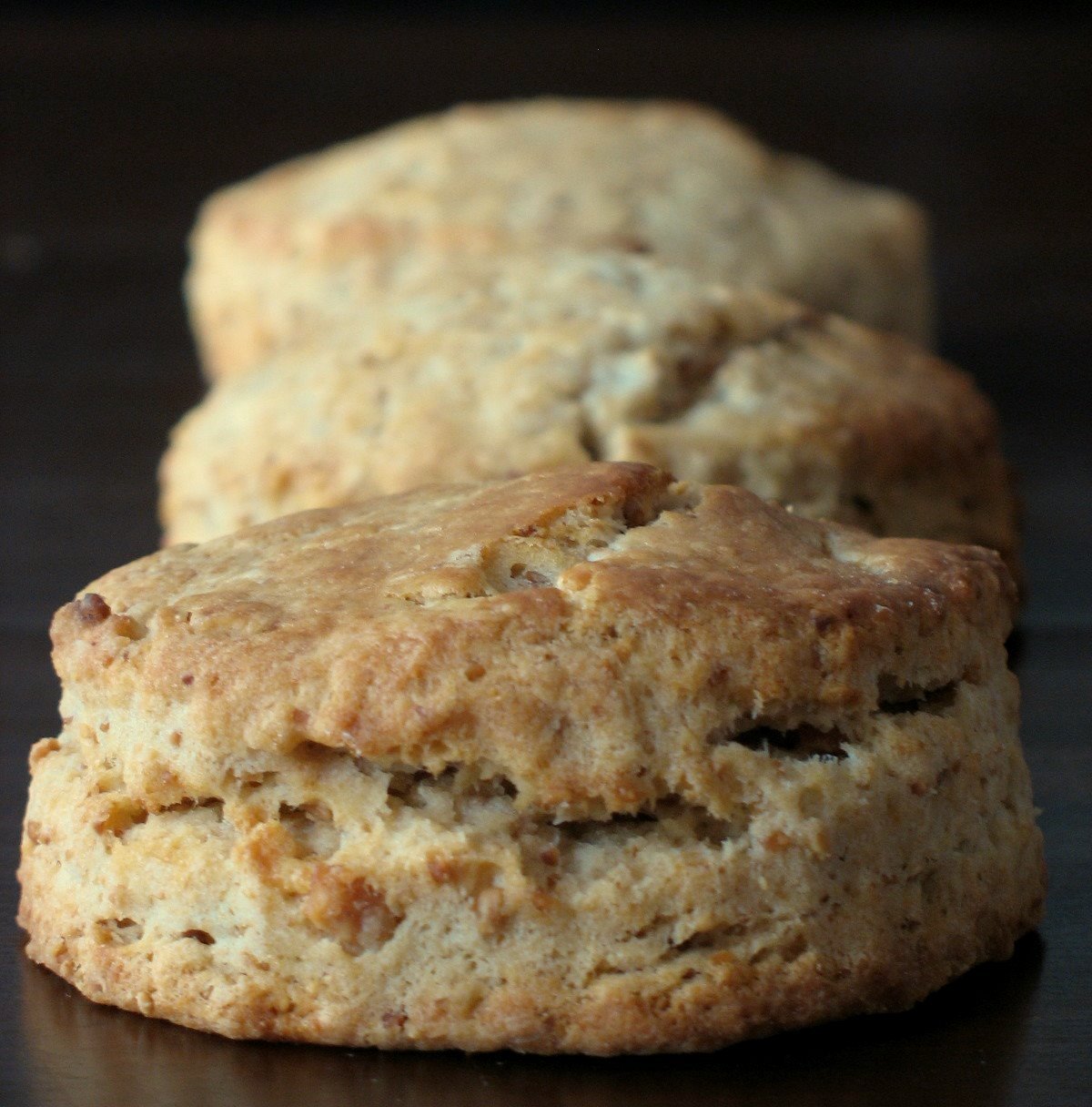 No, no, you read right. I am not speechless for scones, I am voiceless. Apparently there is a new strain of allergies out there that cause people's vocal cords to become so irritated that they become voiceless. Right this minute I am staring at a lovely cocktail of different medications supposed to make me feel better in the next 48 hours. In the meantime I am required not to talk…I am on voice rest until monday. You would think that such a situation would prevent me from eating or wanting to eat…Nope! Seems like my body has a way to accept food no matter how sick I am…Yippee!! I don't have much of an appetite actually but the only thing I wanted this morning was a fresh hot batch of scones… and I knew exactly where to get them.
I have fallen in love whith every scone recipe I have found in Dorie's book. They are so satisfying, tender and moist that they can make anybody feel better instantly…. B. provided me with a small pad on which to write so I would really follow the doctor's orders and I could only come up with "Mmm..Mmmm…Mmmm. Hands off!"
If you feel really bad, these will make you feel really good. That simple. They were delicious plain, still hot right out of the oven. They were even better with some Coconut Honey.
Toasted Almond Scones, adapted from Dorie Greenspan:
Makes 8 large
1 cup almonds, toasted
2 Tb. brown sugar
1 egg
1/3 cup cold heavy cream
1/4 cup buttermilk
1 3/4 cup all purpose flour
1 Tb. baking powder
1/4 tsp. salt
1 stick, cold butter, cut into small pieces
Preheat oven to 400.
Finely grind the nuts in a food processor with the sugar.
Stir the egg, cream and buttermilk together.
Combine the flour, ground almonds, baking powder and salt together in a large bowl. Add the butter and with your fingertips or a pastry blender mix the butter into the dry ingredients until the mixture ressembles coarse crumbs.
Pour the liquid ingredients in the bowl and stir just until the dough comes together. I usually do everything by hand but you can use a fork.Gently and quickly knead the dough and turn it onto a floured board. Roll out the dough to about 1 inch thick and cut out desired shapes with a cookie cutter.
Place on a parchment paper lined baking sheet and bake for about 20 minutes.
How do I feel now? Better but quiet. All that silence…! I sure I am glad I have not lost my tastebuds!