Caramel Cardamom Mousse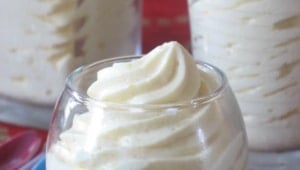 Happy New Year! I hope you all had a wonderful holiday filled with family, friends, good times and laughter. We did, kind of mellow some days, kind of crazy some others…waiting for that cold weather to come our way so we could cozy up in front of the fireplace. Well, after temperatures in the 60s and the 70s, we finally have some cold weather. Of course it occurs on January 2nd, Mother Nature scoffing at us now that Santa is long gone and New Year's Eve is simply but a page turned. But you know what? It does not really matter anymore as I did not need the fireplace to make me feel cosy this Christmas season. Nope. I had the warmth of looking at cards every morning upon waking up, looking at my really weird looking Norfolk pine tree. Some were too kind to tell me it looked good….I did not care for it, but it was a gift and it got "prettified" as one of neighbors kids said.
Anyways, I was also blessed one Christmas Eve morning when I received a box full of cookies and gifts for the house, (look Lisa! the stars are giving my dessert some spice), a cookbook, The Sweet Life by Kate Zuckerman (see Veronica! already put to good use), and the softest fleece robe courtesy of my mother in law. The correlation with Cardamom Caramel Mousse? Well, that Christmas morning I felt really blessed that I could eat one of my friend's cookies, while reading the other friend's cookbook, and all wrapped up in my surrogate mom's gift….Really, it just dawned on me that very minute: "gosh, this is pretty special"…and as I was lost in all things metaphysical (ya'll know I am kidding, right?!), my hand stopped the pages of the book from turning by pushing on page 106, where Kate Zuckerman wrote the Caramel Mousse.
I can see why her recipe is at the backbone of so many of her desserts and the applications and variations on it are almost endless. A hot caramel syrup is whipped into egg yolks to create a safe cream to which some gelatin and whipped cream is added. The end result sets rather quickly but the taste is out of this world and the texture…well…soft as a pillow…really. In her original recipe Kate uses cinnamon to spice up the taste, and although I have nothing against cinnamon, I will go for cardamom first if given the choice. I thought about infusing the caramel syrup for the mousse with some barely crushed open pods. I started looking at the variations given when I noticed that she had a cardamom one, but used just the pods in their original form. Granted they are fragrant on their own, but I feared that the flavor would get lost in the boiling syrup, (even with the 10 pods she uses) so I went for a tiny bit more complication (one day I might play with caramel in a simple way, maybe!). I opened the pods, let them boil with in the caramel, strained the caramel over a bowl and quickly added it to the egg mixture for the mousse. It won't cool the caramel syrup long enough to weaken its emulsifying power for the mousse part.
Will I make the mousse again? You bet! The cardamom was such a good match for the caramel that it makes me want to experiment. The texture makes you believe it is light as air but if you're here reading this you know better: cream, sugar, eggs…And tomorrow? Butter, flour, sugar and cream….My New Year resolutions: small quantities of lip smacking desserts because life is too short to have less than the best! I am not saying I never use a box or a can of anything once in a while, I'd be lying and non-human, but there is nothing like the real thing! The pictures in the book are so crisp and drool-inducing that I'll probably feed off her concepts and try some other great associations she came up with. Now, how can see why Veronica and Anita kept pushing me to give it a look. If only we could share a Kate Z. baking session now!!!! Allright, on to the recipe:
Cardamom Caramel Mousse, adapted from the Sweet Life, by Kate Zuckerman:
Yields 5 cups
6 egg yolks
pinch of salt
1 packet unflavored gelatin
3/4 cup water, divided
1 cup sugar
5 cardamom pods, cracked open
2 cups heavy cream
In the bowl of a stand mixer, whisk the egg yolks and the salt. In a small bowl, sprinkle the gelatin over 1/4 cup water, and let it sit while you make the caramel.
Combine the sugar, cardamom pods and 1/4cup water in a heavy saucepan. Cover and bring to a rapid boil over medium high heat (prevents crystallization of the sugar on the side of the pan). Once boiling, uncover and cook the sugar until deep golden brown. Turn off the heat and carefully pour 1/4 cup water into the hot caramel. The syrup will bubble and spurt, so stand back.Make sure the water incorporates fully to the syrup. Return to the heat if you get caramel bits and stir until it is one smooth liquid.
Strain the pods and seeds in a container with a spout, it will be easier to add the to the yolks. Pour the caramel slowly and into a steady stream into the egg yolks with the machine running on medium high. Melt the gelatin in the microwave for 10 seconds or into the (now empty) saucepan until dissolved. Add it to the yolk mixture and continue to whisk on medium high until it triples in volume and cools to room temperature.
In a separate bowl, whip the heavy cream to soft peaks. Add it to the mousse base and fold the two gently together. Divide the mousse into cups, ramequins, dishes, etc…and let it set, covered in the refrigerator for at least 2 hours.