Waiter There Is Something In My…Butterscotch Mascarpone Cream Layer Cake!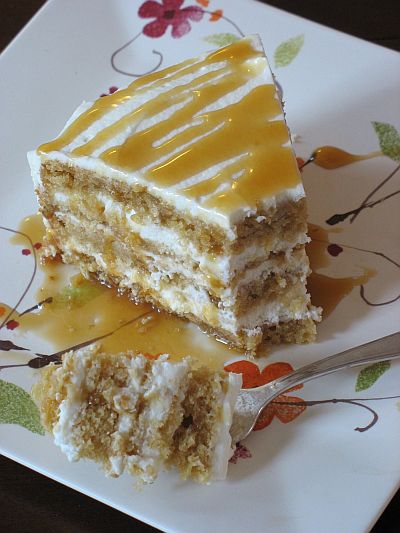 It seems like an eternity since I have participated in a WTSIM event, and that is not for lack of ideas, recipes or just plain desire to get in the kitchen and cook, but pure and simple lack of time. Oh sure, there are lots of baking going on in the house, but with all the visitors we have had lately I rely on tried and true, easy to come together desserts, most of which have already been published here…except this one Butterscotch Mascarpone Cream Cake…..And it has been a long time coming believe me!
Let's see if I can make a long story short about that one (can I do that?!)…When I first visited Lisa last July, she had received a an issue from the magazine Wicked, a special publication from The Australian Women's Weekly dedicated to pastries and sweets. I remember looking at every recipe and drooling over them and the pictures. Her printer had a little malfunction that time, believe me it was all my fault, I just have to stare at anything plugged or battery operated for it to break down,….anyway, life took over and we both forgot about the pages I had marked in the magazine. This time around though, I went ahead and copied them by hand. I always do that, not that I don't trust the machine, but over the years I have developed my own recipe writing pattern, especially if I am at someone's house or the library and have minimal space to write them on. Back home this week, I quickly flipped my notebook to the Butterscotch Cake recipe..what's not to love in caramel, mascarpone and tender flaky cake? Nothing, trust me!!
I thought it was also a tasty cake to add to Waiter There Is Something In My ….Layered Cakes, hosted this month by Andrew from Spittoon Extra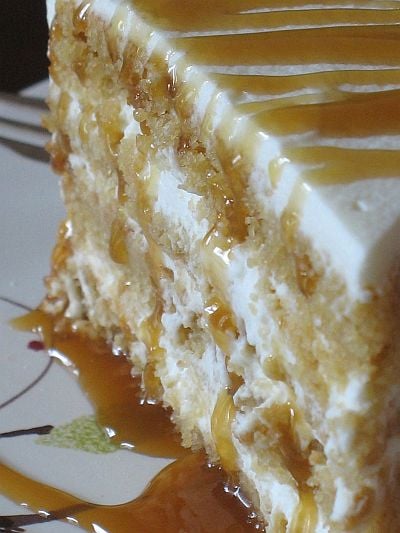 Butterscotch Mascarpone Cream Layer Cake:

Serves 10-12
For the Cake:
250 gr. butter, softened
1 cup packed dark brown sugar
2 eggs
1 Tb. honey
1 1/4 self rising flour (I used 1 1/4 cup all purpose flour and 1 1/2 tsp. baking powder)
1/2 cup milk
Cream together the butter and sugar. Beat in the eggs, one at time. Add the honey and flour. Add the milk slowly and mi until combined. Pour into 2 8-inch cake pans and bake at 350F for 45 minutes, or until a knife inserted in the middle comes out clean. Let cool and unmold. Cut each cake in half.
For the Mascarpone Cream:
250 gr. mascarpone, at room temperature
300 ml. heavy whipping cream
1/4 cup powdered sugar
Whip the heavy cream and sugar to soft peaks. Fold it into the mascarpone and spread 1/4 on one cake layer, repeat with all the cake layers, finishing with the cream on top.
For the Butterscotch Sauce:
60 gr. butter
1/4 cup dark brown sugar
1/4 cup milk
1 1/2 cups powdered sugar
Heat the butter, sugar and milk until dissolved. Remove from the heat and add the powdered sugar, stir until smooth.