Two Chocolates, Some Salted Butter Caramel Mousse And A Smile On My Face!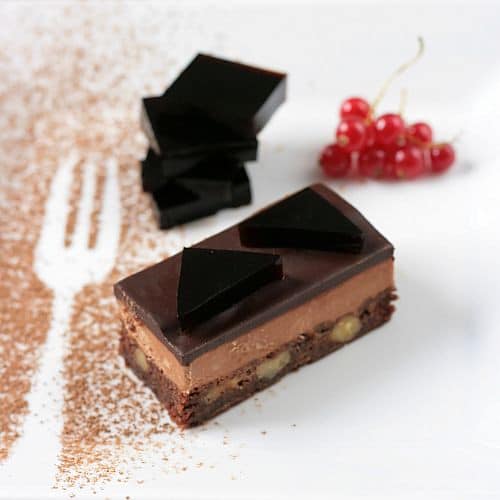 As you know from my last post, Monday was a pretty rough day, ups and downs, high and lows, laughing at the most ridiculous things and crying over the simplest ones, but I have to thank you for cheering me up and on throughout the day with your words both here and privately. This little giant group of bloggers sure knows how to laugh, cry, send hugs and cheer up and cheer on. Thank you. I wish I could say that to each of you individually but I can't. Instead I am bringing you a little dessert that is sure to heal a bad case of the blues or just make you feel better after a bad day. Problem is….I could not come up with a name for it and I am hoping that you can. What's in it for you? Well, I have two copies of Tartine and only one being read so it is up for grabs…skip to the end of the post for details.
It was about 4 o'clock when I finally sat down on the front steps of C's house, after a day filled with tons of little errands. You know, the ones you keep putting off but suddenly on a bad day they are the perfect thing to do to keep your mind busy and thought free. We started chatting about the kids going back to school, philosophising about the summer and that it had been a pretty rough one for everybody around us for different reasons. Just to think that a couple of months ago they were thinking about moving…I don't think the neighborhood would be the same kindred one without them and the twins. We did not notice our husbands were doing the same thing but on our front steps until the wind started to carry their voices closer to us. We leaned over and asked what the heck they could be complaining about that we did not already know…"women, kids, pms, mortgages…what about you?", we pushed a united "same here, different gender!" and we all busted out laughing!!
I stood up and exclaimed "Well, I think the situation calls for chocolate and caramel…and a little grill-out with a good bottle of wine!" I asked the gentlemen to please tend to the grilling part that us women are so clueless about and that we would be back with dessert. I had an idea of what I wanted the final taste to be and a vague idea about the process and elements. That's kind of the way I work with pastry I have noticed. I think of tastes I like together, close my eyes and try to imagine the texture, what flavor comes through first, which one is the last I want to keep. Then I think of the building process, kind of like playing Tetris with ingredients and ratio…sometimes it all fits together, sometimes the Tetris-like pieces catch up with me before I get right and I have got to start over. If you play Tetris, do you still see the pieces go down when you close your eyes after a game? I do…makes me laugh….
I had rearranged the pantry a couple of days prior to this story and had found an unexpected bar of dark chocolate, one of milk chocolate and a bag of salted butter caramel from Normandy…I had a square of chocolate followed by salted butter caramel (I did drop the pms word earlier, remember?!) and thought to myself that these three fellas needed to end up together in a dessert somehow. By Monday evening I had a plan: a dark chocolate and walnut fudgy brownie, a milk chocolate and salted butter caramel mousse, topped with chocolate ganache. Yes, I know there is one more element in the pictures, the little cut out triangles and squares are actually coffee jelly pieces but they did not turn like I wanted so it will be re-worked and blogged another time. I could not resist making some hot chocolate to go with it and it turned out to be very fitting to the windy and rainy evening we ended up having.

And this is where I need you, I turned this in my head in every which way possible and I can't come up with one name that makes me say "that's it! I want it!"…and I really hope you can. All you have to do is leave a comment between Thursday August 21st and Saturday August 23rd at midnight eastern time and I will submit each title to the group who shared those with me and let them pick the one they like best. Think about it as playing Tetris with the chance to add a fantastic cookbook to your collection!
Something chocolate and caramel:
Makes 16 servings (you can even cut the bars tinier if you want)
Dark Chocolate Walnut Brownie base:
6 tablespoons unsalted butter
6 ounces bittersweet chocolate
3/4 cup all-purpose flour
1/4 teaspoon baking powder
1/8 teaspoon salt
2 large eggs
3/4 cup sugar
2 teaspoons pure vanilla extract
1/2 cup chopped walnuts
Preheat oven to 350°. Line an 9×13 inch baking dish with parchment paper or foil, leaving a 2 inch overhang on to sides (you pick). Coat with cooking spray or a dab of butter.
Melt together butter and chocolate in a heatproof bowl set over a pot of simmering water. Remove the bowl from heat and stir until smooth. Let the chocolate mixture cool slightly.
Whisk together the flour, baking powder, and salt in a medium bowl and set aside.
In the bowl of an electric mixer fitted with the paddle attachment, beat the eggs with the sugar and vanilla until pale and thick, about 3 minutes. Beat in the chocolate mixture. Add the flour mix and beat until just incorporated, scraping down the sides of the bowl as needed. Fold in the walnuts with a spatula.
Transfer the batter to the prepared pan, and smooth top with an spatula. Bake until a cake tester inserted into brownie between edge and center comes out with a few crumbs, 30 to 35 minutes, depending on your oven (Do not overbake.) Let cool 15 minutes; lift out of pan, and transfer to a wire rack. Let cool completely. Line a 9×9 inch square pan with parchment paper or plastic wrap. Cut your brownie base to fit inside the square pan, and set it down as your first layering component. Munch on the leftover or cut in little bites and cover with ganache for instant petits fours. Proceed to the rest of the recipe.
Milk Chocolate and Salted Butter Caramel Mousse Layer:
1/2 cup granulated sugar
2 Tb water
2 Tb salted butter, room temperature
1 cup heavy cream, divided
6 oz (3/4 cup) milk chocolate
Measure 3/4 cup of cream and refrigerate, this portion will be used to make whipped cream so keep it well chilled. In a microwave or small saucepan, heat the 1/4 cup remaining until it is fairly hot. It will be added to the caramel and by being hot it will prevent the caramel from seizing on you and clumping up.
Melt the chocolate in the microwave or in an heatproof bowl set over a pot of simmering water (make sure the bottom of the bowl does not touch the water). Set aside.
In a heavy bottomed saucepan, add the sugar to the water over medium high heat and cook, without stirring until you get a dark brown caramel. Take the pan off the heat and add the butter and 1/4 cream. It will bubble like mad but it will not run over….if the butter and cream are not cold the bubbling will be minimal and short lived. Stir with a wooden spoon to smooth the caramel if necessary. Let it cool to lukewarm. Add the caramel to the chocolate and stir until smooth.
Whip the remaining heavy cream to soft peaks in the bowl of a stand mixer fitted with the whisk attachment. Fold 1/3 of the whipped cream to the chocolate/caramel to loosen it up and then add the remaining whipped cream. Spread over the brownie base and refrigerate until completely set.
Dark Chocolate Ganache:
1/2 cup heavy cream
3/4 cup dark chocolate
In a medium saucepan, bring the cream to a simmer, remove from the heat. Add the chocolate to the cream and let sit for 5 minutes. Slowly stir the heavy cream and chocolate until they come together and form a shiny ganache. Let cool. You want the ganache to still be pourable but not too warm that it will melt the mousse.
Spread it over the caramel mousse and refrigerate until set.
To serve: lift the dessert out of the pan and trim the sides with a sharp knife (heated under hot water and wiped dry works great too), cut into the desired number of servings and enjoy.