Meringues Kisses and more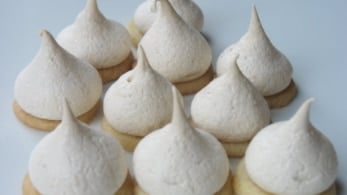 Yes, I have a difficult relationship with bite size desserts, also known as mignardises or petits fours. I love them and I dislike them. I did not want to use the verb "hate" because I can't truly hate anything sweet that passes through my lips.

I love them because one or two bites and hop! you can get on to the next one. They fit in one hand, you can carry your drink in the other and still be able to dance around at a party, not that I have ever tried . I love making them: playing with the bases, the fillings, the decorations. I love working assembly lines for a while. I love eating them.
And there you have it, the base of my dislike for them: I know no restrain when it comes to petits fours, bite sizes desserts and their numerous cousins! I always end up eating more than my share and feeling a wee bit of guilt. Thankfully, this feeling never lasted long enough to prevent me from eating them again!
When Jeanne from Cook Sister posted the theme for Sugar High Friday #24, "Little Bites of Delight", I got nervous. So many ideas popped in my head, the excitement of the task at hand, mixed with that fear of eating them all before others have the chance to try them.
I divised a plan: I would tell the neighbors precisely what I would be doing that Friday and invite them all for a little dessert party as soon as I'd be done with taking pictures. Guess what? The plan worked and we all had a great time, and I think I have finally mended my tough relationship with the morsels.
For the occasion I decided to go with 3 bite size desserts: Meringues Kisses, Caramel Vol Au Vents and Macarons filled with Honey Buttercream. They did not require me to purchase anything too fancy as it was pouring rain all day long and I did not feel like driving around. All the components can be made ahead of time and assembled last minute.
Meringues Kisses, adapted from Flo Braker.
For the dough:
4 oz. butter, room temperature
1/4 sugar
1/8 tsp. salt
1 cup + 2 Tb. flour
Cream butter and sugar, add flour and salt. Divide the dough in half in between sheets of plastic wrap and pat to 1/4 inch thick. Refrigerate until firm.
Preheat oven to 350. Line baking sheets with parchment paper. Remove one package of dough form fridge and peel one sheet of plastic. Using the wide end of a pastry tip, cut out circles in the dough. Bake the cookies 6 to 8 minutes. Repeat with remaining dough. Let cool completely and lower oven to 225 degrees.
For the meringue kisses:
2 large egg whites
1/2 cup sugar
1 Tb. cocoa
Whip the egg whites to soft peaks. Gradually add the sugar and continue to whip until firm white peaks. Fold in the cocoa. Fill a pastry bag with a wide tipe wih the meringue and pipe on top of the cookie bases. Bake at 225 for 1 hour.
Since it was rainy and damp I turned the oven off but kept them in with the pilot light after the hour was up so they could get firm and dry.
Caramel Vol Au Vents, adapted from Flo Braker (for a definition of "vol au vents", click here)
For the cases:
1 sheet puff pastry
Using a 1 3/4 inch scalloped cookie cutter, cut shapes from the dough. With a 3/4 inch round cutter, stamp each pastry center wihout cutting all the way through the dough. Space the circles 1 inch apart on a baking sheet and bake at 375 until golden brown, 15-18 minutes. Cool for 5 minutes and with a pairing knife remove the pastry circles marked in the center.
For the filling:
1/3 cup light corn syrup
2/3 cup granulaed sugar
1/2 cup heavy cream, room temp
Bring the sugar and corn syrup to a boil, and continue boiling until light caramel colored. Remove from heat and add the heavy cream at once. Do not worry if it foams loke crazy, it will settle down. Stir with a wooden spoon until completely smooth. Let cool completely.
When the filling is cool, spoon into the pastry shell and let stand until ready to eat.
Last bite size dessert today: Macarons with Honey Buttercream.
For the Macarons:
120 gr. egg whites, divided
35 gr. sugar
150 gr. finely ground almonds
150 gr. powdered sugar
For the boiling syrup:
150 gr. sugar and 50 gr. water
Sift the ground almonds and powdered sugar.
In a stand mixer, whip 60 gr. egg whites to soft peaks, add 35 gr. sugar.
In the meantime, in a saucepan on high heat bring the water and sugar for the syrup to 230 F. on a candy thermometer.
Slowly add the boiling syrup to the egg whites and continue to whip on medium – high speed until they are completely cooled and you have a shiny meringue (10-15 minutes).
Mix the remaining 60 gr. of egg whites and the sifted almond/sugar and carefully fold into the meringue.
Fill a pastry bag fitted with a plain tip with the mixture and pipe macarons about 3 inches in diameter on parchment paper lined baking sheet.
You can let them sit at room temperature for 20 minutes if desired. This is often done to assure those little feet at the bottom but I found that I can skip this step with this recipe and still end up with the same result.
Bake at 320 for 15 minutes. Let cool.
For the Honey Buttercream:
4 egg yolks
1/4 cup water
1/2 cup sugar
8 oz. butter (2 sticks) room temp.
2 Tb. honey
Whip the egg yolks until light and fluffy with a stand mixer. Combine water and sugar in a saucepan over low heat. Stir occasionally until the sugar is dissolved. Increase the heat and bring the syrup to 238 on a cansy thermometer.
Pour over the yolks and quickly stir to combine. Return the bowl to stand mixer and whip at high speed until completely cold. Add the butter and mix in on medium speed. Add the honey and mix. Fill a pastry bag with the buttercream and layer your macarons with it. Refrigerate until ready to eat.
And here is a picture of the 3 assembled on a tray. It is one of the only shots of the whole thing as they were quick to disappear. Sweet Happy Hour!
You can tell I am digging those blog events, as seen in Grand Marnier Brulee in Egg Shells or Snow White's Apple.