Holiday Meringue Kisses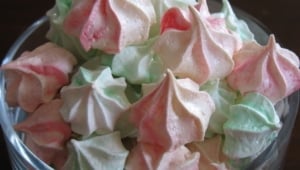 One more item destined to my gift giving baskets. You are probably starting to wonder how big these are getting! Well, not everybody is going to receive every single item I have blogged about so far, (allergies, preferences, etc…), but they are pretty big indeed. They're really not baskets however… I got very holiday-ish decorated hat boxes and filled them up. The last set of ggodies will be completed tonight.
I made a couple of things over the weekends that left me with 3 egg whites. I am running around like crazy before our trip so I chose not to venture into macaron making and since I wanted to use them for my goodie baskets, I chose the safe route with Meringue Kisses.
These are the easiest things to do and they go great with chocolate mousse, parfaits, trifles, ice creams..". They are also called "Forgotten cookies", and sometimes include nuts and chocolate chips. I am pretty sure everyone has a version of them. I can't tell you where this particular recipe comes from as I found it on a old wrinkly piece of paper in my mother in law recipe box and no source was included.
Holiday Meringue Kisses:
3 egg whites
3/4 cup sugar
pinch of salt.
Start these in the evening, you will understand why at the end.
Preheat oven to 350.
In a stand or hand held mixer, start whipping the egg whites. When they start to foam and form a soft mousse, add in the sugar 1/4 cup at a time in a nice steady stream (don't just dump it in there or your meringue will plunk). When the meringue has a shiny gloss and stiff peaks, stop mixing and put the mixture in a piping bag. Pipe rosettes on parchment lined baking sheets.
Put in the oven, turn the oven off and leave the meringues overnight. In the morning they will be done and dry!
I divided my batter in 2 and added a couple of drops of red and green coloring, gave to spatula turns and piped them for a holiday feeling.
Only one problem with these: far to easy to pop in your mouth one after the other. Not sure if the neighbors will get any tomorrow….!