More on the CSA Cook-Off I mentioned in my last post: Diane and Todd of White On Rice Couple posted a wonderfully illustrated account of the experience. I just laughed my little derriere off all over again reading it!
I am going to be put to the task of interactive baking and cooking again starting tomorrow. A good friend and fellow food blogger is flying me to Richmond where I will be teaching her the ins and outs of a few pastry items and techniques. So forgive me if there are even less replies to your emails and comments until the end of the weekend. I hear we'll even have time to take some margarita breaks, now that's the cherry on the cake, wouldn't you say?
I started this post on Monday night. It is now Thursday and I am finally done selecting my favorite pics to illustrate Part 3 of our adventures in Asheville. That was a tough job. Seriously. More tasty locally grown foods, more talented people and artisans. Colors and stories to awaken all your senses.

On the other hand, an easy thing to do was to work on today's post while eating a couple of these Snickerdoodle Ice Cream Sandwiches inspired by the dessert we were served at lunch that day. I don't have pictures for what happened half the day (camera battery spare in hotel room, classic) but hopefully some of my fellow food bloggers do(hint!).
If Tuesday ended with the King of all gourmet meals, Wednesday was all about the people who thought it through and made it happen. I am just as happy putting on a pretty dress and sit down to a 6 course meal as I am an apron and help milk some goats. I do know how to but I am glad they never asked. It's been a while and it is nothing like riding a bicyle, trust me.

Interestingly enough, we woke up Wednesday morning without major pains (sake does have magic powers), and the general consensus was definitely to try to pace ourselves given the day's planned activities. Thought quickly abandoned upon sitting on the patio of Sunny Point Cafe and perusing the menu. Funny how a tall and super fresh Mimosa makes you wish for a nibble. I am not a breakfast person but I sacrificed my habit in the name of research again and devored a plate of peppery salad greens, popping under your teeth grape tomatoes, and smooth scrambled eggs. Oh yeah, still not liking breakfast unless I have this everyday!

If you are cook, Sunny Point is the kind of place you want to work for no matter how hard the job. As a customer, you know you can meet up with friends, have a cosy moment with your moment, knowing that you will have the same consistent quality dishes after dishes (I did ask the locals sitted next to me!).

Why? When a bubbly, tatoo-bearing chef takes you to the garden and pulls out some squash blossom with a smile as big as the moon going down the list of possibilities for dinner, it just becomes contagious. You simply want to start pulling weed with the staff or rush home and water your potted herbs. Indeed, the vegetables on your plates are straight from the adjacent garden, cooked just right in the restaurant kitchen and perfectly matched with fresh homemade breads.



After a thorough tour of Sunny Point's garden we headed to Wake Robin Farm, on the outskirts of Asheville. I know that meeting Steve Bardwell became a strong point of our trip. We quickly named him "Steve The Bread Man" and literaly drank the passionate words coming out of his mouth as he explained his baking process and ideas. Some of us even swooned. Or was it the tray of pastries brought over by David Bauer from Farm and Sparrow? Flaky croissants and danishes but I had to pass, entirely motivated by distand visions of antacid pills and Tylenol and the desire to enjoy the rest of the day food fest.

Steve loves his craft. He knows it. He understands what it takes to make good bread. Dedication, great ingredients and of course, a kick-ass oven like the one built right outside the house. I was checking out the pans, breads displayed and work flow of the bakers while Brian noticed a few details that escaped me that day. One thing for sure is that we all left wanting a wood burning oven just like his and some of us have already made it their summer project.

The scenery at Wake Robin Farm Breads is absolutely gorgeous but Spinning Spider Creamery was next on our list and I was ready! I had tasted goat cheese from The Owen's creamery on a previous visit to Asheville and was looking forward to meeting the people and structure behind it.

Goat cheeses are among my favorites and I am thrilled when friends discover that it goat cheese making goes far deeper than the fresh logs you find at the supermarket. My childhood favorites were hard rock little crottins that my grandmother would age on top of the fridge or the ash covered goat pyramid she would make me choose from the cheesemonger's stand at the market. I could have listened to Chris, the cheesemaker for hours as she explained the creamery's process and history. I want to thank her for taking the time to humor my questions about the ash covering process on the logs and pyramids. Maybe one day when I get a goat…

Happy goats, quality ingredients and obvious care. It really shone in the vast array of cheese we sampled (with Steve's bread!), from fresh to hard goat cheese, mild or pungent. I think we all found our bit of happiness that day! One thing I did not expect was to meet a young lady I sort of knew through her writing. Standing in front of me, beautiful and serene in her green shirt and perfect porcelain skin was hard working Megan from The Importance Of Being Sentient. She loves the mountains and all that surrounds her as much as I loved the ones from Provence. Such a quiet person and yet you sense how much she wants to shout Carpe Diem out loud on all the rooftops of the world. Well go ahead girl and never ever stop!

We were deep into our cheese tasting that Dodie ushered us to meet Jamie Ager from Hickory Nut Gap Farm who purveys Asheville's restaurant with some of the tastiest grass fed beef and pork I have tasted. And that's when my battery gave out. Right as we were about to have another fine feast laid out for our tasting pleasure. Jamie is a riot. His sense of family and partnership extending to his cousin who provided the vegetables for lunch as well as his good friend from The Corner Kitchen who prepared the feast with his chef de cuisine.
You are just have to trust that the pork belly salad we started with was mighty fine with the perfect ratio of meat to fat, that the grass fed beef absolutely knocked my socks off, and that my truffled potato salad did not mean a drizzle of truffle oil but a giant slice of black truffle (I think I had a slice and a speck but I horded that one!). And when I thought I had no room left for dessert, I quickly changed my mind at the first bite.
You would too if you had Lemon Ice Cream from Ultimate Ice Cream paired with The Corner Kitchen's Snickerdoodles and a few blueberries for good measure. I could have had a vat of it and still wished for more. We did have quite a bit of ice cream on this trip but I will never be one to object. Quite perfect to end such strong meals. I begged (again…completely shameless when it comes to you and desserts!) and both Joe and Kevin kindly provided the recipes that have made Bill and I say "oooh this is so easy and good!" for the past 3 days. Thank you gentlemen.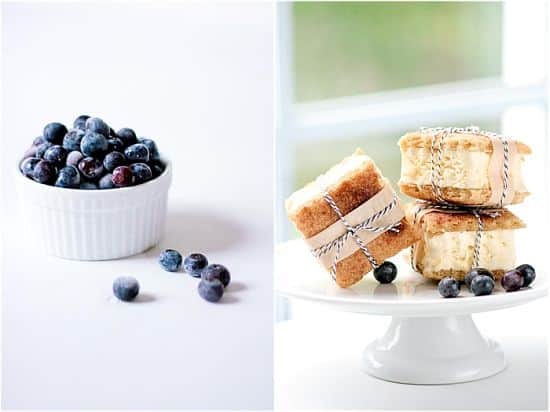 Snickerdoodle Lemon Ice Cream Sandwiches:
For the snickerdoodle cookies:
½ cup each butter and shortening, at room temperature
1 ½ cups sugar
2 eggs
1 ½ teaspoons cream of tartar
1 teaspoon baking soda
1/4 teaspoon salt
2 ¾ cups all-purpose flour
Beat butter, shortening, sugar and eggs together until creamy. Add cream
of tartar, baking soda and salt. Beat until smooth. Add flour and mix well.
Chilling overnight is preferred; otherwise at least two hours.
Topping:
3 tablespoons sugar
1 tablespoon cinnamon
Combine topping ingredients in small, shallow bowl. After chilling, roll out to 1/4-inch thick in between sheets of plastic wrap and cut out desired shapes. Place on ungreased baking sheets, sprinkle with cinnamon sugar and refrigerate 30 minutes.
Preheat oven to 375F and position a rack in the middle. Bake the cookies for 10 minutes or until golden brown. Let cool completely before filling them with the ice cream.

Ultimate Lemon Ice Cream:
Finely grated zest of 3 lemons
1/2 cup fresh lemon juice
3/4 cup sugar or 2/3 cup agave nectar
4 egg yolks
pinch of salt
1 cup milk
2 cups heavy cream
In a non-reactive bowl, mix the lemon zest, juice and sugar (or agave nectar). Refrigerate one to two hours to blend flavors
In a large bowl, slightly beat the egg yolks to break them up. Heat milk to a bare boil in a large heavy saucepan. Pour the milk over the eggs and return combined mixture to the saucepan and gently heat (do not boil) until the mixture coats the back of a spoon. Refrigerate for at least 2 hours. Combine milk mixture with heavy cream and lemon mixture. Spin in your ice cream maker according to the manufacturer's directions
——————————————————————————-
I also want to extend a huge Thank You to Holly of Decor8 for featuring my pictures in her "8 Inspiring Photographers, post. I am blushing.