As a child, I can't say that I ever knew hunger. I got hungry for sure. But I never knew the deep feeling of being hungry and knowing I would not be able to satisfy my growling stomach. My parents did not always have it easy and I can see there were times when budgets and expenses were calculated to the penny but one thing my brothers and myself never questioned to have or not was food.
If times were a bit strained, we, as children, never knew it. I just noticed we ate more eggs throughout the week and lots more soups. I never put two and two together because I never had to. There was always food in my plate. Some children don't have this chance. Some children go hungry on a daily basis.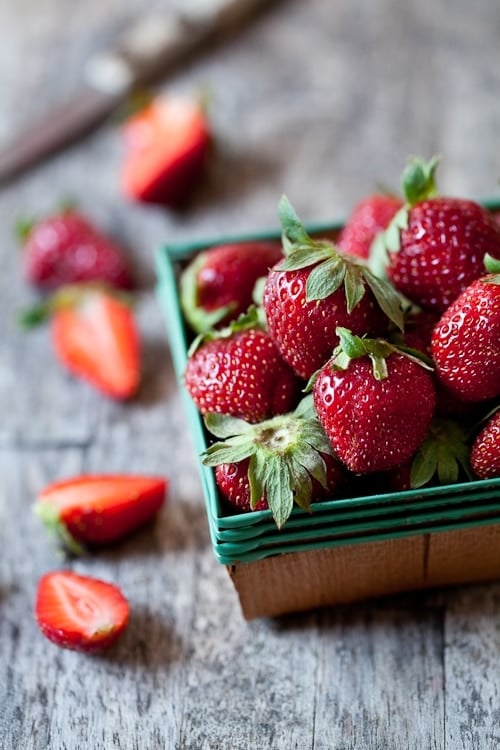 My parents knew that. They made sure we did too and very early on in our lives made sure we knew the purpose of charity. We did it silently. Charity is an act that comes from inside of you. It does not need to be advertised or require praises. Just do. We know what it's like to hit hard times and to have a great support system of friends and family. Some people are not as lucky. Most of all, children should never know the physical and emotional pains of hunger.
If I can direct your heart to cozy place this holiday season it would be toward Share Our Strength and their "No Kid Hungry" campaign. Gaby from What's Gaby Cooking emailed a few weeks back and asked a bunch of bloggers to partner up with Share Our Strength to help them spread the word and raise awareness through a virtual progressive dinner, inviting readers to a Holiday Table filled with all sorts of ideas from appetizers to dessert, vegetarian, budget friendly, gluten free, gourmet, etc...

All these dishes are so tempting and for us so easy to come up with but for others it would take a village to fill up their plates. And the ones of their children. We are that village. We are that community. I have an ever shaking faith in our humanity but I believe the holiday season makes us softer and in that regard, I am indeed asking that you would consider participating and pledging to help Share Our Strength "No Kid Go Hungry" campaign. Why? Because one dollar makes a child already closer to 10 meals. That's huge…

My virtual contribution to the campaign is one of my dad's all time favorites, a Strawberry Jelly Roll Cake. His mother used to make it for him when he was a kid and I grew up listening to my dad's recollection of Mamette (her nickname) and her famous jelly roll cake. It made him feel like a king. Every child should know that feeling. I always felt like it was a special moment when my mom would try her hand at it. A simple cake such as this became the anchor of some many memories in our family.
A lot of us out there will be creating wonderful family memories gathered around a pretty table filled with great foods, family recipes, easy, budget friendly, etc…you name it. We will give praises and thanks. We will raise our forks and cheer. We will eat, rub our bellies and laugh.
Every child deserves to have such memories…


Strawberry Jelly Roll Cake, adapted from this recipe.
Serves 6 to 8 people
4 large eggs, separated
1/2 cup (100gr) sugar
1/3 cup + 1 tablespoon (65gr) rice flour
1/3 cup + 1 tablespoon (65gr) millet flour
1/2 teaspoon xanthan gum
1 teaspoon baking powder
pinch of salt
softened butter for the baking sheet
1/2 cup to 1 cup strawberry jam
powdered sugar to decorate
Preheat the oven to 375F. Butter the bottom of a baking sheet (I used 2 quarter sheet pans) and line with parchment paper, butter the paper liberally.
In a large bowl, whisk together the egg yolks and sugar until pale yellow. Add the rice and millet flours, gum, baking pwder and salt. Switch to a spatula and fold the ingredients together briefly.
In the bowl of an electric mixer fitted with the whisk attachment, whip the whites at high speed until medium stiff peaks form.
Take about 1/3 of the egg whites and fold them into the egg yolk/flour batter. Do not worry about folding carefully, you just want to use the moisture from the whites to add fluidity to the batter.
Now, carefully fold in the rest of the egg whites into two installments.
Spread the batter onto the prepared baking sheet and bake for about 8-10 minutes or until barely golden brown.
Remove from the oven and let cool about 5 minutes. Place a piece of parchment paper onto your work surface, invert your baking sheet over it and slowly peel the parchment paper from the bake of the cake. Using the bottom piece of paper, start rolling the cake onto itself, starting from the longest edge.
Let it cool completely. Unroll, fill with the jam and reroll. Sprinkle with powdered sugar if desired. Keep refrigerated until ready to eat.