Sweet Potato and Baby Vidalia Scones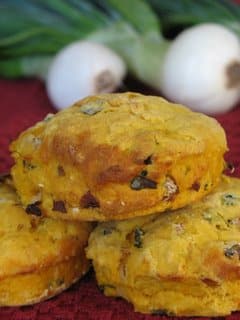 I am really liking all the blog events going on each month and with a baking and pastry blog there are always plenty to chose from. When Zorra started World Bread Day back in October, I had no idea that I would still be looking at participants' entries one month down the line, but there are so many great breads outhere. She came up with the "After Hours Party" event, giving each of us the chance to try somebody else's bread and post about it. I had fun participating again. A couple of weeks ago, she sent me an e-mail about her latest one-off event "Onion Day"…. and then I got speechless (yes, it is actually possible!). I was torn: I wanted to participate but I wanted to keep with the sweet/baking theme of my blog.
My mind went immediately into bread baking mode and particularly gravitated toward something that would be sweet enough to have a place here but with a type of onion that would complement it. It was not until yesterday afternoon that I found what I wanted to make when I went to the store and stood in front of my produce guy: "I need a very sweet onion for baking, even sweeter than the sweet Vidalia, help!".
Sunny is the man! He went to the back and came back with a case of baby Vidalia. They looked like big eyed leeks with a sweet and smooth fragrance. I had one of the components… On the drive home I had that light bulb effect over my head and remembered the small container of leftover sweet potato puree wasting its life away in the back of the fridge. What do you do with about 1 cup of the stuff…a Sweet Potato and Baby Vidalia Scone!
Not only did my sweet potato puree did not find a fateful end but I'd get the chance to join the festivities and have a yummy breakfast in the morning!
Although I have a recipe for scones that I love and use almost every week, I tought it was hogh time I tried another one and I now have a second favorite. These came out so tender and you can really taste the sweet potato. I bet they would be good with some bacon in them too. We sliced them open and used them as the base for a couple of poached eggs and that was our dinner last night with a side salad. Delicious!
Sweet Potato and Baby Vidalia Scones, adapted from recipezaar:
2 baby vidalia onion or one small one, sliced or diced
1 cup all purpose flour
2 teaspoons baking powder
1/2 teaspoon salt
1 teaspoon sugar
1 cup mashed cooked sweet potatoes
3 tablespoons butter, melted and cooled
Line a baking sheet with parchment paper; set aside.
In a medium pan, saute the onion until tender, set aside to cool.
Sift flour, baking powder and salt into a medium-size bowl; stir in sugar.
In a large bowl, thoroughly mix potatoes and 1 1/2 tablespoons melted butter with a fork. Add the onion.
Add dry ingredients and mix to form a soft dough.
Turn out onto floured surface.
Roll out with a floured rolling pin or pat dough with your hands to make a round about 1/2-inch thick.
Cut into rounds with a 2-inch fluted or plain cookie cutter.
Place 1 to 1 1/2 inches apart on baking sheet; brush tops with remaining 1 1/2 tablespoons melted butter.
Bake about 20 minutes or until light brown.
Split and serve warm with butter and honey.
Makes about 10 scones.