Creamy Polenta With Russian Kale & Shitake Mushrooms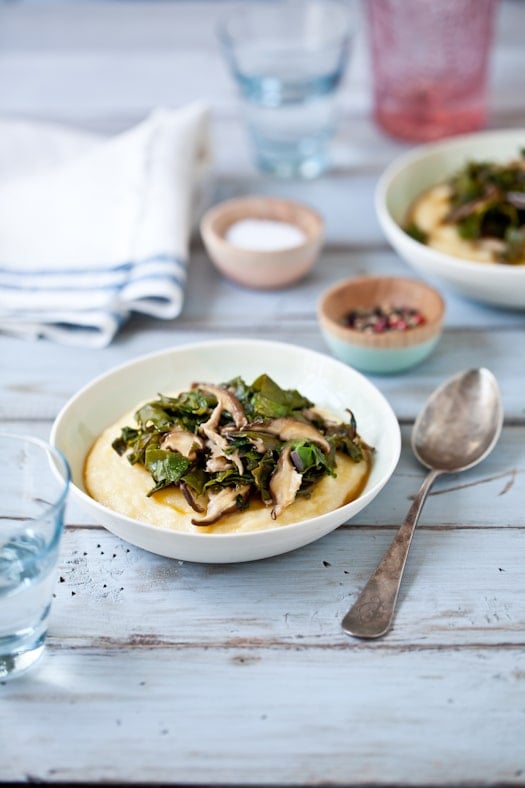 I just absolutely love this time of year. The temperatures may be higher than Spring feels like in other part of the world but we are still (and I insist on still) a few weeks away from scorching 100F (minimum) and 100% humidity (also a minimum). That means I can meander the farmers market without melting or rushing to get home once the milk and eggs find their way to my basket.
Every Saturday that I am in town, from April to December you will find me right at opening hour at the market. I like to be able to talk to the vendors who have now become friends. Instead of "hey we're back!" when the market opened again this season, it was hugs and stories shared all around. We had months to catch up on and lots of good news to share. New breeds for Jason at Meathouse. New lasagna and fresh pasta flavors for Brian at Rio Bertolini, new farmland for Ken and his crew. So proud to see so many young talents share their craft and passion with produce- intense people like me.
They know my habits. I am not special. They know the habits of all their regulars. I am grateful for their enthusiasm and little extras they put in my basket once in a while. I love that they never mind my taking pictures as if they were about to disappear with their next breath. Charleston is lucky to have caring farmers and individuals. We are lucky to have this amount of gorgeousness so many months out of the year. I do my weekly shopping there and right now I am all about the greens, mushrooms and radishes. In a few weeks it will be heirloom tomatoes and squash that will be prominent.
Going with the rythm of the season is a treat. I am aware of it. If you have access to a farmers market or to a farm, make a trip there. There are fantastic passionate people working to get you the best produce possible. I like to honor them with photographs and still life shots. They make my work so much easy. Clients are always thrilled to see ingredients as fresh as these!
It makes getting home after a long shoot and staring at the content of the fridge with a hungry stomach that much easier. I can look at the chalkboard pantry door and see what I can combine from both dry and fresh goods to make dinner. (Side note: when we built the house back in 2005, I took the pantry door off its hinges and painted it with a coat of chalkboard paint. It makes tracking one's fridge and pantry content that much more efficient). Lately, I have renewed a love affair with soft and creamy polenta, topped with lots of greens and once in while with an egg or a few grilled shrimp. (season kick off here was a few weeks ago)
Fresh, easy, quick and completely satisfying. I have to thank my mother for reminding me of the wonders of polenta. When they visited last and she was so sick the whole time, it was the only thing she could eat without being bothered much afterwards. Instead of making different meals for everyone, we would just make one big batch and partake. Months after, I still reach for the tin of polenta whenever I want something light, yet comforting.
Here is my favorite way to serve it at the moment: topped with sauteed Russian kale and shitake mushrooms, plenty of garlic and parsley and with a poached egg on top.
What is your favorite easy dinner to make?

Creamy Polenta with Russian Kale Shitake Mushrooms (with option to be topped with a poached egg):
Serves 4
Ingredients:
For the kale and mushroom mix:
2 teaspoons olive oil
4 cups cleaned and roughly chopped Russian kale
1/2 pound fresh shitake mushrooms, stemmed and sliced thin
1/2 cup loosely packed fresh parsley
2 cloves garlic, minced
1/3 cup water or vegetable stock
salt and pepper to taste
For the polenta:
2 cups water
1/2 teaspoon salt
1/3 cup fine grain yellow polenta
dash of freshly ground nutmeg
1 tablespoon heavy cream
For the poached egg (optional) (but oh so tasty!)
I find that Elise's post about poached eggs is the best one to date. You can check it out here.
Directions:
Start by preparing the kale and mushroom mix.
Heat the oil in a large skillet set over medium high. Add the kale and mushrooms and sauteed for about 5 minutes. Add the parsley and garlic and cook for another 2 to 3 minutes. Add the stock (or water), salt and pepper, cook for another minute and remove from the heat. Let cool while you prepare the polenta.
In large pot, bring the water to a boil. Add the salt and polenta at once and stir quickly with a whisk or wooden spoon to prevent the polenta from clumping. Add the nutmeg. Reduce the heat to a simmer. Let the polenta cook, uncovered for about 20 minutes. Remove from the heat and stir in the heavy cream. Check the seasoning once again.
Divide into four portions, top with the kale and mushroom mix, adding a few tablespoons of the juice as you go along and top with a poached egg if desired.