Vanilla Tapioca And Milk Chocolate Lime Cremeux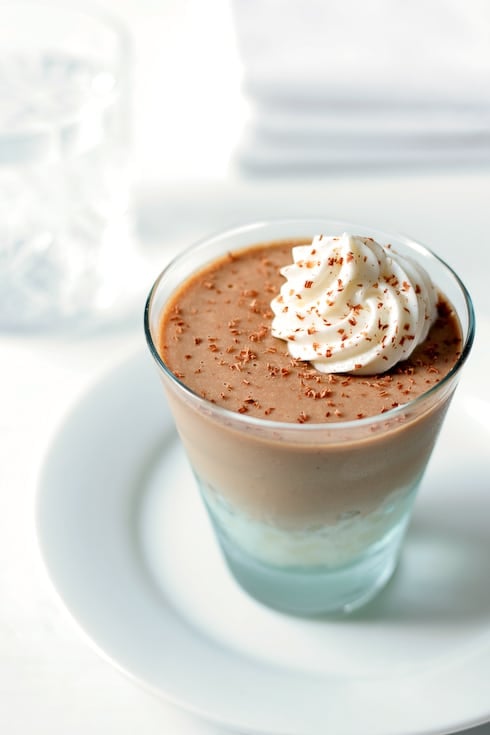 Update 6/18: You can head over Simply Hue written by the adorable Vicki to read a little interview she did with me about work, dessert, inspirations and passions. Then come back here for dessert, ehehe!
Thank you for all the good vibes you sent throughout the weekend, they were truly uplifting. You can trust that they are already bottled up and ready to be used for the next phase of whatever this is we are in. One sure thing for Bill and myself right now is that our marriage is stronger than ever, our couple and friendship thicker than glue. If a dessert could define it in a nutshell, it could well be these verrines of Vanilla Tapioca and Milk Chocolate Lime Cremeux.

Can I be annoyingly tacky by saying that our relationship is as comforting as vanilla tapioca pudding? Will you believe if I added that it has this sexy layer of milk chocolate cremeux to it? And that we still find a way to add a little spice and humor to life like adding lime to chocolate? I can, I am and I stand by the comparison. It certainly got B. to say outloud "These are so good! Will you marry me? Again?"

I did smile at that one because at that precise moment I was reading a very interesting email and knew he'd giggle with me. It was a marriage proposal. From a reader. Oops! A "back-up" of some sort. A quite funny note actually ending in "you know, just in case things don't work out for you guys" that just about made me bust my sprained rib again. He looked at me, grabbed my shoulders and pretending to be mad exclaimed "who have you been baking for? Ha ah!!" followed by "are there anymore of those tapioca chocolate thingies?" Yep, that's him, my man, never losing sight of what's important!
I did make those little pots with him in mind knowing that where I could not fix what was broken, I could certainly ease his worries for a brief moment. Chocolate is always a good start, wouldn't you say? Milk chocolate to be exact. He loves it, I love it. Can't get enough of it but we are picky about it and usually keep the good quality kind for special occasion. Now is a special occasion.

A milk chocolate cremeux is the most perfect way to say "you're smooth man, I love you". Add a bit of lime zest and you round it up with that little touch of sass that keeps things interesting. He loves tapioca pudding, I love riz au lait made with arborio rice, which is a little bit more toothsome this way. I found a pleasant compromise by using large tapioca pearls instead of the fine grained kind but both work equally well here.

Hard to describe the pleasure of digging your spoon in such a creamy chocolate layer before the contrasting layer of tapioca and vanilla. As if it was possible to be improved upon, a dollop of sour cream or creme fraiche on top actually makes them even better. That little bit of acidity is perfect to set off the creamy chocolate and round up the touch of lime.

One year ago: Cherry Orange Blossom Cakes
Vanilla Tapioca With Milk Chocolate Lime Cremeux:
Makes 6 to 8 depending on your serving dishes.
Note: it is best to prepare this the day before and let the cremeux get a bit firmer in the fridge overnight. Not quite a pudding, not quite a cream but the perfect cousin to both.
For the vanilla tapioca:
1/3 cup (60gr) large tapioca pearls
1 cup (250ml) water
1 cup (250ml) whole milk
1 tablespoon (12gr) sugar
1/2 vanilla bean, seeded
For the milk chocolate lime cremeux:
2 cups (500ml) heavy cream
zest of one lime
5 egg yolks
2 tablespoons (25gr) sugar
4 oz (120gr) good quality milk chocolate, chopped
Prepare the vanilla tapioca:
In a medium bowl, soak the tapioca pearls in the water for an hour. Drain and discard the water. In a large saucepan set over medium heat, bring the tapioca, milk, sugar and vanilla to a boil. Lower the heat and simmer 10-15 minutes or until the tapioca looks translucid. Remove from the heat and place a piece of plastic wrap right on top to prevent a skin from forming as it cools. Once completely cooles, divide the tapioca in between your serving glasses or ramekins.
Prepare the chocolate cremeux:
In a large saucepan set over medium high heat, bring the cream and lime zest to a simmer.
In the meantime, in a large bowl, whisk together the egg yolk and sugar until pale. Once the cream is hot, slowly pour it over the yolks and sugar, stirring constantly to prevent curddling. Pour this mixture back into the saucepan and cook over medium low heat until thick ( a bit thicker than creme anglaise but more fluid than pastry cream), stirring constantly. Remove from the heat and add the chocolate to the pot. Let stand a couple of minutes then stir until completely smooth and the chocolate is completely incorporated. Let cool to room temperature and divide the mixture evenly on top of the tapioca. Loosely cover with plastic wrap and refrigerate until slightly firmer, preferably overnight.