Lemon Parsley Marinated Shrimp With A Ribbon Veggie Salad
If you have been reading this blog for a while, you have noticed that I very seldom do product reviews or promotions. Part is because I am seldom solicited to do so. Part is because although I am asked every so often, I either don't like the product I am offered or I don't think it fits this blog. But there are the rare times when something piques my interest, and the people asking for my collaboration do not take my opinion, time and readers for granted.
Through my relationship with Martha Circle, the folks at Truvia hired me to develop and shoot a recipe for their New Year Healthy You campaign. I would probably have passed on the offer if it weren't for my own current use of this stevia based sweetener and my desire to develop more and more recipes with it for a couple of family members who could benefit from it such as my mother who will be visiting soon.
Even if I eat healthy almost every day of the week, there are always those periods of time when a few extra pieces of chocolate add up, that one little extra sliver of cake passes my lips and that extra creamy bite of macaroni and cheese just calls my name. Sometimes, it's simply too much work and general lack of organization and the first things to take a backseat are proper homecooked meals.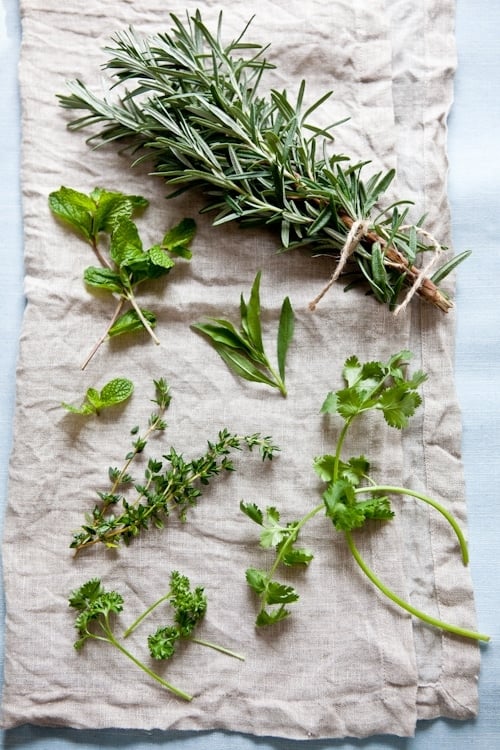 Food that is healthy and good for you does not have to be bland and boring. I have learned that along the years of cooking for family members with health issues as well as my own desire to keep my health optimum. Whether you need to pay attention to sugar, fats or carbohydrates in your cooking, there is always a moment when you feel something is a lacking or not working right yet. For me, it was sugar. Or the desire to reduce it without losing taste or texture in the dishes I'd cook.
Enters Truvia. A natural sweetener made from the stevia plant. Although I have used stevia based sweeteners for a while, I became a Truvia user in the last year or so when my mom and I decided to try it in her favorite cake recipe. Maple syrup, honey, molasses are usually our sweeteners of choice but draining on the budget (especially if you bake or cook often) and not as portable as little packets of Truvia when you travel.
We followed the direction on the box as far as dosing: 3/4 teaspoon of Truvia equals 2 teaspoons of sugar and not only did the cake texture turned out fine but there was also no strange aftertaste. This is a huge deal when a savory recipe calls for a pinch of sugar such as in marinades, sweet and sour dishes, etc…

One of the dishes I like to make to get back into healthy habits after the holidays is a sweet and savory seafood salad with shrimp infused with a lemon, parsley and garlic marinade and served on top of zucchini, squash and carrots cut very thinly into ribbons. The marinade needs that little bit of sweetness to break down the acidity of the lemon marinade and Truvia works perfectly there (I use raw honey usually). A pinch and you are set. It dissolves quickly without over powering the rest of the ingredients.
I love making this dish with all sorts of different seafood (mussels, clams, scallops) and different vegetables. Same goes for the herbs. I always have parsley on hand but cilantro, tarragon, thyme and even rosemary work great here. Keep it light, easy, super fresh and full of flavor. Something that makes you feel good when you prepare it and light and healthy when you sit down to eat it.
Disclosure: Through Martha Circle, Truvia hired me to create and photograph one recipe and I was sent a jar of their product to do so. The rest – my opinions and words – are my own.

Lemon Parsley Shrimp With Ribbon Vegetable Salad
Serves 4 as a light lunch or 2 as dinner
1 pound medium shrimp
3 tablespoon olive oil
zest and juice of one medium lemon (about ¼ cup juice)
¾ teaspoon Truvia
1 garlic clove, minced
¼ cup flat leaves parsley, finely chopped
¼ teaspoon kosher salt
1/8 teaspoon freshly ground pepper
1 large zucchini
1 large yellow squash
2 carrots (peeled)
Shell and devein the shrimp, rinse under cold water and place them in a non-reactive bowl. Refrigerate while you make the marinade.
In a small bowl, whisk together the olive oil, zest and lemon juice, Truvia, garlic clove, chopped parsley, salt and pepper until well combined. Set aside 2 tablespoons and pour the rest over the shrimp and toss them to make sure they are well coated in the marinade. Refrigerate 30 minutes.
In the meantime, make the ribbon vegetable salad:
In a non-reactive bowl, peel the zucchini, yellow squash and carrots lengthwise with a vegetable peeler to obtain long ribbons. Stop before you reach the core. Discard the core or keep to make vegetable stock later.
Toss with the reserved marinade. Refrigerate until ready to serve.
Heat a non-stick pan over medium heat and sear the shrimp for about 2-3 minutes on each side. Discard the marinade used for the shrimp. Remove the shrimp from the pan and let them cool off on a plate.
Plate the vegetable ribbon salad on a large platter and top with the shrimp and serve.