Lemon Surprises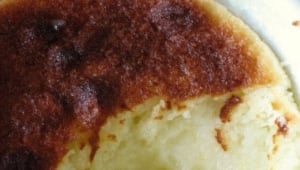 I really did not want to call these by their "real" name because of the ill sound it produces in my ear everytime I serve them to guests. They are "lemon sauce puddings"…uh…they are more like a cross between a mousse, a curd and a fallen souffle. They rise a tiny bit once in the oven, the top layer is a perfect tender mousse and when your spoon reaches the bottom you scoop out a nice lemon sauce/ curd. There are many versions of this dessert and the night I made these for guests, I noticed that Lisa posted one of them.
I found this particular one on a site that I love, Lex Culinaria, and the history behind them is as lovely as the outcome:
Lemon Surprises, adapted from Lex Culinaria:
preheat oven to 350F
juice and rind of 1 lemon
1 cup sugar
2 Tablespoons flour
2 egg yolks
pinch salt
1 cup milk
2 egg whites, beaten until stiff but not dry peaks form
Sift together dry ingredients and combine with yolks. Add in milk, lemon juice and rind. Fold in beaten egg whites.
Spread batter in bottom of 4 ramequins and place baking dish inside a larger baking dish or roasting pan. Fill outer pan with hot water until the water comes halfway up the sides of the pudding dish. Place whole contraption in the oven and bake for 35 minutes.