Cashew Gateau With Coffee Cardamom Mousse

Thank you all for the very nice birthday wishes for my mother, she truly appreciated the thought. Funny story about birthdays in my family and birthdays phone calls especially: my grandmother had the habit to see whom of her children would call her first to wish her a happy birthday. When I called my mom on Tuesday, I immediately said "I know I am not the first but I am the furthest…that's got to count!".
Anyways, back to today's dessert… I can't plan..Let me rephrase this: I can't plan to have a distraction free day because we all know that concept never truly works. I had planned yesterday to be a writing day punctuated by a few walks with the dogs, a couple of play breaks with them and the neighbors' kids, no grocery shopping, no baking commitment, no visits, no errands…just me and my thoughts. Ha! I should have checked the weather channel because as soon as I woke up the rain had decided to fall hard and steady, which meant no walks with the dogs, no play time nextdoor. Thus I had two crazy monkeys on my hands who all of a sudden had decided to team up to tear the house apart when I was not looking. I am still laughing when I think about the tricks those two played on me!
It all started when I was sipping my coffee looking at the creek and the rain…and the high tide…tidal creek during high rain equals a big puddle in your yard and a creek boat (think small fishing tin there people….we're not the yacht type) that threatens to float away. B. went outside to tighten the rope, the dogs followed and found the yard, sorry puddle…and all hell broke lose. They played fetch with each other for thirty minutes and all we could do was watch. Watch them turn from beige to black really…Two bathes and numerous towels later and everybody settled down…a little. By then I had lost my writing mojo and decided to bake instead. At least it was easier to stop their shenanigans with a whisk in my hand than a thought up in the air.
Baking did take place but not in the case of this cake. How can I make a cake without turning the oven on? Recycling….When we did the last Daring Bakers challenge I did the whole batter but baked a 6 inch cake for the challenge and a 8 inch cake that I froze, not really sure of what I would use it for. I got a call from a friend Tuesday morning and told her to come by meet the puppy later that day over coffee and cake. I thawed the cashew gateau and started working on a filling when she called to cancel: her best laid plans got also derailed that day. We reset for the day after (gosh I have never written anything with that much timeline involved!), which turned out great given the way my rainy day was shaping up.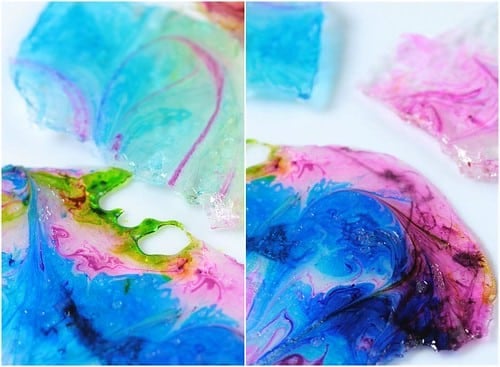 For the cake I used pastry rings to cut out 4 rounds into the cake and split those minis in half. I used one half at the bottom of each ring, topped them with a simple coffee and cardamom mousse, (you might have extra mousse in which case I recommend you divide it into glasses and eat as is. It is easier to make the full amount and have extra than the opposite. It is really good on its own), one more layer of cake and let them set in the fridge overnight. Wednesday morning I topped each mini cake with a dark chocolate ganache. The inspiration for the caramel stained "glass" panel comes from my grandmother (same one!) who used to say "I don't care if it rains as long as there is some sun and some colors somewhere". I feel the exact same way but since there was no sun in sight I decided there would be colors then! I go a lucky break of 20 minutes to take some pictures and walk the crazy monkeys. Not too bad a day after all.
Cashew Gateau With Coffee Cardamom Mousse:
Serves 4
For the gateau:
3/4 cups cashew, toasted/skinned
1/3 cup cake flour, unsifted
1 Tbsp. cornstarch
3 large egg yolks
1/2 cup sugar, divided (2Tb & 6 Tb)
1/2 tsp. vanilla extract
½ tsp. grated lemon rind
2 lg. egg whites
2 Tb melted butter, cooled
Position rack in the lower 3rd of the oven and preheat to 350 degrees. Grease and flour a 8" X 4" inch round springform pan. Using a food processor, process nuts, cake flour, and cornstarch for about 30 seconds. Then, pulse the mixture about 10 times to get a fine, powdery mixture. While you want to make sure there aren't any large pieces, don't over-process. Set aside.
Put the yolks in the bowl of an electric mixer, with the paddle attachment, and beat until thick and light in color, about 3-4 minutes on med-high speed. Slowly, add 8 Tb of sugar. It is best to do so by adding a tablespoon at a time, taking about 3 minutes for this step. When finished, the mixture should be ribbony. Blend in the vanilla and grated lemon rind. Remove and set aside.
Place egg whites in a large, clean bowl of the electric mixer with the whisk attachment and beat on medium speed, until soft peaks. Increase to med-high speed and slowly add the remaining 2 Tb of sugar, over 15-20 seconds or so. Continue to beat for another ½ minute. Fold the yolk mixture to the whites. Pour the warm butter in a liquid measure cup (or a spouted container). Put the nut meal in a mesh strainer (or use your hand – working quickly) and sprinkle it in about 2 tablespoons at a time – folding it carefully. Be sure to exclude any large chunks/pieces of nuts. Again, work quickly and carefully as to not deflate the mixture. When all but about 2 Tbsp. of nut meal remain, quickly and steadily pour the warm butter over the batter. Then, with the remaining nut meal, fold the batter to incorporate. With a rubber spatula, transfer the batter into the prepared pan, smoothing the surface with the spatula or back of a spoon. Tap the pan on the counter to remove air bubbles and bake in the preheated oven for 30-35 minutes. You'll know the cake is done when it is springy to the touch and it separates itself from the side of the pan. Remove from oven and allow to stand for 5 minutes. Invert onto a cake rack sprayed with nonstick coating, removing the pan. Cool the cake completely.
For the coffee cardamom mousse:
1/2 teaspoon ground cardamom
1/2 cup espresso or strong coffee
1/4 cup sugar
1 tsp powdered unflavored gelatin, softened in 1 tablespoon cold water
1 cup heavy cream, cold
In a mediu saucepan, bring the coffee, sugar and cardamom to a simmer. Remove from the heat and stir in the gelatin until it is completely dissolved. Let cool to room temperature. In the bowl of a stand mixer with the whisk attachment or with hand held beaters with balloon whisks, whipe the cream just until it holds stiff peaks, do not overbeat or it will become grainy and separate. Add a small amount first to the coffee mixture to loosen up the batter, slowly fold the rest of the whipped cream. Do not let it set completely before using it for the cake filling (have your cake baked, cooled, and cut before using)
For the chocolate ganache:
1/2 cup heavy cream
3/4 cup chopped chocolate or chocolate chips (about 6 oz or 180 gr)
In a medium saucepan, bring the cream to a simmer, remove from the heat and add the chocolate. Let it sit for 5 minutes so that the chocolate starts to melt then slowly stir the cream and chocolate until they come together to make the ganache. Let cool slightly before using it over the cakes.
To assemble:
Cut 4 rounds out of the 8 inch cake and cut each round in half. Using 4 3 inch round pastry rings, place a cake round at the bottom of each ring, top with about 1/4 cup of coffee mousse, top with another cake round and let sit overnight. In the morning, make the ganache. Line a sheet pan with a sheet of parchment paper, position a cooling rack or a grid over it, position your cake over the grid and slowly pour the ganache over all the cakes to cover the completely. Rap the sheet over the counter top (be gentle, no jumping cakes allowed!), to let the ganache fall evenly. Let them set in the fridge for a couple of hours. You can dust them with a good coat of cocoa powder if desired like I did here.
For the stained glass caramel windows:
250gr sugar (1 cup)
37.5 ml water (35 gr) (2 1/2 Tb)
various food colorings
Line a baking sheet with parchement paper. Drop a few drops of food coloring onto the paper. Do not touch them, sirl them or move them.
In a heavy saucepan, combine the sugar and water, do not stir and bring to a boil over high heat. Continue to boil until the caramel reaches the soft crack stage or 140C – 285F on a candy thermometer (do not let it turn color). Immediately pour over the parchment paper with the food coloring. Take the baking sheet with your hands and move it left to right, right to left to move and swirl the colors. Let set until completely cooled. Break pieces of your desired size to decorate the cakes with.