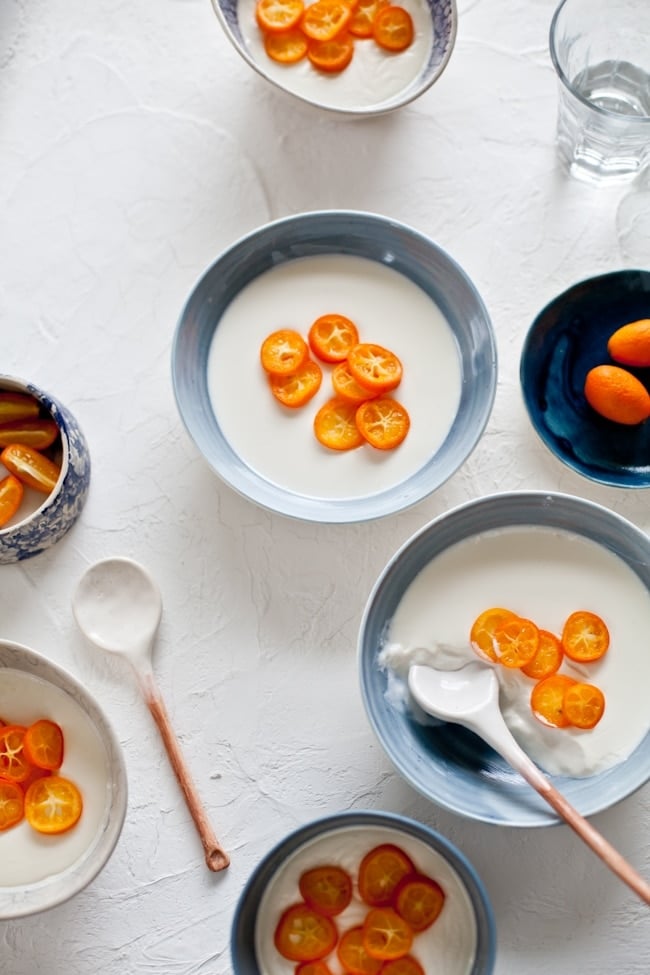 If we've hung out together before, you then know that there is not a dessert I do not like. Crunchy, melty, elaborate, simple, fruity, chocolate,…I like desserts. However, I have noticed as I grow older that I have more of a savory tooth than a sweet one while I still love to bake and make ice creams or confections for friends and gift giving. A simple fruit satisfies my sweet tooth. Oh wait. I did do a number on that chocolate bar in the test kitchen at work today. Never mind…!
Still, give me a good piece of cheese and that is my dessert. I do however have a particular affinity for panna cotta. It's creamy, soft, can be flavored or plain, topped or layered. There are so many possibilities on a simple panna cotta recipes as there are recipes for chocolate chip cookies. Variations are as endless as your creativity and desire to play.
I found myself with an abundance of kumquats and not enough days to eat them before they'd go bad. I like to snack on them raw as I edit pictures or catch up on emails after work but I had simply too many on my hands at this point! With my husband out of town, I didn't really feel like baking or doing something complicated with them. A panna cotta seemed like a simple and super satisfying dessert.
Infusing the cream and buttermilk for the panna cotta with pureed kumquats gave a whisper of citrus to the cream while fresh slices of the fruit on top providing that little pucker I was looking for. Perfectly light and creamy. And decadent…