Pear Walnut Cake, A Family Tradition
There are very few things that a cake won't cure. From gray days and heavy rain to sickness and nostalgia. This winter has been brutal for a lot of folks. Here we have been spared from the general malaise of being stuck in a never ending cycle of snow days, blizzards and freezing temperatures. We did have a very minor taste of it last week with a little very slushy watery snow blanketing our street one evening. First time Tiggy the new pup experienced the snow. She had a blast, slid down a small hill a couple of time and like me, enjoyed the quietness that comes right after it falls.
In anticipation of a snow day and potential loss of electricity (didn't happen), I went ahead and cooked a bunch of the vegetables and proteins I had in the fridge and freezers as well as the fruits laying about on the countertop. The results were a couple of stews and soups, a batch of pear financiers and this yogurt based pear cake.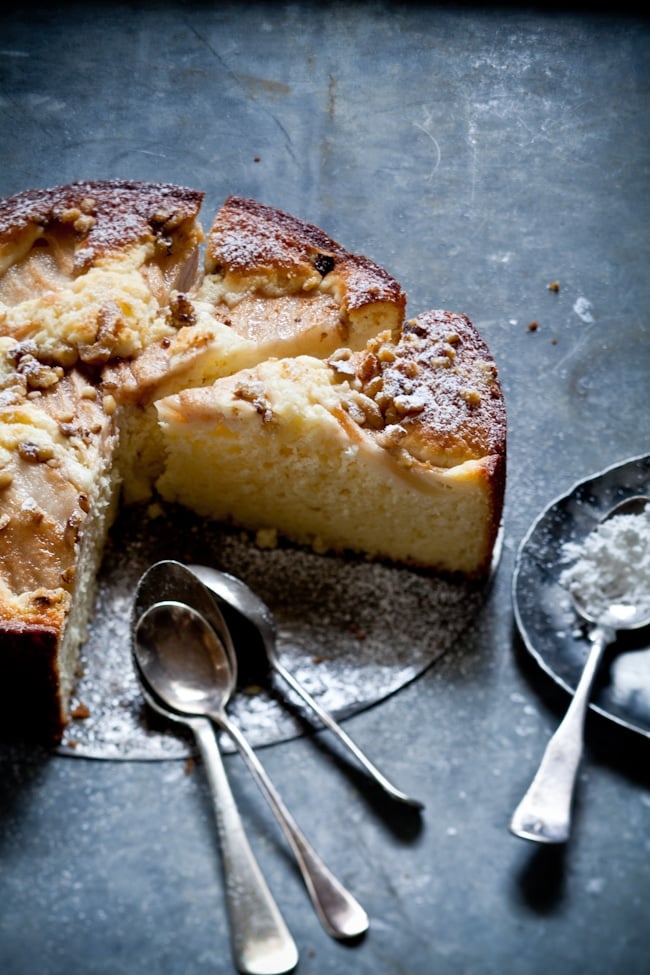 This cake is my go-to, fullproof, can't-mess-it-up-even-if-you-tried cake. We learn to make this cake almost as soon as we can stand and stir in my family. All my aunts have equipped with and taught this recipes to their sons, my grandmother passed it on to my mom who passed it on to me and my brothers. It's a never ending cycle of goodness as we pass it on to the next generation of kids, siblings or friends.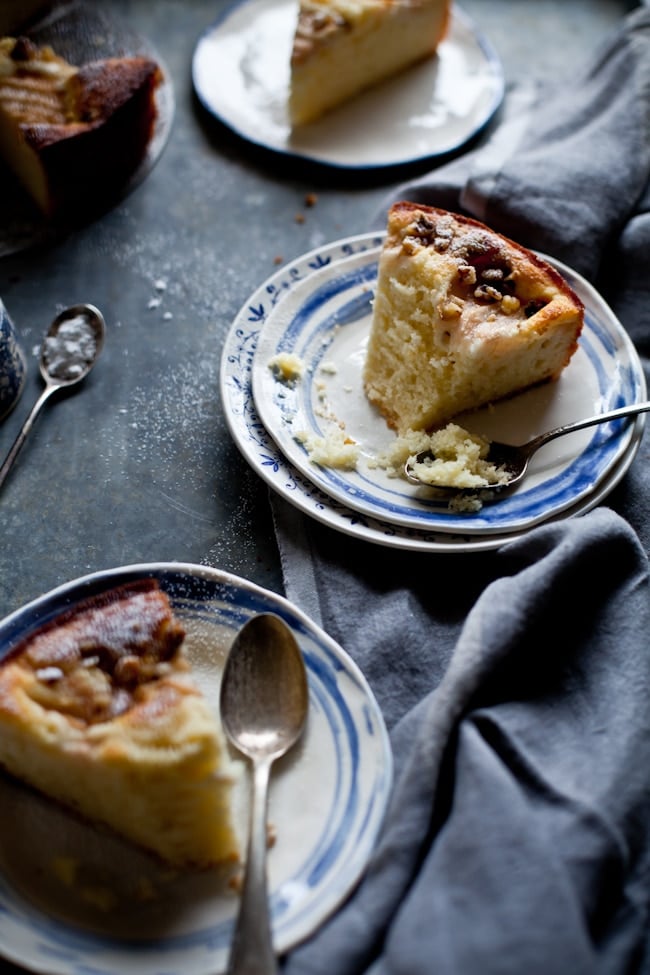 And now I am passing on to you. It can be as understated as plain with a good cup of tea or studding with fruits, chocolate, nuts, flavored with vanilla, walnuts, lemon and anything in between. The result is a tender and crumbly cake that never ceases to comfort and make people smile.
Pear Walnut Cake.
Serves 8
Ingredients:
2 large eggs1/2 cup granulated sugar3/4 cup olive oil (don't skimp on the quality)1 cup plain yogurt (low or full fat)zest and juice of a lemon2 cups flour (all purpose or Jeanne's flour blend which we use all the time)
2 teaspoons baking powderpinch of salt
2 large pears, peeled and sliced
1/3 cup walnuts, choppedDirections:
Preheat the oven to 350F and grease and flour a 9-inch baking pan.
In a large bowl, whisk together the eggs and sugar for about 2 minutes. Add the olive oil, yogurt, lemon juice and zest and whisk again so that everything is well mixed. Add flour, baking powder and salt and mix until the batter is smooth. (You can do this in a stand mixer if desired)
Pour the mixture in the prepared baking pan. Place the pear slices on top and sprinkle with the walnuts. Bake for about 40-45 minutes or until a toothpick inserted in the middle comes out free of crumbs. Let cool completely before slicing.