Kumquat Buttermilk Panna Cotta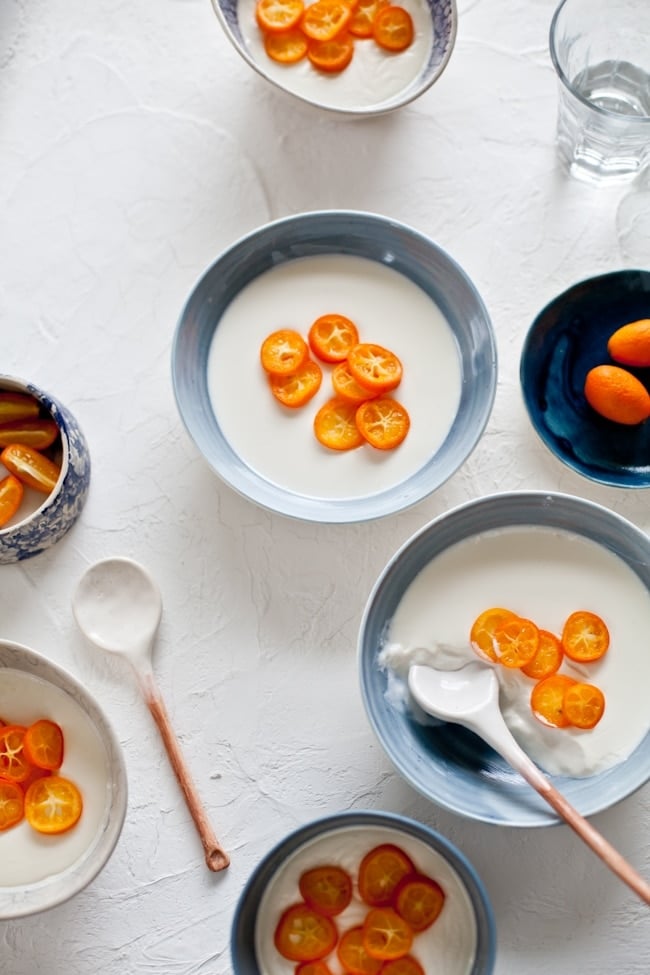 If we've hung out together before, you then know that there is not a dessert I do not like. Crunchy, melty, elaborate, simple, fruity, chocolate,…I like desserts. However, I have noticed as I grow older that I have more of a savory tooth than a sweet one while I still love to bake and make ice creams or confections for friends and gift giving. A simple fruit satisfies my sweet tooth. Oh wait. I did do a number on that chocolate bar in the test kitchen at work today. Never mind…!
Still, give me a good piece of cheese and that is my dessert. I do however have a particular affinity for panna cotta. It's creamy, soft, can be flavored or plain, topped or layered. There are so many possibilities on a simple panna cotta recipes as there are recipes for chocolate chip cookies. Variations are as endless as your creativity and desire to play.
I found myself with an abundance of kumquats and not enough days to eat them before they'd go bad. I like to snack on them raw as I edit pictures or catch up on emails after work but I had simply too many on my hands at this point! With my husband out of town, I didn't really feel like baking or doing something complicated with them. A panna cotta seemed like a simple and super satisfying dessert.
Infusing the cream and buttermilk for the panna cotta with pureed kumquats gave a whisper of citrus to the cream while fresh slices of the fruit on top providing that little pucker I was looking for. Perfectly light and creamy. And decadent…
Kumquat Buttermilk Panna Cotta:
Serves 6
Ingredients:
1/4 cup water
1 tablespoon powdered gelatin (2 sheets gelatin)
1 cup kumquats, halved
2 cups heavy cream
1/4 cup honey
1 cup full fat buttermilk
1 cup kumquats, sliced.

Directions:
Place the water in small bowl and sprinkle the gelatin over it. Let sit while you prepare the cream.
Puree the kumquats in a food processor.
In a large heavy bottomed saucepan placed over medium heat, bring the heavy cream and honey to a simmer together with the pureed kumquats. When the cream is hot, remove from the heat and let sit for about 30 minutes. Strain the mixture in a fine mesh strainer set over a large bowl. Discard the pureed kumquats. Add the cream back into the pan together with the buttermilk and heat up again over medium heat until it comes back to simmer. Remove from the heat and whisk in the reserved gelatin until it is completely dissolved.
Divide the mixture among ramekins, glasses or other vessels. Let stand at room temperature for 20 minutes and then refrigerate for at least 4 hours before serving to let the cream set properly.
When ready to serve, add a few slices of fresh kumquats to the panna cotta.