Tiramisu Verrines
I am having a renewed interest for Italian desserts and a sudden craving for Tiramisu. Since I don't seem to own that many Italian related cookbooks I dug up this recipe online. I think I must have looked at over 100 Tiramisus and as I often say: "my eyes were burning, my gums were hurting and my stomach was grawling from all that sugar"! , but now my taste buds are dancing!
Like many among us, I will always remember the first time I had (good) Tiramisu. My parents had taken my brother and I on a little excursion to Italy. We were staying in the Alps so it was a quick hop and we stop in a small village and entered the first restaurant we found open. I believe that I am the only one in the family to remember the whole thing but it was truly my first foodie experience. Everything we were served that afternoon was made fresh by the chef. He was alone in the kitchen, cooking us freah trays of antipasti, freah ravioli, salads and desserts. My father loves Tiramisu and never fails to order one at Italian restaurant he visits,(no joke), so you can bet that he was not going to pass on the opportunity to sample another!
I will always remember the look of satisfaction in his eyes after taking the first bite, that nod of his head toward my plate to tell me I could go ahead I would not be disappointed. My excitement was building up, my first grown up dessert! So classic in its black and white attire, so full of promises with its creamy interior. That particular Tiramisu set the standard for my expectations of a good Tiramisu: a subtle balance of espresso, brandy, cheese, cream and cookie.
You will find many different ways to make Tiramisu and I have yet to be sure of the "authentic" one. Some conain eggs, some whipped cream, some start with a sabayon/zabaglione, some use thin European ladyfingers, some prefer Savoiardi cookies. One thing for sure: use only the best mascarpone cheese you can find. I really hesitated between Mario and Tyler for this recipe. I tried not to be influenced by the reviewers. I really wanted to make Mario's version, his being if Italian descent and all, but in the end Tyler's won…and no not because he is a cutie (and Lisa won't disagree with me…!), but because it did not seem as dry. I am sure I'll eventually try Mario's and compare. This one is a kepper, flavorful, creamy, dense, complex.
Tiramisu, adapted from Tyler Florence:
Serves 10 (small glasses)
7 egg yolks
1/2 cup sugar
1/3 cup brandy, plus 2 tablespoons
8 ounces mascarpone, softened to room temperature
1 cup heavy cream
1 cup brewed espresso coffee
1 ounce dark chocolate
1/4 cup rum
1 teaspoon natural vanilla extract
30 savoiardi cookies, broken in small pieces
1/2 cup heavy cream
1/4 cup unsweetened cocoa powder
Cream together egg yolks and sugar in a heatproof bowl set over a pot of simmering water. Add 1/3 cup of the brandy and continue to whisk until mixture is thick and doubled in volume. Remove from heat. Stir in the mascarpone until completely blended.
In a chilled bowl, whip the heavy cream to soft peaks. Fold the whipped cream into the mascarpone mixture, to lighten.
In a small saucepan, combine espresso, chocolate, rum, vanilla, and remaining 2 tablespoons brandy. Heat gently, and stir to dissolve the chocolate. Then, chill the mixture to cool it down, about 15 minutes.
Divide the broken cookies pieces in the glasses and spoon enough of the coffee mixture to soak them. Spread 1/2 the mascarpone cream evenly with a spatula on top of the cookies. Repeat with a second layer of cookies, more coffee and remaining mascarpone cream. Whip the remaining 1/2 cup of heavy cream to soft peaks. Top each glass with some whiped cream. Sprinkle top with cocoa powder. Refrigerate for 2 hours before serving.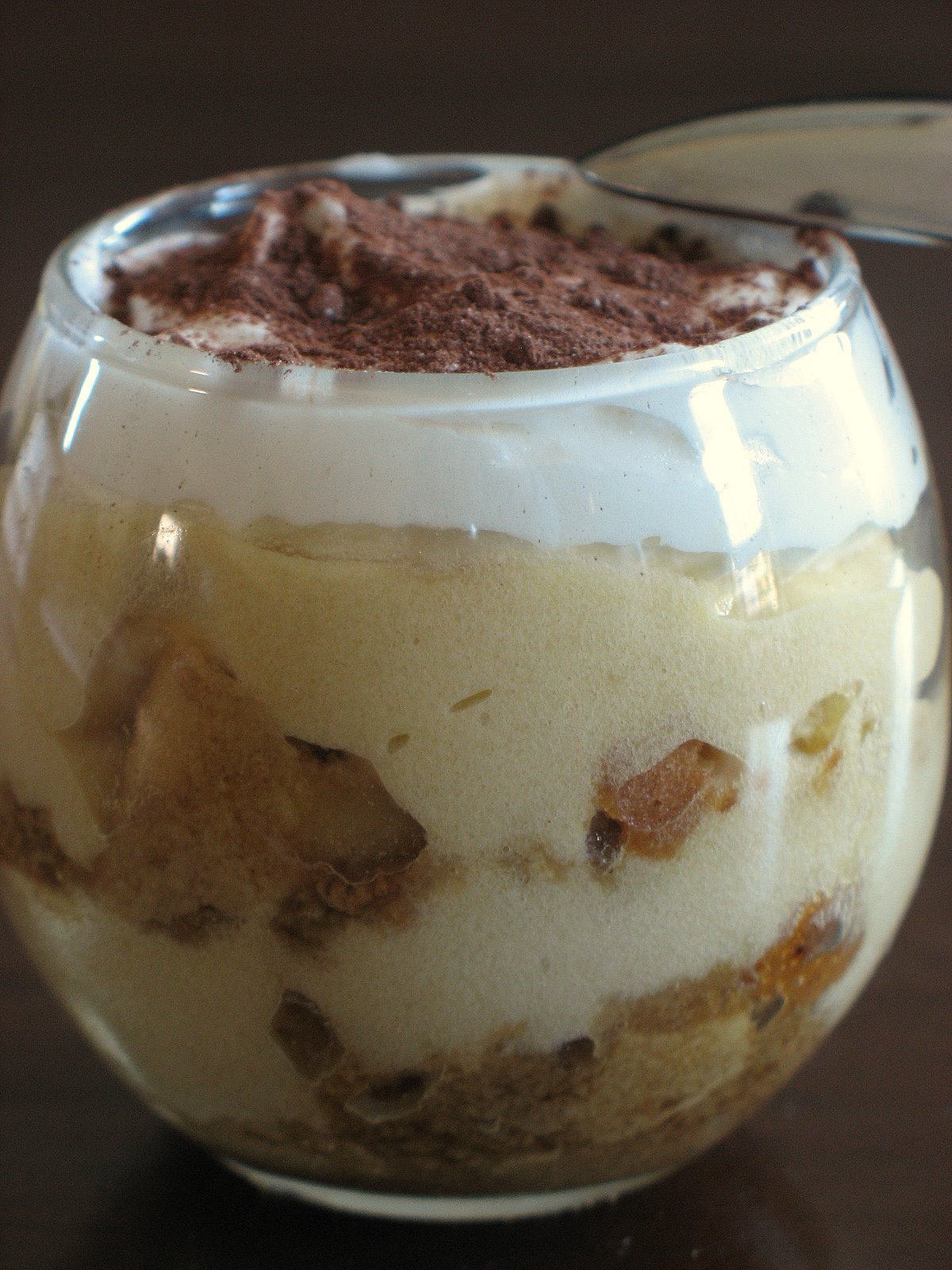 I think I could have way too many of these in one sitting. They are delicious! I am 8 again!