Milk Chocolate And Caramel Tart: How To Be A Daring Godmother!
Tart on Clear Caramel Marbled Plates

How to combine a house guest, a Daring Baker challenge and a sunburn…just ask your crazy little Tartelette!
The challenge this month took on a complete different meaning for me. If you have been following my posts lately, you have noticed that they have been fewer and quite short in story telling, kind of drive by but not exactly. Well, you see, I had the very important job this month to be Godmother extraordinaire to a beautiful 18 year old soul named Sophie. My god child is a little storm of a woman and I bet you she will melt a thousand hearts before she meets the right guy. In the meantime, I wanted to melt hers and become the coolest godmother ever….and when Veronica and Patricia announced the Daring Bakers' August challenge as a Milk Chocolate and Caramel Tart from Eric Kayser's Sweet and Savory Tarts, I knew I had just the ticket….except we only got to it this past weekend!!
I was too busy taking her around town whenever I had a day or afternoon off , or even an hour to go shoe shopping (guys take a hint here for your daughters…works like a charm to fix "boys issues"). Her last days were just around the corner and still no tart….Oh believe me, we got quite busy in the kitchen, especially making sourdough bread every other day (those French and their bread!), making lasagna, pizza, Financiers, brownies, macarons…well, you get the picture.
Saturday night, we took her out to dinner at Middleton Place (watch The Patriot) and took the time to stroll the plantation's gardens and ate a fabulous meal of seafood and pecan pies…and it was on a very satisfied stomach (read I ate my pie and finished hers) that I started on the tart. No way I was going to loose my crown of Coolest Godmother by not completing the challenge.
The tart is based on 3 components that you can spread out over several days if necessary plus a decoration element, which I took some liberty with by the look of my tarts (blue sugar plates). The recipe is very straightforward and the tart presents no major hurdle if you know some about sugar. The chocolate shortbread crust came together without a glitch but I had to omit the cinnamon (with Veronica's approval) called for because Sophie does not like it (and remember I am Zee Coolest Godmother). I wish I had made some with though because it needed that extra kick in my opinion.
The caramel layer seemed to have given some trouble to other Daring Bakers. Lisa, I still don't know why yours was so liquidy….and yes, people think I am officially crazy when I take your phone calls in the middle of grocery shopping! Anyways, I would love to say I know why mine set out just fine and not others, truth is that Sophie and B. were so involved in a game of Othello that I had to make sure she was saving the family's honor and I completely forgot about the tart in the oven….I think I baked them for 25 instead of 15 minutes, and the explanation might be in the translation of the book and temperature conversions, not given appropriately in English. I made the caramel layer Sunday after a full day at the beach and a double dose of sunburn. I made the caramel using the dry method, as it is the one I am most familiar with. I understand it scared some Daring Bakers and some did actually ruin a few pots trying it, I have to admit that I had the luxury of burning a few restaurant saucepans and never my own learning it so I see why they would feel tempted to use the alternative given by Veronica to make a water/sugar/corn syrup caramel which takes longer but is somewhat foolproof. My word of advice for novices who are tempted by the dry method: low/medium heat is best and sugar clumps "declump" if you lower your heat and let the sugar melt at its own pace.
Monday during my lunch break, I came home to make the final part of the tart. I found Sophie and B. watching Donkey Skin. : "A fairy godmother helps a princess disguise herself so she won't have to marry a man she doesn't love"…(See where I am going with this?) Time to finish this baby and get my stripes!!
The mousse sent me back to my restaurant days big time. When I learned how to make mousse it was the old traditional way: melt chocolate, separate eggs, add yolks to chocolate, whip the whites to firm peaks and fold in the chocolate mass. In a large restaurant turning tables 2-3 times a night, this method can be quite costly and it's not before long that you have to resort to the quicky approach of melted chocolate folded in whipped cream. Now you understand why my eyes popped and had to smirk when I read that even Eric Kayser used this method…the fraud…no just kidding….I don't really like mousses like that, and I can't say whether it is because I used to make it day in and day out or because I find too heavy. Egg whites mousse are really delicate and intense in flavors whereas the whipped cream ones are too dairy tasting. Just my thoughts people, don't start coming at me with your spoon to bang me on the head….I just expressed an opinion, nothing else.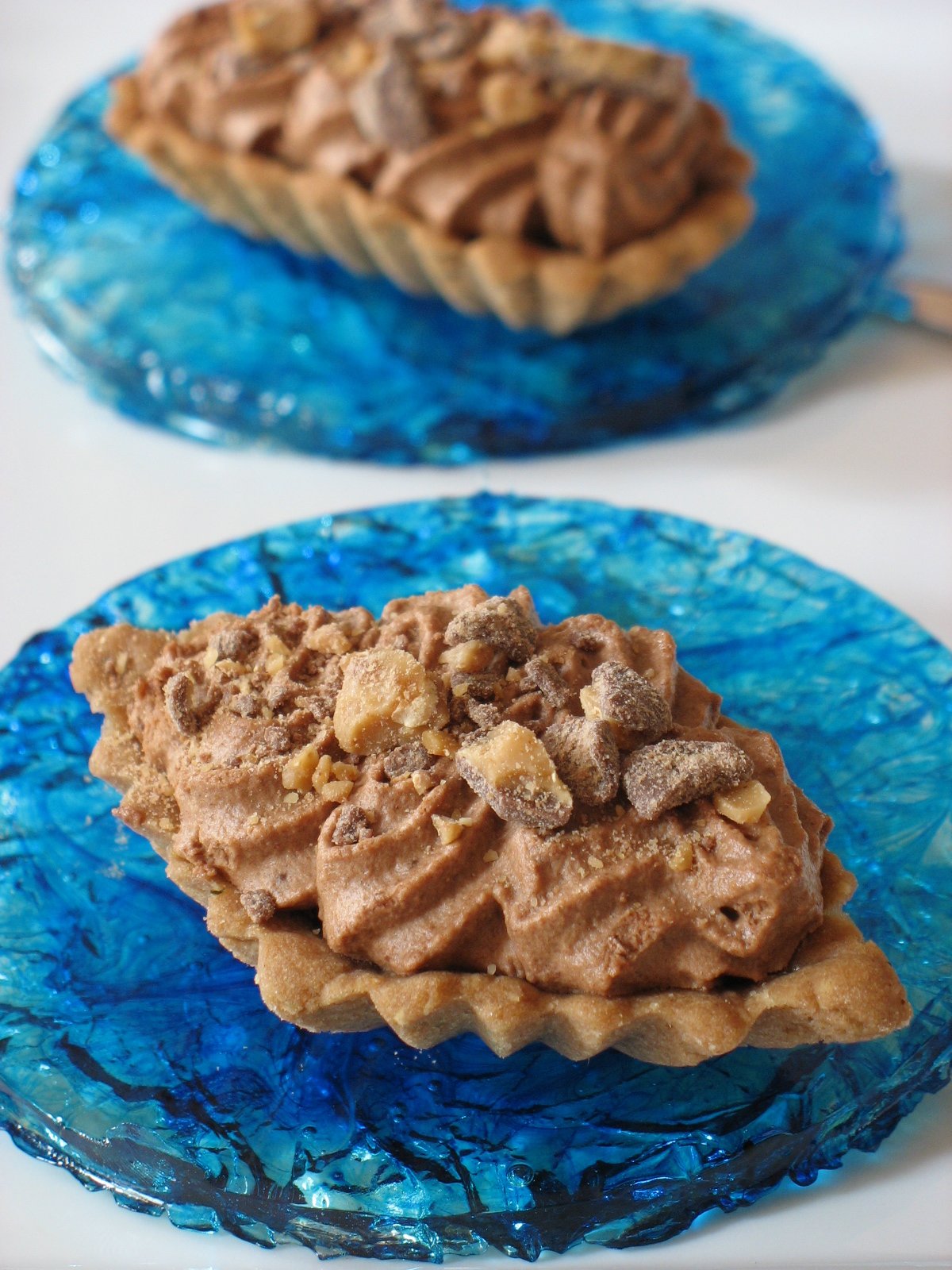 Milk Chocolate and Caramel Tart:
Preparation time: 40 minutes
Baking Time: 30 minutes
Refrigeration time: 1 hour
½ lb (250 g) chocolate shortbread pastry (see recipe below)
1 ½ cups (300 g) granulated sugar
1 cup (250 g) heavy cream (30-40 percent butterfat) or crème fraiche
¼ cup (50 g) butter
2 whole eggs
1 egg yolk
2 ½ tablespoons (15 g) flour
1 ¼ cups (300 g) whipping cream
½ lb (250 g) milk chocolate
1. Preheat oven to 325 °F (160 °C).
2. Line the baking pan with the chocolate shortbread pastry and bake blind for 15 minutes.
3. In a saucepan, caramelize 1 cup (200 g) granulated sugar using the dry method until it turns a golden caramel color. Incorporate the heavy cream or crème fraiche and then add butter. Mix thoroughly. Set aside to cool.
4. In a mixing bowl, beat the whole eggs with the extra egg yolk, then incorporate the flour.
5. Pour this into the cream-caramel mixture and mix thoroughly.
6. Spread it out in the tart shell and bake for 15 minutes. Remove from oven and allow to cool.
7. Prepare the milk chocolate mousse: beat the whipping cream until stiff. Melt the milk chocolate in the microwave or in a bain-marie, and fold it gently into the whipped cream.
8. Pour the chocolate mousse over the cooled caramel mixture, smoothing it with a spatula. Chill for one hour in the refrigerator.
To decorate: melt ½ cup (100g) granulated sugar in a saucepan until it reaches an amber color. Pour it onto waxed paper laid out on a flat surface. Leave to cool. Break it into small fragments and stick them lightly into the top of the tart.
Chocolate Shortbread Pastry
Preparation time: 10 minutes
Refrigeration :overnight
1 cup (250g ) unsalted butter, softened
1 cup plus 2 tablespoons (150 g) confectioners' sugar
½ cup (50 g) ground hazelnuts
2 level teaspoons (5 g) ground cinnamon
2 eggs4 ½ cups (400 g) cake flour
2 ½ teaspoons (10 g) baking powder
1 ½ tablespoons (10 g) cocoa powder
A day ahead
1. In a mixing bowl of a food processor, cream the butter.
2. Add the confectioners' sugar, the ground hazelnuts, and the cinnamon, and mix together
3. Add the eggs, one by one, mixing constantly
4. Sift in the flour, the baking powder, and the cocoa powder, and mix well.
5. Form a ball with the dough, cover in plastic wrap, and chill overnight.
Alright, so we are now Monday night and it is time to finally taste the tarts. I made several sizes just to see what we could play with and I spooned it in a pastry bag fitted with a large start tip and swirled it around on top of the caramel.
I remembered I had some Milk Chocolate Toffee (think homemade Heath Bar) that I had made a couple of weeks prior and crushed the remainder on top of the tarts.
At first I thought I was not that inspired to dress them up a little for their beauty shots but you know what happens in those cases…my mind goes stir crazy and I decided to give them pretty little glass- marbled like plates made out of clear caramel and food coloring so completely edible if you ever should need more sugar! That part, Sophie did not see come together as I made them after I dropped her off at the airport today. The house was eerily quiet, suddenly too big and although I finally had all my kitchen space back to myself, I did not want it anymore….I wanted to share it with her again…I guess that's why they put "mother" in godmother…Well, girl, I hope you like them and "non, ca ne pique pas"…!!
Well, both Sophie and Bill loved it, or they lie very well….I was not so keen on it. I wish I had made half with cinnamon and half without because it really needed something to offset all that sugar. But I love milk chocolate, hazelnuts and caramel so I have to really thank Veronica and Patricia for choosing this recipe and the rest of the Daring Bakers for going along with it!