Lychee Rose Parfait and Orange Blossom Macarons
Lychee Rose Parfait Topped with Strawberry Sorbet, served with Orange Blossom Macarons filled with Blood Orange Curd.
I was truly excited by this month Sugar High Friday theme set out by Monisha and I have been playing with ideas in my mind ever since she wrote it was all about Flower Power for this 30th edition. I did not intend to wait until the last minute but I am in the middle of a round up myself and other baking activities so I apologize to my fellow South Carolinian for being among the last entries.
I knew I wanted something light and springy, something that reflect who I am when I think about desserts for dinner parties. I like light flavors, I like individual and miniature. I use orange blossom flower water on a (almost) daily basis. I am a serious ice cream fanatic. I eat fruits like they are going out of business. I love making macarons and I love citrus anything. Most importantly I always try to use flavors I do not tend to gravitate towards like rose extract. I bought a bottle a long time ago and I stare at it everyday….I am not too fond of it or at least I have not come up with a dessert that would allow me to appreciate it, until today…
I tried to get fresh lychees but here it is nearly impossible so I used canned ones and they did the job just as good. They are a little sweeter than fresh ones of course but the texture and final taste was the same. All the components can be (and were) made ahead of times and refrigerated so it gives you plenty of time to tend to more important activities.
Lychee Rose Parfait with Strawberry Sorbet:
Makes 8
Cookie Base:
3 cups all-purpose flour
1 teaspoon baking soda
1/2 teaspoon baking powder
3/4 cup butter, softened
1 cups white sugar
1 egg
1 teaspoon vanilla extract
Preheat oven to 375 degrees F (190 degrees C). In a small bowl, stir together flour, baking soda, and baking powder. Set aside.In a large bowl, cream together the butter and sugar until smooth. Beat in egg and vanilla. Gradually blend in the dry ingredients. Divide the dough in half and refrigerate. Roll out one half to 1/2 inch thick and put the sheet of dough on a parchment lined abking sheet. Bake8 to 10 minutes. Remove from the oven and let cool 2 minutes. While still warm cut out 8 rounds with a 3 inch cookie cutter. Set aside. Use the remaining half for regular cut out cookies if desired.
Strawberry Sorbet, adapted from Richard Leach:
3 cups fresh diced strawberries
1 1/2 cups sugar
1/2 cup wildflower honey
1 cup water
3 Tb lemon juice
Combine the ingredients in a blender and puree until smooth. Pass through a fine sieve then freeze in an ice cream machine according to manufacturer's directions. Keep frozen until ready to use.
Lychee Rose Parfaits, adapted from Richard Leach:
1 14oz. can lychees
2 tsp. rose water extract (or to taste)
2 eggs, separated
6 Tb sugar
3/4 cup creme fraiche (can substitute sour cream)
1/4 heavy cream
Drain the lychees and keep or discard the juice. Puree in a food processor with the rose extract. Set aside.
In a bowl, combine the egg yolks and 2 Tb. of the sugar and whisk until pale and thick. In a separate bowl, whisk the egg whites until firm peaks are formed. Add the remaining 1/4 cup of sugar and whip for one more minte, until glossy. Whip the creme fraiche and heavy cream together until firm peaks are formed.
Fold the whites into the egg mixture. Add to the lychees. Lastly, fold in the cream mixture. Place the parfait in a piping bag.
Using 8 3 inch metal rings, place a sugar cookie at the bottom of each ring. Pipe the parfait mixture evenly between the 8 rings, leaving some space for the strawberry sorbet. Set in the freezer for 30 minutes or until firm. Fill the remainder of the tubes with the sorbet. Smooth the tops and keep in the freezer until ready to use.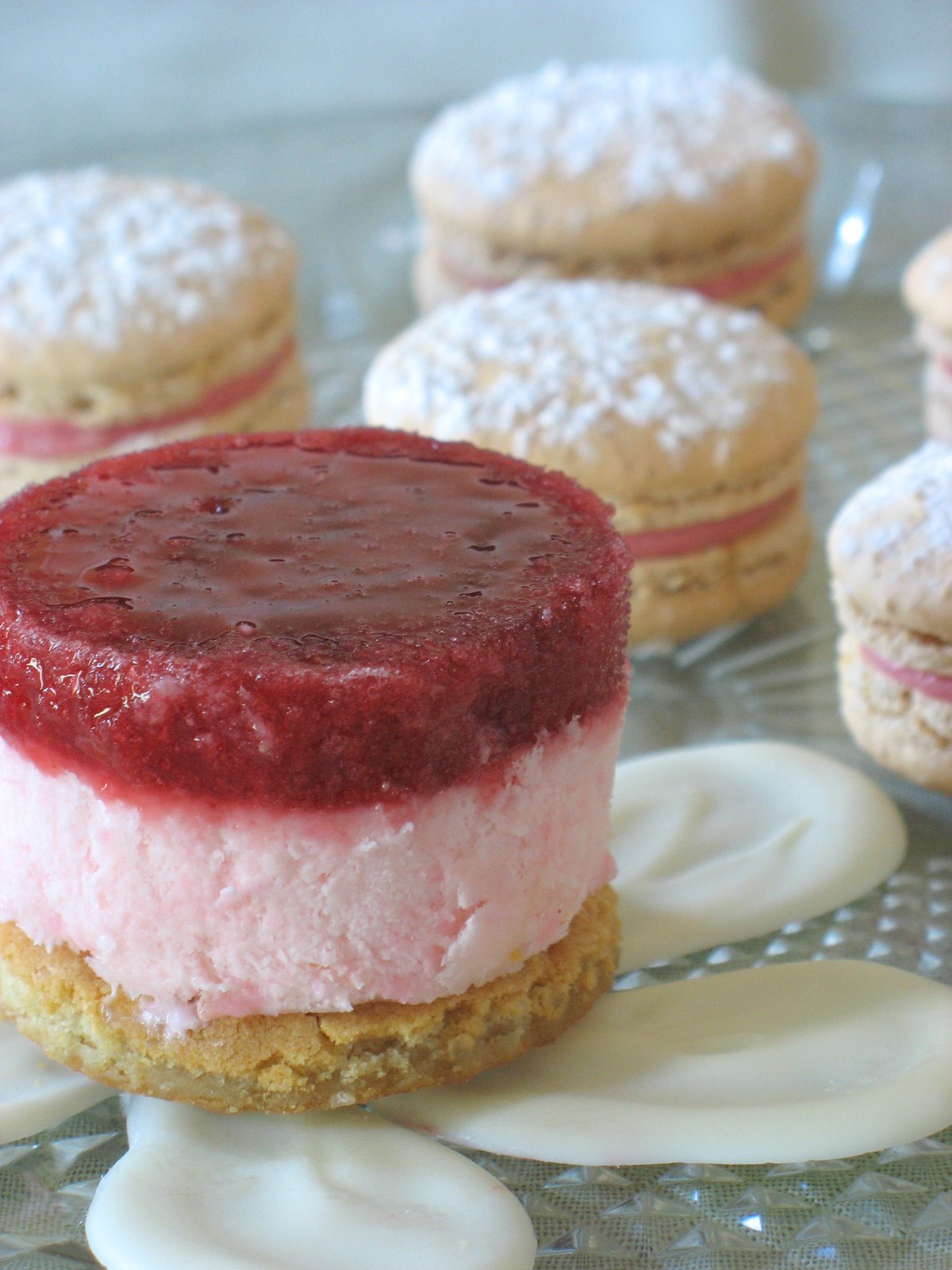 Orange Blossom Macarons with Blood Orange Curd:
For the shells:
120 gr. egg whites, divided
35 gr. sugar
150 gr. finely ground almonds
150 gr. powdered sugar
1 Tb blood orange zest
For the boiling syrup:
150 gr. sugar and 50 gr. water
Sift the ground almonds and powdered sugar. Add the blood orange zest. In a stand mixer, whip 60 gr. egg whites to soft peaks, add 35 gr. sugar.
In the meantime, in a saucepan on high heat bring the water and sugar for the syrup to 230 F. on a candy thermometer.Slowly add the boiling syrup to the egg whites and continue to whip on medium – high speed until they are completely cooled and you have a shiny meringue (10-15 minutes).
Mix the remaining 60 gr. of egg whites and the sifted almond/sugar and carefully fold into the meringue.
Fill a pastry bag fitted with a plain tip with the mixture and pipe macarons about 3 inches in diameter on parchment paper lined baking sheet. You can let them sit at room temperature for 20 minutes if desired. This is often done to assure those little feet at the bottom but I found that I can skip this step with this recipe and still end up with the same result.
Bake at 320 for 15 minutes. Let cool.
Blood Orange Curd, adapted from Alice Medrich:
grated zest of 1 blood orange
2/3 cup strained blood orange juice
1/2 cup sugar
2 eggs
Combine the zest, sugar, juice in a saucepan, and bring to a simmer.
In a small bowl, beat the eggs until light.
Beat some of the orange mixture into the eggs to temper. Scrape the mixture back into the saucepan and cook stirring constantly until it thickens up, about 5 minutes.
Strain and refrigerate, covered with plastic wrap until ready to use.
Fill the macarons with about 1 Tb of the curd and refrigerate.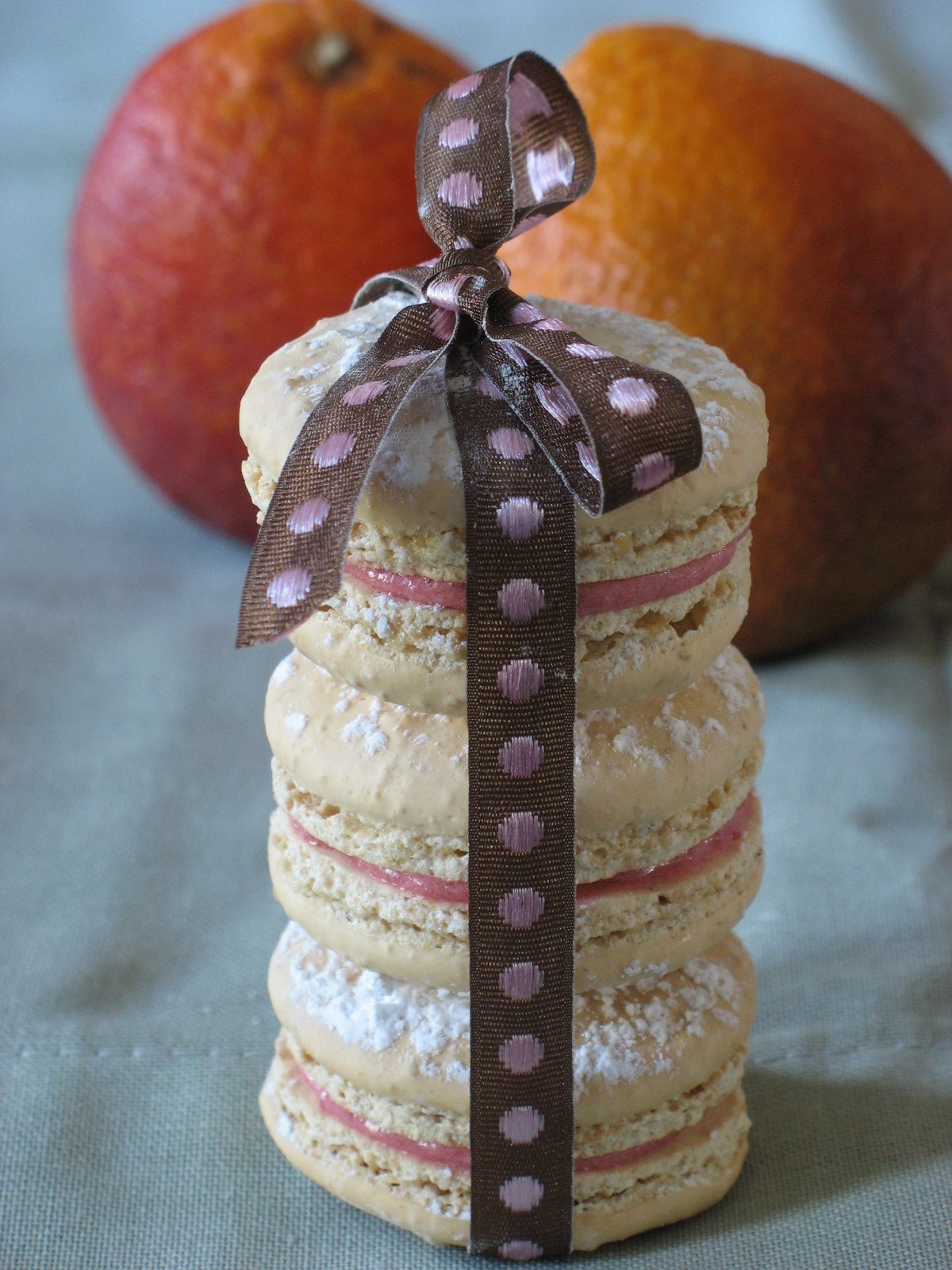 The final decorating step was to melt some white chocolate and form rose petals to set the parfaits on to them in a flower like manner.
I have to say I am acompletely in love with this dessert. The rose flavor is not too strong and it is really "ice cream for adults". Sophisticated, yet simple to make. All the steps are easy and let you set your own cooking pace.
Note: metal rings can be quite pricey so when it comes to assembling cold plated desserts like this one I use pvc pipe. Go the hardware store and select the diameter you need (I like having 2, 3, and 4 inch diameter rings around) and have one of their sales associate cut it for you. If you promise them a few brownies, they will do so without a problem.