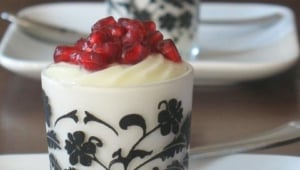 I already wish it were Friday… any Friday for that matter. The week is always better that day don't you think? Well, I am anticipating a very sweet one by virtually sending these to Zorra who is hosted Sugar High Friday for December, dedicated to puddings : "baked, steamed and boiled puddings or the creamy ones".
I have to admit, I did not jump up and down when I read the theme since I will take tarts,cookies,cakes over puddings any day of the week. Although, come to think of it, I like panna cottas and creme brulees, which are also forms of puddings. Ah! Who am I kidding?! I had the chance to stir some sugar, eggs and cream together, and that is enough to make me happy!
B. on other hand, as a good Southern boy, loves his custards and puddings, so he started bugging me early on last week: "Have you decided which one you will make?" – hugh…no. "What about my mom's banana pudding?" – hugh…no again."What about steamed pudding like the ones I used to eat in England?" – hugh …still no. Nothing against steamed pudding, which I like, but not my fancy at the present time since it is around 80 outside and close to 85-90 with the oven on. How far is Australia again? Because right now, it might as well be in my backyard!!
So…..after searching for something refreshing and on the lighter side (if eaten with moderation) during this trying time of holiday parties and cookie making, I settled on two of my favorite tastes: white chocolate and pomegranate.
I loved this one: the creamy satin mouth feel of the white chocolate is really accentuated by the juicy and tart explosion of the pomegranate seeds in your mouth. (sounds good right?!) I made just enough for four, but I wish I had enough for 10 more…for me! I searched books and Internet sources for white chocolate pudding recipes but was never satisfied so I adapted the one I have come up with over the years for a vanilla based one. I will always remember the two lessons my grandmother taught me in the pastry kitchen: If you fail your creme anglaise, add cornstarch and make it a pudding. If you fail a cake, turn it into bread pudding…. I guess, puddings do make the world go round!!
A lot of you have asked me about the different dishes and cups I use. The small dishes are purchased at stores like Tuesday Mornings( like these), Pier1, or at restaurant when I am wowed by the presentation (like these). The square glasses, lantern glasses and the small ones (about 1/2 cup capacity) today are actually….votive candle holders… Tada!! You know one of my secrets. Allright I am in a particularly nice mood tonight (Pay It Forward Winner below) so I will give you my other secret: my best sources are the Dollar Store and the sales rack of Kmart or Lowes, in the garden and candle sections. Always look beyond the expected and you will be rewarded…all right so all that wisdom has left me hungry for some pudding…
Makes 4 servings
2 1/2 cups milk, divided
Pinch salt
1/4 cup sugar
3 tablespoons cornstarch
2 egg yolks
1 teaspoon vanilla extract
4 oz (1/2 cup) white chocolate chips or chopped
1/2 cup pomegranate seeds
Heat 2 cups of milk, but do not boil. In a bowl, whisk the sugar and the egg yolks together until pale. In a separate dish, dissolve the cornstarch with the remaining 1/2 cup milk. Add to the egg yolks mixture and mix well. When the milk is hot,slowly pour it over the eggs,a little it at a time so the eggs don't start curdling on you. Return the whole thing over the stove and cook on medium low heat until it starts to thicken up. Add the white chocolate and stir until it is completely smooth. Strain if necessary. Pour the mixture into a clean bowl and let cool to room temperature, covered with plastic wrap punctured with small holes so the pudding does not form a skin while cooling. Pour into dishes and decorate with the pomegranate seeds or eat it straight from the bowl.
Now….one more fun thing to do: announce the Pay It Forward winner. Congratulations to Sara from Ms. Adventures In Italy. So, a litte of France via South Carolina is going to find its way to Italy…pretty cool eh?!! You guys came in mass and I wish I could send you all a little something, I really do, but alas I am not married to Santa!