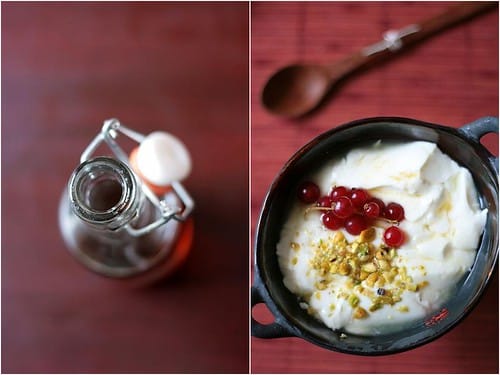 Allright, so let's start this off the right way before I lose my mind. We all gathered today and read all your suggestions for a name for the dessert in the previous post and it was not easy making a decision…ya'll are good!! But….the overall favorite was "Transatlantic" from Miss Lillas who said "Salted butter caramel from Normandy, American chocolate brownie. An elegant bringing together our 2 continents"….So Miss, please send me your mailing address so I can send this wonderful book your way! Congratulations!
A couple of weeks ago I took a long trip down memory and you were so kind to indulge me and read about my attempt to recreate a fresh cheese that my dad loves. The outcome was not "faisselle" like I remembered but something closer to fresh ricotta. The desire to recreate this unique product came from a conversation I was having with expat friend Aran from Cannelle Et Vanille after our first foray into re-creating desserts from our childhood and cultural heritage. She had a hankering for mamia and so did B. and I after we had a most delicious one on a trip back home at L'Ami Jean, a Basque restaurant in Paris. We started talking about making it right before she left on vacation so in the meantime that got me thinking about trying my hand at "faisselle" and when she came back we both agreed that it would be more logical and more fun to give you two experiments instead of one. Fast forward to last week, when my favorite Basque experimented with mamia and I with faisselle.
Much like her first batch of mamia, my first batch of faisselle for this post did not turn out as I hope for. After the batch I made last month, I decided to take away the added yogurt and to get straight for heating the milk, adding the rennet and letting it sit, until nice floppy large chunks of curd form and separate from the whey. Well, I got zippo zippeedee zip….I got liquid and tiny curds which once drained gave me about 1 cup of ricotta. For one gallon of milk you can expect that it did not cut it. I did not use raw milk this time and I don't think it was the local homogenized whole milk I used…nope…just could not put my finger on it. In one email she mentioned she was trying another batch of mamia adding cream and dry milk and I went back to the drawing board with mine. Then I had the "genius"(self sarcasm) idea to call my dad and have him read the ingredients on a jar of store bought faisselle…Guess what?….Yep, added cream and dry milk, a little ratio working and I was back in !

I heated the milk again, added the dry milk, cream and rennet. Let it sit for a couple of hour and the result was exactly what it was supposed to be: large floppy and soft curds slowly separating from the whey. The first spoonful made me think I was definitely on the right track but it needed to develop a little character and an overnight stay in the fridge fixed that. Traditionally, faisselles are drained in molds set in larger containers so that the whey pooling at the bottom keep the cheese moist. I just drained the cheese with a large slotted spoon and scooped the cheese in containers. It did continue to render a lot of whey but I was too happy to have succeeded to be bothered!! The texture is soft but firm enough to separate into curds as you dig your spoon in it and the flavor is really not comparable to any dairy found here, neither sour nor tart.
My dad likes his with chopped fresh chives and fresh cracked pepper, which I have come to like, but I also love it on the sweet side. I served some with some lemon thyme lemon curd and some with chopped pistachios, redcurrants and maple syrup. Deborah from Bonbon Oiseau sent me a bottle of a local Vermont maple syrup producer and it arrived the day I was finishing the faisselle. My bottle of "maple crack" as she refers to it could not have come at a better time! Thank you! I played around with the remaining faisselle and used in some other pastry applications. It's been a busy couple of weeks so I have not come around to sift through those pictures or even put them in a proper post yet…soon though.
Faisselle:
1 quart whole milk ( 4 cups – 946ml)
1/2 cup heavy cream (118ml)
1/4 cup dry milk powder (60 gr)
8 drops liquid rennet
In a heavy saucepan, combine the milk, heavy cream and milk powder and bring the mixture to 120F over medium heat. Let cool to room temperature and add the rennet. Stir once with a wooden spoon, transfer to a clean bowl (porcelain, glass or plastic), cover with a clean kitchen towel and let sit undisturbed for 2 to 4 hours. Place in the refrigerator and let sit overnight to develop more taste. Drain and used as desired the next day.
Lemon Thyme Lemon Curd:
3 large eggs
1/3 cup (80 ml) lemon juice
1 Tb freshly grated lemon zest
1/4 cup fresh lemon thyme
1/4 cup (60gr) granulated sugar
4 tablespoons (55 grams) unsalted butter, at room temperature, cut into small pieces
In a bowl placed over a pan of simmering water, whisk together the eggs, sugar, lemon thyme, lmeon zest and lemon juice until blended. Cook, stirring constantly until the mixture reaches 160F. Remove from the heat and strain the mixture over a bowl. Cut the butter into small pieces and whisk into the mixture until the butter has melted. Cover with some plastic wrap directly in contact with the curd to prevent a skin from forming. You can refrigerate it for up to a week. Makes about 1 1/2 cups.
Note: I used liquid vegetarian rennet that I found at the health food store near me, but you can also find it here.