Back from Squam Art Workshops where I had a wonderful time. Best students. Best cabin roomates. Best time. Took a whole day off. Oh yeah. And it was as good as marmalade on toasty bread. Here is what Squam is to me, in a few snapshots.

There were deep conversations. Lots of "ah!ha!" moments. Lots of light hearted moments. Lots of laughs. Some belly dancing. Lots of crafting. And sharing. Crying too. And more laughing because we would just want to smack ourselves silly otherwise, non?!

Squam June was about layers. Of clothes. Of your soul. For me, it was about letting my six year-old self come by. Because I really miss her. She was always fun, bold and smiling. She's back. After five months without, I was starting to really miss her. But she's back indeed. And so glad she had brought her rain boots to make splashes in puddles… And walk in the rain. One of my favorite thing to do.

Moments spent at the Playhouse. Listening to people's moments. Sharing in their journey. Surrounding by the warmth of a fire or the glow of gazillion twinkle lights. In June. If you know my addiction to twinkle lights. You know that made me beam inside…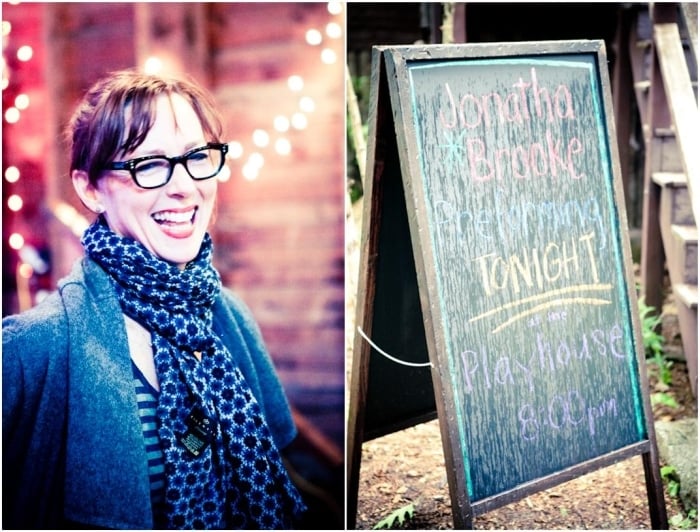 Listening to Jonatha Brooke is always a privilege. Her will to share her story through her songs, her words. I can guarantee there was not one dry eye in that room the night Jonatha performed. Squam is strangers sharing compassion and hugs. Squam is balm for your soul. Thank you ma belle, my heart is mended a little bit more thanks to you.

Squam is in the details. There are everywhere. Let me count the ways…

At Squam, the trees whisper wonderful uplifting things after an intense morning teaching.

Every where you turn, there is something someone created and is giving to others.

At Squam, the trees wear pom-poms. And you can't help but smile. Big.

At Squam, trees wear pantone color garlands. Lots of them. Swishing around with the wind.

There is never enough heart garlands in a forest. Well, in my opinion anyway….

Little owls started popping everywhere. I named this one Elliott.

There is beauty everywhere at Squam. Jen and Michelle. Beautiful inside out. Thank you for making me smile. For letting me goof. For the hugs and the quiet moments.

The beautiful Thea. I have never met one photographer who gives has much of herself with each portrait or project. Truly an inspiration.

Yeah…some of us have epiphanies on the docks at Squam.

While some if us contemplate jumping in the cold water… And Jen did! Crazy girl…

Squam is taking a moment in time for yourself. And doing something to be shared. A moment to meditate. A moment to breathe.

Let's leave it that…

And this. Squam is love. And spunk.

Squam is waiting for you… And I can't wait to be back teaching cooking and food photography classes for the Fall session!