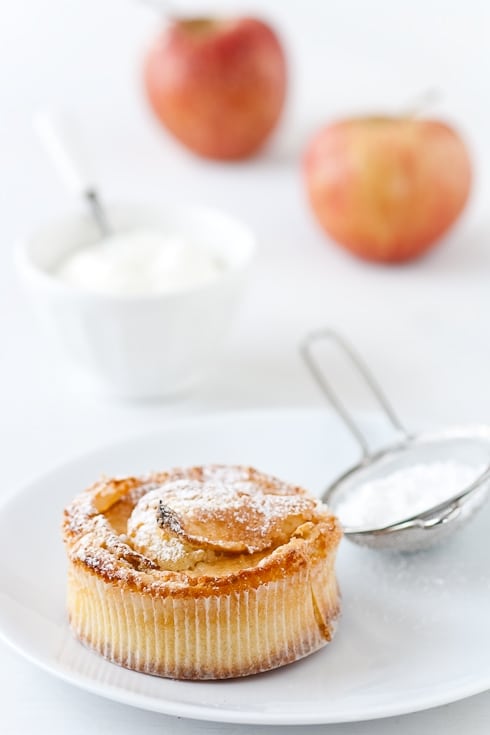 Let's talk winning tickets, shall we? First, my dear human random number generator, B., picked Brandy from Nutmeg Nanny to receive Nicole's The Baking Bites Cookbook. Congrats! Send me a quick email and I'll pass the info along. Now on to this cake…
I know I am going to jinx it. I just know it. Maybe if I whisper it very softly: It finally feels like Fall around here. Mostly in the wee hours of the morning when I can finally feel a chill in the air and a dry breeze through the marsh. Actually, not having a free day on the schedule until April means that the season has indeed changed. Drastic times call for drastic measures and I often turn the comfort of my mom's apple cake during the Fall and holiday season. The one cake that earned her the affectionate name of Maman Tupp and the one we know as "Gateau Aux Pommes Tupp".

I am pretty sure that most French people reading are familiar with the "Gateau aux Pommes 5-4-3-2-1" that the brand Tupperware® introduced during home demonstrations of their products. A very simple, very unassuming and particularly delicious appple cake, soft and moist all the way through. It was especially known for its creamy butter and sugar topping forming a tempting thin crust while baking. For years, I thought that was my favorite part of the cake. Now I know. Two slices with some creme fraiche is my favorite part!
When you are 5 or 6, saying that you would like the "Gateau 5-4-3-2-1" for "gouter" (4pm snack) is not only long but it does sound silly. However, it made it very easy to start baking with mom at an early age since the recipe went something like "5 spoons of flour, 4 spoons of sugar, 3 spoons of milk"…and so on. One bowl, one spoon, dry before wet, one apple, whip it all and bake.

We made it so often in my family that it became much easier for everyone to call it the "Gateau Aux Pommes Tupp" (Tupp Apple Cake) and over the years to make it even shorter with a simple "Gateau Tupp". See, it works so much better to beg mom for it this way. This simple gateau became the one we would gather around during tea time on a cold and rainy day, the one that made any bad school day be forgotten in a few whisks of sugar. It solved a few arguments and mended broken hearts too.
Yes, my mom was a Tupperware® lady back in the 80s. She never played the sales game, but she loved to host parties for friends getting in the biz. That was her thing, the hosting. And the baking, the cooking, and passing around trays of items made with the brand's products. Let's face it mom, you also loved getting new stuff for the kitchen. To this day she is still very well stocked in containers, molds and measuring instruments of all sorts from the big T company.

It was very fortunate that my parents in law dropped off a basket full of apples from a recent visit to an orchard in North Carolina and I made a big dent in it baking a few of these cakes. In the end, the cakes are nothing like the original recipe. I made ours a tad less sweet and gluten free which is perfect here to keep the cakes moist, thus not following the original "5-4-3-2-1" formula. Then, there was the matter of the spoon measure called for in the original version. I don't own such an instrument but I figured that since the company was American, a large spoon such as the one mom used had to be close to 1/4 cup. Yes, in this cake, precision to the gram has very little importance and that's just what I need when swamped.
Now, if you'll excuse me, it's time for my daily slice…Or mini cake.


Mom's Tupp Apple Cake:
Notes: if you do not intend to make a gluten free cake, replace all the gluten free flours (rice, tapioca, sorghum) with 1 1/4 cups all purpose flour.
The cake bakes in two separate times: first for 10 minutes, the remove it from the oven to add the cream topping and bake for an additional 20 minutes.
I added cardamom just because it reminds me even more of my mom but you can skip that part or add cinnamon instead.
For the cake:
1/2 cup (80gr) sweet brown rice flour
1/4 cup (30gr) tapioca flour
1/2 cup (65gr) sorghum flour
1/2 cup (100gr) sugar
1 teaspoon ground cardamom
pinch of salt
1 teaspoon (5gr) baking powder
3/4 cup (190ml) whole milk
1/3 cup (80ml) oil
1 egg
2 apples, peeled, cored and thinly sliced (I like Granny Smith but any kind will do here)
For the topping:
5 1/2 tablespoons(80gr) unsalted butter, at room temperature
1/2 cup (100gr) sugar
1 egg
1 teaspoon vanilla extract
Prepare the cake:
Preheat the oven to 350F. Spray or butter the inside of a 9-inch round baking pan or several 3 to 4-inch baking pans if you want smaller cakes. Place them on a baking sheet and set aside.
In large mixing bowl, whisk together the flour, sugar, cardamom, salt and baking powder. Reserve. In another large bowl, whisk together the milk, oil and egg until just blended.
Slowly pour the liquids over the dry ingredients, whisking well to make sure that everything is well incorporated, about 40 to 50 strokes.
Pour the batter into the prepared pan(s) and arrange the apple slices on top in a circular pattern.
Prepare the topping:
In a medium bowl, whisk together the butter and sugar until fluffy. Add the egg and the vanilla extract and whisk until smooth. Reserve
Bake the cake(s) in the oven for 10 minutes. Remove the cake(s) from the oven and spread the creamy butter topping over the top(s). Bake an additional 20 minutes or until a skewer inserted near the center comes out clean.