"Zee" Lemon Meringue Pie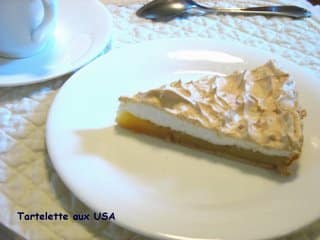 I am not the one saying this but over 400 people at Marmiton, a French recipe site much like the Food Network TV one. Now that's some feedback.
We were invited to Sunday night supper and a game of Scrabble at my in-laws with T & D, and somehow the prospect of leftover banana pudding for dessert did not appeal to me. Being the dessert freak that I am, I volunteered to bring something. I must be completely hormonal or seasonal, but I am craving lemons again, and I wanted to try something different.
The last time I made Lemon Meringue Pie, I was probably 12 or 14 and I remember vividly looking at a gorgeous picture in one of my mother's magazine. It was my first attempt at meringue on a pie, and if I remember correctly, I did a fair job.
I had forgotten how comforting Lemon Meringue Pie can be. This particular recipe gives a very tangy filling, a not too sweet meringue in a nice shortcrust bottom. Perfect to mark the end of summer (although here it is year round, but we like to pretend we have seasons).
You can find the original recipe here, but here is a translation:
Lemon Meringue Pie
For the crust
25o gr. flour
125 gr. butter
70 gr. sugar
2 egg yolks
5 cl water (1/4 cup)
In a bowl, mix the egg yolks and the sugar until pale, add 2 Tb. water.
In a separate bowl, mix te flour and butter until ressembles coarse crumbs. Add the egg/sugar batter and mix quickly until the dough forms into a soft ball. Add a couple extra Tbs. water if necessary while you incorporate the ingredients.
Refrigerate 30 minutes, roll the dough out and fit it into 10 or 12 inch pie plate. Prick with a fork, cover with foil and pie weights (I use dry beans) and cook at 350 until the dough is completely cooked through.
Lemon Fillling:
4 lemons, zested and juiced
150 gr. sugar
3 eggs.
1 tbs. cornstarch
Mix sugar and eggs into a bowl, add the cornstarch and mix well.. In a saucepan, heat up the lemon juice and zest. When it is hot, slowly pour over the eggs and sugar to temper them and return to the saucepan, let it thicken over low heat, stirring constantly until the consistency is like mayonnaise.
Pour into the cooled pie crust and refrigerate.
For the meringue:
3 egg whites
100 gr. sugar
1/2 tsp. baking powder
With an electric miser, beat the egg whites to a foam, slowly incorporate the sugar and baking powder, one Tb. at a time, until the egg whites are stiff.
Arrange the meringue on top of the lemon filling and bake at 290 for about 30 minutes.
So good, light and tart. My kind of comfort food.