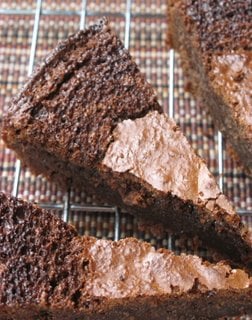 Yep, no fancy name, no weird ingredient, just the pure comfort of dark chocolate in a slice. I am probably the last one to post her entry for "Dishes of Comfort" a one-off event created by Yvonne and Orchidea, and I realized today I had passed the deadline. Hopefully they will be able to include this, if not well, you can have it all for yourself!
When I first read about the event, I immediately thought about my grandmother's apple pie, my aunt Agnes chocolate mousse, or my mom's chocolate cake. I don't know if mom remembers it but for the longest time, one of my brothers birthday requirement was homemade Walnut Chocolate Cake. What they did not know is how happy to see his birthday roll around…or why…don't get me wrong I love him dearly, but I also love chocolate cake!
I also think that Grandma Paulette and Auntie Agnes deserve a post of their own. However, it has got to be somebody's birthday somewhere…out there…and if no one wishes to claim a slice I will because it is comforting and good for any reason, any occasion.
Why is this cake so comforting to me? For one it does not look perfect, and as I get older I find that highly reassuring. All crusty on top, crumbly when you cut it. Easy to eat anytime of the day, cold with milk for breakfast, warm with your afternoon coffee, with ice cream for a romantic dinner and perfect for anybody's birthday (unless they hate chocolate).
I am not sure when the recipe came from but it is one of those I bundled up in my suitcase when I moved here and one I make for B. when his birthday comes to town.
Walnut Chocolate Cake:
200 gr. dark chocolate (6 1/2 oz)(time to get your best out)
200 gr. butter (6 1/2 oz)
5 eggs
1/4 cup ground walnuts
250 gr. sugar (7 oz)
2 tsp. vanilla extract
Preheat oven to 375. In a saucepan set over low heat, melt together the chocolate and the butter. Add the sugar and stir until incorporated. Remove from the heat and let cool 5 minutes. Add the eggs one at a time and stir well after each addition. With a spatula, add the ground walnuts and vanilla. Pour into an 8 or 9 inch round cake pan and bake for 30 minutes or until a knife inserted in the middle comes out "clean"