Vanilla Cream Cheese Cupcake Cones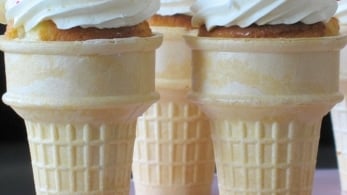 I have seen cupcake cones starting to pop up on several blogs lately and reminded that it had been a while since I last made them, well…ok, about two months. Whenever my friends with children host a birthday party they always call me with large order for them. Truth is, adults and children alike go crazy over them, and I always have to make extras for B., my in-house cookie monster. This time, I had Sophie bake these with me and we had a blast frostig and decorating. I was really tickled to have her try cupcakes for the first time, but most importantly cream cheese frosting, and I think she could become another fan fast! I think I need to make another cake or cupcakes with it in the near future to be sure!
I have used different recipes for the cupcakes over the years and started using the one for the Magnolia Bakery vanilla cupcake on a regular basis because it is just darn good. Moist, vanilla-a plenty, nice crumbs, good base to play with different flavors and extract. I used a vanilla bean paste that I picked up at Trader Joe's during my visit to Lisa's home instead of vanilla extract which made the flavor even more intense. The cream cheese frosting is the one I used now all the time, since we (Daring Bakers) made the Red Velvet Cake back in March. It is so easy to make, does not taste too sweet and has nice little tang from the cream cheese.
I made these even though I did not have an order and delivered some (minus 4 for us) to the kids around the neighborhood. With their going back to school, scortching hot temperatures and the end of summer near by, I thought it would sweeten their plate a little. The cones were gobbled up in no time at all, accompanied with a "more please" that always makes me happy.
Vanilla Cream Cheese Cupcake Cones
Makes 24
Cupcake Batter, adapted from Magnolia Bakery
1 1/2 cups self-rising flour
1 1/4 cups all-purpose flour
1 cup (2 sticks) unsalted butter, softened
2 cups sugar
4 large eggs, at room temperature
1 cup milk
1 teaspoon vanilla bean paste.
24 ice cream cones
Preheat oven to 350 degrees.
Place ice cream cones in the holes of a muffin pan so that they will be stable when you transport them to the oven.
In a small bowl, combine the flours. Set aside.
In a large bowl, on the medium speed of an electric mixer, cream the butter until smooth. Add the sugar gradually and beat until fluffy, about 3 minutes. Add the eggs, one at a time, beating well after each addition. Add the dry ingredients in three parts, alternating with the milk and vanilla. Do not overbeat. Using a rubber spatula, scrape down the batter in the bowl to make sure the ingredients are well blended. Carefully spoon the batter in the cones, leaving a two inch space to the top as the cupcake will rise. Bake for 20–25 minutes, or until a cake tester inserted in the center of the cupcake comes out clean.
Cream Cheese Icing:
1 stick (115 grams) unsalted butter, room temperature
8 ounces (227 grams) cream cheese, room temperature
2 cups (230 grams) powdered sugar, sifted
In bowl of electric mixer, beat the cream cheese and butter, on low speed, until very smooth with no lumps. Gradually add the sifted powdered sugar and beat, on low speed, until fully incorporated and smooth. Fill a pastry bag with a star tip with the frosting and pipe on the cupcake cones. Add sprinkles if desired.

In other news, The Traveling Eggs have made a stop in Ohio, check their temporary abode here.
Check back often as I will update their travels here periodically.