Vanilla Cardamom Ice Cream – A Taste Of Spring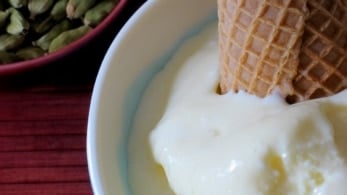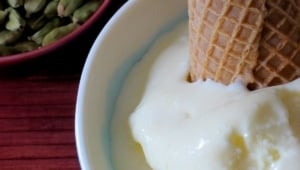 Why "A Taste of Spring"? Well, because here in South Carolina, this is just about what we have been given….a few days of clement and mellow temperature, a smidget of wind and soft blue clouds. I love spring and since I moved to SC I have been deprived of it. Scorching hot summers and mellow winters, but no spring, and don't get me started on fall!
I knew I only had a few days to celebrate Spring and since this is a perfect "entre deux" (in between) season, I aimed to combine my 2 favorites from winter and summer.
Cardamom screams winter to me and I go through huge supplies every year: in brioches, sweet rolls, hot teas, mulled spices, moroccan dishes, creams, custards,….
As far as summer goes it should be spelled "ice cream". I tend to agree that there is no season for it but a little scoop (make mine a big bowl) of ice cream on a sultry summer day is extremely refreshing.
For this dessert, you have an ice cream maker go ahead and use it but I did not have enough room in the freezer so I froze the custard base and took it out every couple of hours or so and give it a whirl with an hand held immersion blender and everything came out perfect.
Vanilla Cardamom Ice Cream, inspired by this recipe.
4 egg yolks
2 cups half and half
4 oz sugar
1 tsp vanilla extract
5 cardamom pods, broken in half
In a large bowl, whisk the egg yolks and sugar until pale and thick, add the vanilla.
In a saucepan, on medium heat, bring the half and half and cardamom pods to boiling point but do not let it boil.
Slowly pour the hot cream onto the egg yolks mixture and stir to combine (tempering). Pour the whole mixture back into the saucepan and cook over low heat, stirring constantly, until the cream coats the back of spoon. At this point you have made a custard sauce, also known as "creme anglaise".
Let cool completely, strain the cardamom pods and refrigerate until cold. Process the custard according to your ice cream maker manufacturer's instructions or use the hand held immersion blender described earlier.
I wish I had made 2 gallons of this…so good…so sophisticated.
I believe I have to make more if I want to have at least a couple of scoops to take to Meeta's Monthly Mingle, appropriately celebrating spring. Participate as well, so I can live Spring vicariously through you!