Tartine's Banana Cream Pie…With Caramel and Chocolate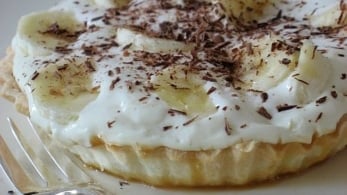 I am nowhere close to Tartine Bakery in San Francisco and yet I get to have their Banana Cream Pie for dessert! Actually, it would be like going to Paris for a patisserie from my sugar daddy at that point! Except….one very generous blogger and friend, fellow Daring Baker, emailed Lisa and me one day saying she had an extra copy of Tartine and Balthazar and if we could decide which one we wanted she'd be happy to give them a new home. If I recall my email back was something along the line "I woul love the Tartine one, of it is okay with Lisa"…"please, please, please Lisa…." secretly crossing my fingers, hands and toes! As you can see I received the coveted one! Thank you Veronica…(and Lis!) I am enjoying it a lot and so is everyone else in the neighborhood!
It took me a while to decide what to make first. Really, all their pies look gorgeous, the cakes and cookies sound all so mouth watering and the pastries would make anybody drool (be right back, I forgot to wipe page 149 !).
Anyway, I had my in-laws over for dinner a couple of days ago and decided to end dinner with a very Southern treat, banana cream pie. I admit I am not a big fan of banana pudding, or pudding textures in general, except for my beloved pastry cream, but I wanted to make something that would show them my appreciation for all the wonderful things they have one for B. and me over the past 10 years. I looked online, I called my neighbor C., thinking that this good Southern girl would have a recipe for it somewhere…except that I had forgotten that C. is the one calling me for desserts so no luck there. I was started to think I would have to change my plan or come up with a botched up version of it, aka French banana cream pie – sacrilege!Nah! Can't have that! I started daydreaming barely noticing I had my elbow propped up on Tartine. I looked down at the cover and saw the cutest pie…oh could it be?! Maybe they have a great non-pudding recipe for it! Sure they do, page 54: Banana Cream Pie, with caramel and chocolate…
Allright, so it's not the speediest of pies to make, especially of you make individual ones, but you will be rewarded by a table of well fed, content, and well sugared guests. Just listen to this: flaky pie crust, layer of chocolate ganache, layer of caramel, pastry cream, bananas and if that was not enough a dollop of whipped cream! No pudding! No fake banana flavor!
I did change a couple of things (sorry, can't help myself), that in my opinion only worked in its favor. Instead of the bakery's caramel sauce, I used my beloved salted butter caramel sauce, and skipped the extra whipped cream on top as the pastry cream makes it rich enough and I think it would have masked the banana flavor. From what I can tell no one missed it…you know you did something right when there is pure sweet silence at the table!

Banana Cream Pie, with caramel and chocolate, adapted from Tartine.
Serves 8-12 (10 inch tart)
Flaky Pie Crust:
1 tsp / 5ml salt
2/3 cup/ 150ml very cold water
3 cups plus 2 tablespoons / 455 gr. flour
1 cup plus 5 tablespoons / 300 gr. chilled butter, cut into 1 inch cubes
In a small bowl, dissolve salt in water and keep cold.
To make dough with a food processor: put flour in the work bowl, scatter butter over flour, and pulse until the mixture forms large crumbs, but some of the butter is the size of peas. Add salted water and pulse for several seconds, until the dough comes together as a ball, but is not completely smooth (you should see some butter chunks).
On a floured surface, divide dough into two balls, shape into a 1-inch-thick disk, wrap in plastic wrap, and chill for at least 2 hours or up to overnight.
To fill a 10 inch tart pan, roll out one disk on a lightly floured surface to 1/8 inch thick, rolling from the center toward the edge in all directions, lifting and rotating the dough a quarter turn every few strokes. Cut out a circle 1½ inches larger than the tart pan and carefully transfer dough round to the pan (folding in half, if necessary), easing it into the bottom and sides and pressing into place, and trim the edge with a knife.Line with parchment paper and pie weights or dry beans.
Preheat oven to 375 F.
Bake until the surface looks dry with no opaque areas left, about 20 minutes. Remove from oven and remove parchment and weights or beans and return shell to oven for another few minutes. If the center starts to rise, gently pierce with a knife tip. Let cool completely.
Ganache Layer:
1 cup/ 250 ml heavy cream
3 oz/85 gr. bitter sweet chocolate
Set the chocolate into a bowl. Heat the heavy cream to boiling point and pour over the chocolate. Let stand a couple of minutes an gently stir until fully incorporated and glossy. Cool to room temperature. Pour over the cooled pastry shell and refrigerate.
Salted Butter Caramel Sauce:
240 gr. sugar
80 ml water
115 gr salted butter
150 ml heavy whipping cream
In a heavy saucepan set over low heat, combine the sugar and water and heat just until the sugar is dissolved. Add the butter. Let it come to a boil and cook until it reaches a golden caramel color. Remove from the heat and add the cream ( it will splatter and get crazy, but do not fear and trust the recipe). Whisk to combine and put back on the stove. Let it come to a boil again over low heat and cook 10-15 minutes until you reach a nice creamy consistency. Let cool to room temperature.Pour over the cooled chocolate ganache and refrigerate.
Pastry Cream:
2 cups/ 500ml whole milk
1/2 vanilla bean, cut open down the middle, seeded
1/4 tsp of salt
4 tablespoons of cornstarch
1/2 cup/ 110gr. sugar
2 large eggs
4 Tb/ 55 gr. butter, cut in small cubes
Heat the milk, vanilla seeds and salt in a pan and put over medium heat, and bring to a boil.
In a large mixing bowl, whisk the sugar, cornstarch and eggs until smooth. Slowly add 1/2 of the milk mixture into the egg and whisk constantly to temper them. Add the remaining milk and return the whole thing to the saucepan. Cook until you get a thick consistency, whisking non-stop. Remove from heat and pour into a bowl, let cool for 10 minutes and then incorporate the butter, one tablespoon at a time, until smooth . Cover the surface with plastic wrap, directly touching the cream, let cool completely.
Layer the pastry cream on top of the chocolate and caramel. Cut 2 ripe bananas in medium-thick slices (you know, not a mouthfull but not disintegrating when you pick it up), and arrange them over the cream, lightly pressing down. Decorate with chocolate shavings and if you really need it, some whipped cream.
Ok…there is something else that makes me beam with joy beside the pie: I will be wearing the 3rd Brownie Babe apron very soon! Go check Myriam's blogs for some seriously delicious brownies recipes. Wow! Just wow! There are so many incredible recipes I want to try soon, it is a great honor to be chosen among all these fine bakers. Ya'll went all out! I have to thank Guillemette and Loukoum for this one, I stumbled onto the Marbled Ricotta Cheesecake Brownies one day by accident and decide that my friends on this side of the pond ought to have the recipe too!