Tangerine Creme Brulees Tartelettes


I was making a dessert for a client the other day to celebrate their anniversary when I started wondering if there was any anniversary for B. and I to celebrate soon. No first kiss, first dinner cooked together, no first trip anniversary in sight. Actually there is one soon…if I wrote real fast and everyday: I almost have written 500 posts on this blog. Five hundred stories, five hundred desserts, five hundred times I shared, laughed and cried with you… Now that made me nervous, like after a first date…"Did I talk to much? Did I laugh too hard? Did he/she have a good time?" Thanks for stopping by and offering a minute of your time as well as your stories, comments and emails. Let's plan a big bash for post 500! Any (sweet) suggestions welcome!
Back to that lady's anniversary and dessert. I like bumping into patrons I knew at the restaurant, it's always fun to catch up and as fate would have it, I always end up with an order for macarons, tarts, cakes, you name it. The occasions are as varied: birthdays, showers, romantic dinners, business luncheons. In Lauren's case, a 30th wedding anniversary and a dessert request for a quiet dinner at home with close friends. I really like Lauren. Impeccable taste in everything, down to earth and sincere. That to me is sophistication. She mentionned how much she loved my creme brulees I could not help but frown. She added that anything would be great but that they did not need anything super fancy or elaborate this time. Woohoo! I have zippo time for elaborate these days. Actually I have zippo time to even notice my socks are mismatched (oh yeah…not so cute at 33!).

I went home and told B. about our meeting and mentionned the creme brulees bit and frowned again. He noticed it. "Do you realize it's lack a nervous tick with you everytime someone mentions creme brulees? You frown." Yes dear, I know. "Wouldn't you frown too if you made them day in -day out, twice a day, every day and you can't even recall which batch you are on and the restaurant's owner does not want, will not have anything but vanilla creme brulees, and that the only time you got away with flavor was for a Grand Marnier tasting and that was cutting close and what was once your favorite dessert became "the one that shall not be named"? Phew… I needed to breathe so I stopped….He was staring, with that "oh my god, she is crazy" look on his face and took a step back before asking what I was going to bake then. Smart man, taking a step back.
I actually did not think about it long because it always boils down to this, what the client wants and what the client likes and I like them both a lot. They will get creme brulee. Only I'll have my say in it, somehow. Since we are in full citrus season, I went for a tangerine creme brulee tartelettes: a tangerine pastry cream, baked in cocoa and cardamom shortbread (sable) shells and finished with a little sugar creme brulee crust. To commemorate their 25th anniversary of "tying the knot", I toppped each tartlet with a knotted candied citrus zest. I am such a love dork sometimes…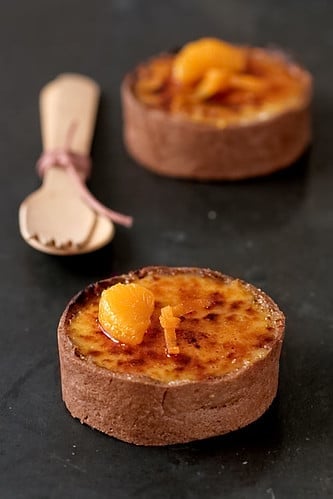 Tangerine Creme Brulees Tartelettes Recipe:
Kitchen Notes: The dough recipe was enough for four 4 inch fluted tartelettes and four 3 inch straight edged tartelettes, so I would say it makes between 6 to 8 tartelettes depending on your molds. You can replace the tangerine with orange or grapefruit, and leave the Grand Marnier out.

For the cocoa cardamom sable dough:
1 stick (115 gr) butter, at room temperature
3/4 cup (93 gr) powdered sugar
1 large egg
1 1 /2 cups (188gr) flour
1 tablespoon (10 gr) natural cocoa powder
3/4 teaspoon (2gr) ground cardamom
pinch of salt
In a mixer, cream the butter and sugar together until light and fluffy. Add the egg and mix until combined. Add the flour, cocoa, cardamom and salt and mix briefly to incorporate. Dump the whole mixture onto a lightly floured board and gather the dough into a smooth ball. Do not work the dough while in the mixer or it will toughen up. Flatten the dough into a disk, wrap it in plastic wrap and refrigerate for an hour. When the dough is nice and cold, roll it out on a lightly floured board or in between the sheets of plastic. You will have extra dough that you can save for another use in the fridge for up to 5 days or frozen, well wrapped for up to 3 months. Cut out 8 rounds two inches larger than your pastry rings. Fit the dough inside the rings with your fingertips and trim the edges with a sharp knife. Line the rings with small squares of parchment paper and fill with pie weights or dry beans. Place them on a baking sheet lined with parchment paper and bake at 350F for 10-12 minutes. Let cool.
For the tangerine cream:
2/3 cup (120gr) sugar
3 eggs
6 egg yolks
3 tablespoons (30gr) all purpose flour
1 stick butter (115gr), melted and cooled
2/3 cup (160ml) tangerine juice
grated zest of 2 tangerines
2 tablespoons (20gr) Grand Marnier (optional)
In a large bowl, whisk the sugar, whole eggs and egg yolks until pale. Add the flour and butter and whisk until incorporated. Whisk in the tangerine juice and zest. Place the mixture in a saucepan over medium low heat and cook until thickened about 5-8 minutes, stirring constantly without letting it boil. Remove from the heat and whisk in the Grand Marnier if using. Place a piece of plastic wrap directly on the cream to prevent it from forming a crust while cooling. Let cool to room temperature.
To assemble:
tart shells
tangerine cream
1/4 cup granulated sugar mixed with 1/4 cup packed brown sugar for the brulee crust
tangerine slices and candied tangerine zest (use the recipe for candied kumquats, using tangerine zest instead)
Divide the cream evenly among the shells and refrigerate for 30 minutes. Top each tartelettes with about 1 tablespoon of the sugar mixed and using a blow torch, caramelize the top of the tarts to create a sugar crust. If you do not have a blowtorch, set the tarts on a sheetpan under the broiler and broil them until golden, watching carefully to monitor that the edges don't burn.
Decorate with segments and zest of tangerines.

Update: Thank you to all of you who voted for Tartelette in the 2008 Food Blog Awards. I am grateful for your support in making Tartelette the Best Food Blog in the Chef Category and the Best Food Blog Of The Year. I will proudly honor this vote of confidence!