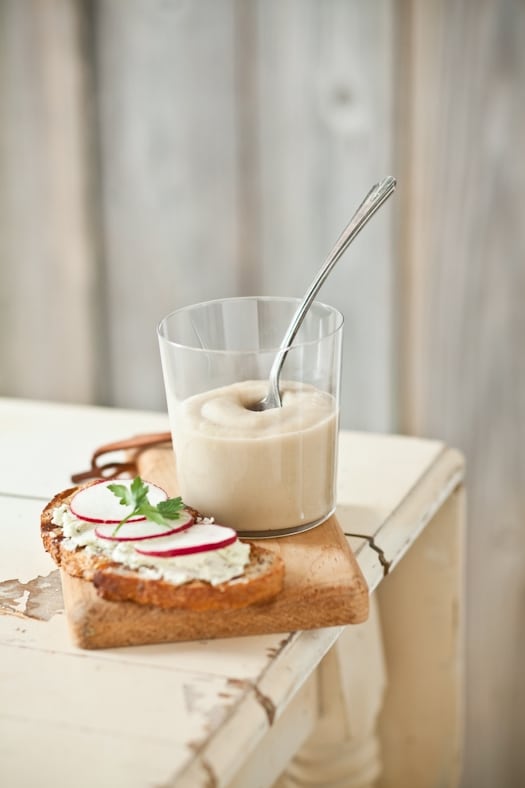 To say that it has not really been good "soup weather" around here this winter would be an understatement. We have spent more days in short sleeves and sandals than in sweaters and boots. Granted South Carolina has a sub tropical weather year round and we do joke that we have two seasons, Hot and Hotter also called Humid and More Humid. Yet, February is a month we all look forward to as it usually offers a bit of a chill, a couple of weeks of fireplaces burning, of hoodies and gloves.

Not this year. I can count on both hands the days I wore a sweater and on one those when I put my coat on. And boy do I love Winter. I grew up in an area of Provence where the Mistral wind often blew stronger in the Winter time, giving way to clear and chilly skies. Here the winds unmistakably bring thunderstorms or clear warm days. If I want a Winter mood, it is up to me to create it.

Soup will put me in an instant winter cozy mood. But here obviously, soups cannot be only for cold grey days. I grew up with my mom serving soup every dinner before the rest of the meal but I did not really continue that habit once I moved away on my own. Instead, soups of all kinds became standard lunch fare at the house. Piping hot a few times but mostly warm or room temperature to be able to taste every bit of subtleties in the marriage of the vegetables used and their dance on my palate.

This soup is no exception to my rushing to lunch time every day. I am not much of a breakfast eater and I usually work straight through lunch but comes 2pm and my stomach wants to jump hoops and make loud cavernous noises until I settle it down with a little something. I find the most satisfying lunch to be a big cup of soup and a tartine these days.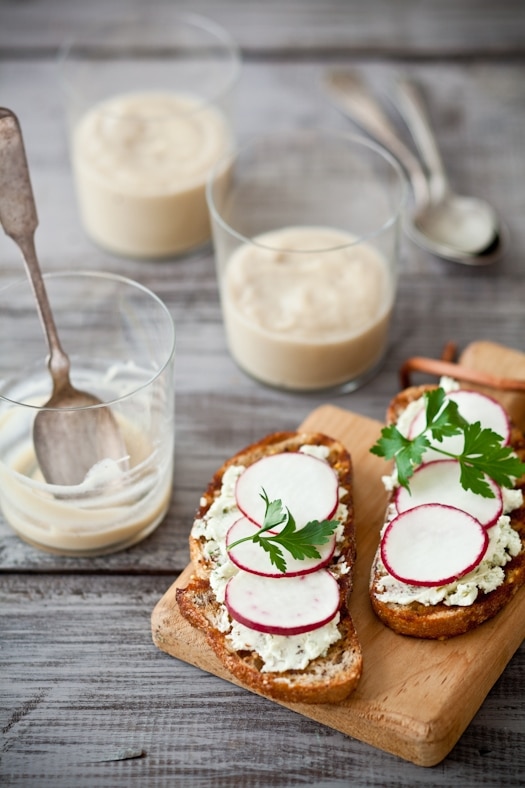 I can sit down, catch up on the news around, satisfy my hunger and recharge my internal batteries with the minimum fuss and the most gratifying bowl of goodness. I usually start a big pot of soup while I cook other things for dinner or as soon as I get up and start production on my shoots for the day. The smells wrapping up or kicking off a day at work are tantalizing enough to make me wish for that first spoonful with great anticipation.

This soup has been made three times in the last ten days. We just can't get enough of it. My friend John who is a chef at my favorite restaurant downtown, reminded me that most of the vegetables I used for it were what we call back home "les légumes oubliés" or heirloom vegetables. Vegetables that are finely and firmly coming back on menus and dinner tables all around.
Sunchokes or Jerusalem Artichokes (topinambours), parsnips, turnips. I added Vidalia onions, cauliflower and a bit of rosemary to round up the flavors. Served with a slice of grilled bread smeared a bit or goat cheese mixed with plenty of herbs and topped with a few slices of radishes and it was the perfect lunch.
I am thinking of adding a poached egg to my tartine next time and makes this dinner…


(Mostly) Root Vegetable Soup & Herbed Goat Cheese Tartines:
Serves 4 as a main dish
Ingredients:
1 small head of cauliflower
3 cloves garlic
3 to 4 small Vidalia onions
1 pound sunchokes (peeled and quartered)
4 turnips (peeled and quartered)
3 parsnips (peeled and cut into 1-inch thick rounds)
2 tablespoons olive oil
1/2 teaspoon kosher salt
1/4 teaspoon freshly ground pepper
1 or 2 rosemary sprigs
1/2 to 1 cup water, or veggie or chicken stock
Directions:
Preheat oven to 375F and position a rack in the middle.
Trim the outer leaves from the cauliflower head. Cut in quarters, remove the core, and cut the cauliflower into medium size florets. Place on a large baking sheet.
Peel the garlic and place on the baking sheet with the cauliflower.
Trim the white part from the green stalk of the Vidalia onions. Keep the white part and cut into medium sized chunks. Wash well under water and place also on the baking sheet.
Finely add the sunchokes, turnips and parsnips to the same baking sheet.
Drizzle with the oil, salt and pepper. Place the rosemary on top and roast for about 20-25 minutes. Remove the rosemary.
Let cool slightly. Place in a food processor, start running the machine and add enough water to have a creamy soup. Re-season if necessary with salt and pepper. Serve with the herbed goat cheese tartines.
Herb Goat Cheese & Radish Tartines:
Makes 2 tartines per person
8 slices of your favorite bread
8 oz plain goat cheese, at room temperature
1 teaspoon fresh rosemary, finely chopped
1 teaspoon parsley, finely chopped
1 small bunch radishes (about 6 to 8) cut into thin slices
Grill or toast the bread and set aside.
In a small bowl, mix together the goat cheese and herbs until well blended.
Spread some of the goat cheese mixture on the tartines, top with some radish slices.