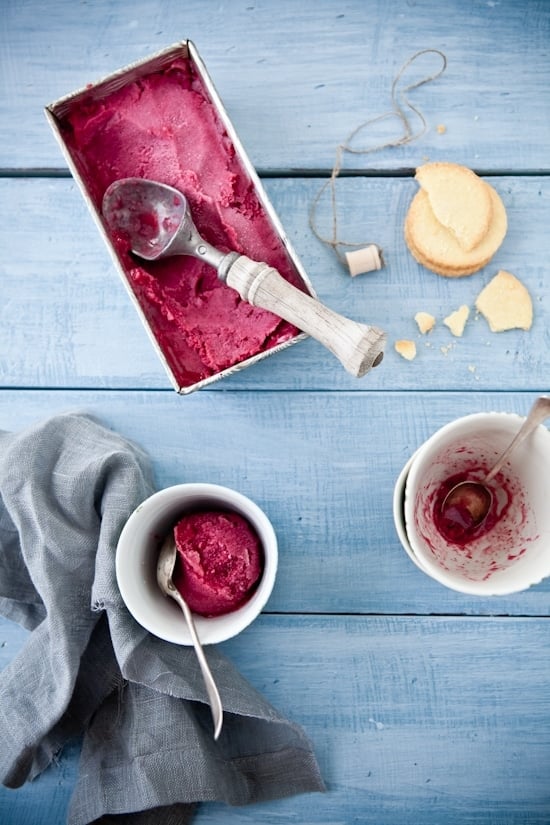 When I called my mother yesterday I had a burning question to ask her. As soon as we started talking, I completely forgot. I was outside on the deck and heard a plane over my head. Felt a cool breeze through the pecan tree and just sat there. It took me back to our chalet in the Alps on a hot summer day. Gliders brushing the mountain sides, kids biking furiously to the pool. I got pensive. Mostly I had a smile on my face.
I got quiet for a little while and she asked if I was getting sad as we talked about summers, the cousins growing up, their travel plans, etc… I mumbled "I'm fine! I am testing the mixed berries sorbet I just made!" She asked if I could focus on the conversation to which I replied "no can't do. Do you still have your T-Fal sorbet maker?" I had remembered my, well at least to me, burning question.

Her turn to get quiet for a while "I have no idea. Why do you ask?". I knew I had piqued her curiosity. "No reason. Everytime I make sorbet I think about that darn sorbetiere and how much we'd crank it up in the summers. It was cool. It was special." It was special indeed. I'll always remember the day my mother brought that sorbet make home. Homemade sorbet anytime we wanted? As kids it was like Christmas in July!
See, in France, desserts eaten at home during the week are not buttery flaky pastries bought at the corner bakery on the way home from work. Those are for Sundays. No, desserts often consist of a dairy product and a fruit. I grew up on homemade yogurt and fruit for dessert. Ice creams and sorbets were not only specials, they were a once a year kind of thing. They spelled Summer.

It was a special thing indeed to have sorbet or ice cream or pastries back home. I do the exact same thing here. The weekends and dinner with friends are meant for special treats. And for good reasons. Time on slower motion is something to be celebrated (I'm always on even when I'm off. Can't help it). Time spent with friends is celebrated. The generosity of their sharing our table, their time and stories with us. I want to acknowledge that by making them something special.
Enter sorbets, ice cream, tarts, mousses, and all sorts of goodies I enjoy making. I enjoy seeing their shoulders drop and their pupils scintillate as they dig in the first bites. I enjoy that pause as the flavors wraps around their taste buds, the scents and aromas arousing their senses. I am at my happiest when I gather people I love and respect around food. I know that'd make my grandmother smile.

There were so many luscious berry baskets at the farmers market this past week that I got a lot of everything. Blueberries, blackberries (twice), strawberries (again), raspberries (always). Stone fruits and rhubarb also ended up in our basket but that's for another get together later this week. It's summer! The house is open to anyone with a good story and a smile.
This sorbet is my go-to recipe as I can change the fruit according to the season and always get the same delicious result. Tart and sweet flavors. You can really taste them all separately and together with every bite. Paired with a simple vanilla shortbread cookies and you have one of our favorite summer treats.

Now…I need to fly home and find that sorbetiere my mom bough when we were kids…!


Mixed Berries Sorbet, adapted from Richard Leach in Sweet Seasons:
Makes 4 cups
Ingredients:
3 cups fresh or frozen mixed berries of your choice
1 cup sugar
2 cups water
zest and juice of one lemon
Directions:
In a medium saucepan set over medium high heat, place the berries and the rest of the ingredients and bring to a quick boil. Reduce the heat to low and simmer 10 minutes. Remove from the heat and let cool completely. Puree until smooth in a blender or food processor and then strain through a fine mesh chinois (strainer). Process in your ice cream machine according to the manufacturer's instructions.
Vanilla Shortbread Cookies:
Makes about twenty 2-inch round cookies.
Ingredients:
1 stick unsalted butter at room temperature
1/4 cup sugar
1/2 vanilla bean
2 egg yolks
1 cup millet flour
1/2 cup sweet rice flour
2 tablespoons to 1/4 cup milk (optional)
Directions:
In the bowl of stand mixer fitted with the paddle attachment, whip the butter and egg yolks together on medium speed until creamy looking. Split the vanilla bean in half and scrape the seeds with the back of a knife and add to the butter and sugar mixture. Mix for 10 seconds. Add the millet and sweet rice flour with the mixer still on low speed. If the mixture feels too crumbly add a little bit of milk to obtain a smooth but not too wet dough. Start with one tablespoon at a time.
Gather the dough into a bowl and refrigerate for about 2 hours.
When ready to bake, turn the oven to 350F and position a rack in the middle.
Roll the dough in between 2 sheets of parchment paper and roll to about 1/4 to 1/8-inch thick. Cut cookies out in the dough and place them on a parchment lined baing sheet. Bake for 10-12 minutes or until golden.
Serve with the sorbet.